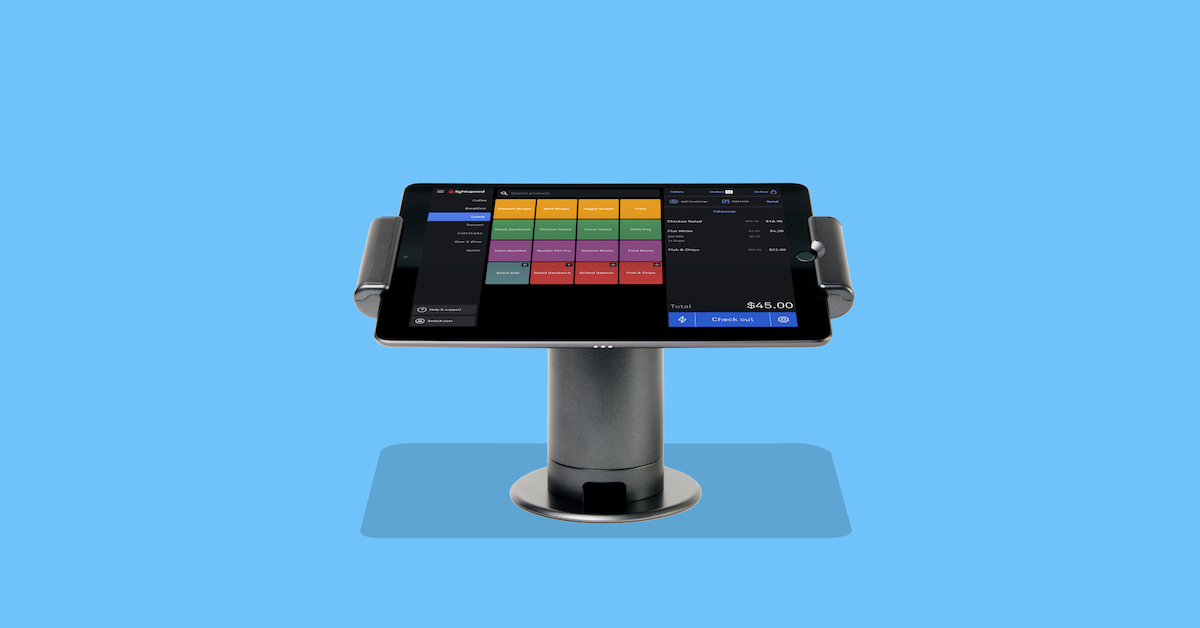 Point of sale, or POS, systems have been a faithful friend to hospitality businesses for decades. They've evolved from humble cash registers to sophisticated pieces of software that can manage everything from your daily sales to inventory and online food delivery.
In a fast-paced industry that's constantly evolving, there's always something new for business owners to consider, such as changing payment methods and new ordering solutions. Therefore, investing in a POS system that will support and scale with your business as it grows is the best way to remain competitive as the hospitality landscape changes.
But how will a POS system actually benefit your business?
This article explores the 5 key benefits a POS system can bring to your business and the features you should look out for when choosing a POS for your venue.
Free POS Buyers Guide
This guide covers the 11 questions you should ask before taking the leap and investing in a new POS for your venue.
1. Run your venue from one platform
Your POS will be the focal point of your business – think of it as the nervous system of your venue that connects everything from your menu, to your FOH and BOH operations – empowering you to manage your day-to-day tasks from one centralised system.
Cloud POS systems, like Lightspeed, store all your information securely on the cloud, so you can run your venue like clockwork – even if you're not on site. As long as you have a device connected to the internet, you'll be able to access your information, such as your menu, pricing and staff attendance, no matter where you are.
Menu management and pricing
Having easy access to your menu and pricing is crucial – particularly if your menu regularly changes or has weekly specials and promotions. A POS with an intuitive menu management system not only ensures that adding new menu items and pricing is a breeze, but it also makes it quick and easy for you or your team to update information on the fly.
When researching for a POS system, look out for the following menu and pricing features:
Ability to

quickly and easily add and edit products

, create variations (e.g. small, medium and large sizes), assign prices, create categories (e.g. drinks, starters, mains), set upsell workflows (e.g. prompt to ask to add a side dish) and upload product images.

Functionality to set up recurring discounts

, such as happy hours, so your staff don't have to remember to manually key in discounts to save time and speed up service.

Option to

create and schedule price changes

(e.g. public holiday or Sunday surcharge) for specific dates or periods throughout the year.
People management
In the fast-paced world of hospitality, managing a busy team can be hectic. Hospo staff are often a diverse bunch, made up of FOH, BOH, permanent, casuals, part-time, and split shifts, so it can be challenging to keep on top of everyone.
A POS system that will easily monitor each team member, their work schedules and performance is the most effective way to manage and get the best out of your team.
As a minimum, your POS should have the following capabilities:
Option to

track attendance,

so it's easy for your team to clock in and out of their shifts and record their breaks.

Varied permission settings

to ensure your team have access to the right features and functionalities that apply to their role, e.g. who can void sales, apply discounts or delete orders.

Easily accessible reports to understand who your top-performing team members are e.g. by highlighting the number of sales and total revenue generated per staff member.

Ability to dig into staff attendance and shift patterns to forecast wages.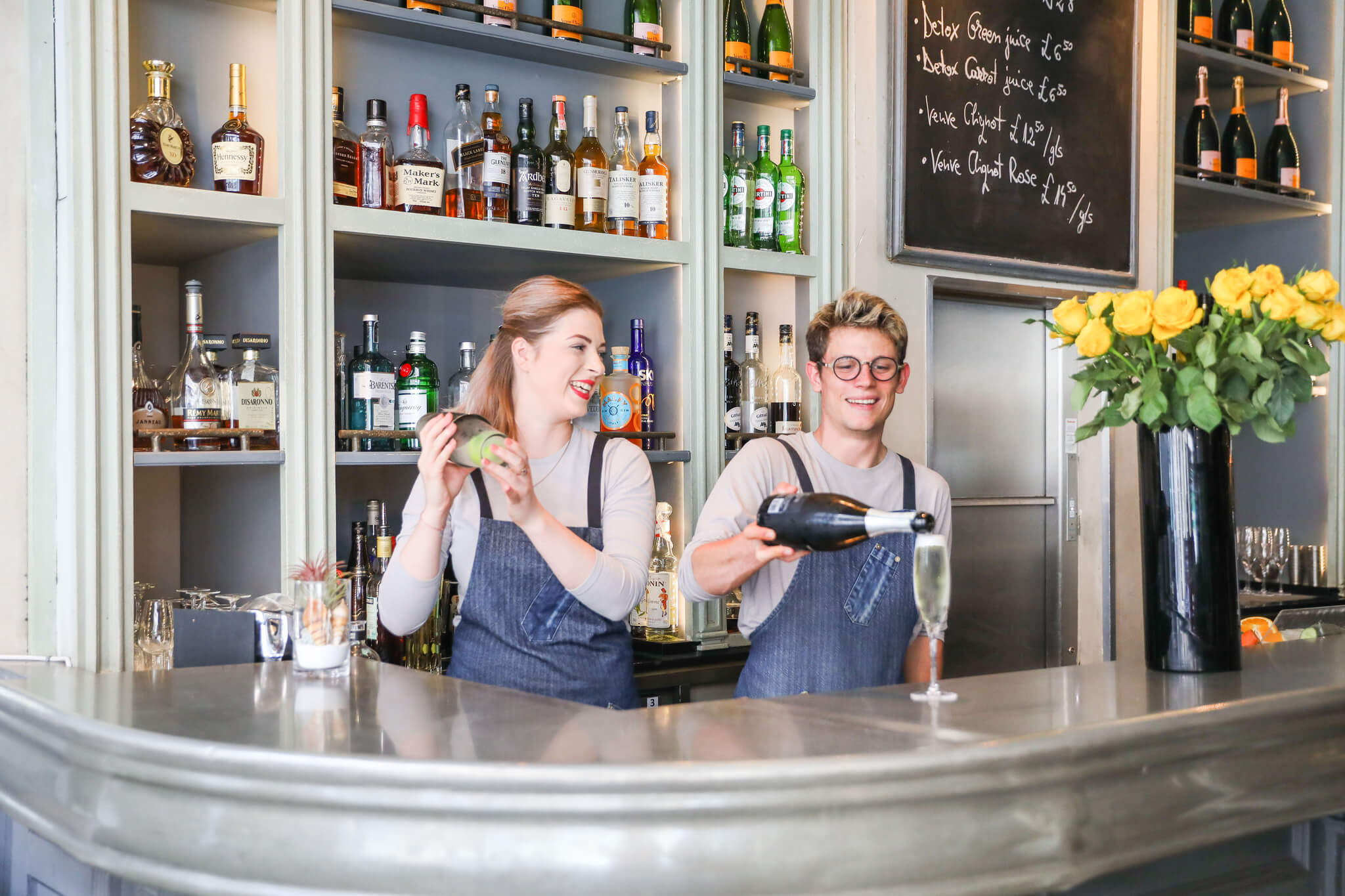 Clear communication between FOH and BOH
Open and easy communication between your front of house (FOH) and back of house (BOH) is essential. Any communication breakdown can severely impact your service and may result in your customers having a negative experience.
To mitigate this risk, your POS system should have inbuilt workflows that seamlessly facilitate communication between your FOH and BOH to ensure orders are correct and delivered promptly.
Lightspeed POS, for example, has an easy to use interface, with customisable category colours and product images that make it easy for staff to input orders and take payment.
FOH staff can also easily communicate with BOH staff via the POS. Orders can be marked as dine-in, collection or delivery, and BOH staff will be notified on the docket or bump screen – or notifications can be sent to BOH when a table is ready for their next course.
Effective communication between customers and FOH staff is also key in ensuring orders are heard and inputted into the POS correctly. However, in a loud and busy bar or cafe, this is often easier said than done.
Ensuring your POS is compatible with a customer-facing screen allows customers to see their exact order when it's entered into the POS. If the order has been misheard, the customer can point this out, and it can be amended straight away – before it's sent to the barista, kitchen or bar – saving you time and money.
2. Streamline ordering to boost profits
The way customers order their food and drinks has rapidly evolved over the past few years, and only offering dine-in service is rarely enough to remain competitive. With the future of ordering set to diversify, your POS system must support current ordering channels and be adaptable to incorporate any new solutions that arise in the future.
Online food delivery
There's no denying that online food orders have skyrocketed in recent years. The number of Aussie's ordering food online for delivery has increased by 87% since 2017 and is set to grow by a further 53% between 2021 and 2025.
With online food delivery playing an ever-increasing role in the world of hospitality, it's instrumental for your POS system to facilitate delivery orders from third-party delivery apps like Uber Eats – so you never miss out on a sale.
Lightspeed Delivery makes it easy to accept delivery orders from Uber Eats, Deliveroo and Doordash directly on your POS. You don't have to worry about switching between multiple platforms or double handling orders, as all delivery orders sync straight to the POS, just like a dine-in order.
QR table ordering and digital menus
QR table ordering (where your customer scans a QR code to order and pay on their smartphone) via a digital menu is a relatively new ordering channel for hospitality businesses – yet its impact has been significant.
Our data shows that customers who have ordered via a QR code have spent an average of 25% more when they place their orders compared to 'traditional' dine-in orders. The data also reveals that only 3% of Lightspeed venues offered QR table ordering in 2020. One year later, over 14.5% of venues leverage it. That makes it a 383% growth in just 12 months.
While QR table ordering is an emerging channel, having a well crafted, easily accessible digital menu is instrumental if you want to boost your profits. Most POS systems will integrate with QR table ordering platforms like Mr Yum and me&u, so you can easily accept orders via a digital menu.
Alternatively, Lightspeed Ordering makes it simple for your customers to request table orders, pickups and deliveries via your customisable digital menu.
So, in a nutshell, what are the benefits of QR table ordering?
Create and customise digital menus and easily add photographs

Offer delivery, order ahead and QR table ordering

Manage everything from the same platform

Quickly generate QR codes

Create personalised website links to promote your digital menu

Offer contactless and flexible payments – customers can pay directly from their phone with Apple Pay, Google Pay and credit cards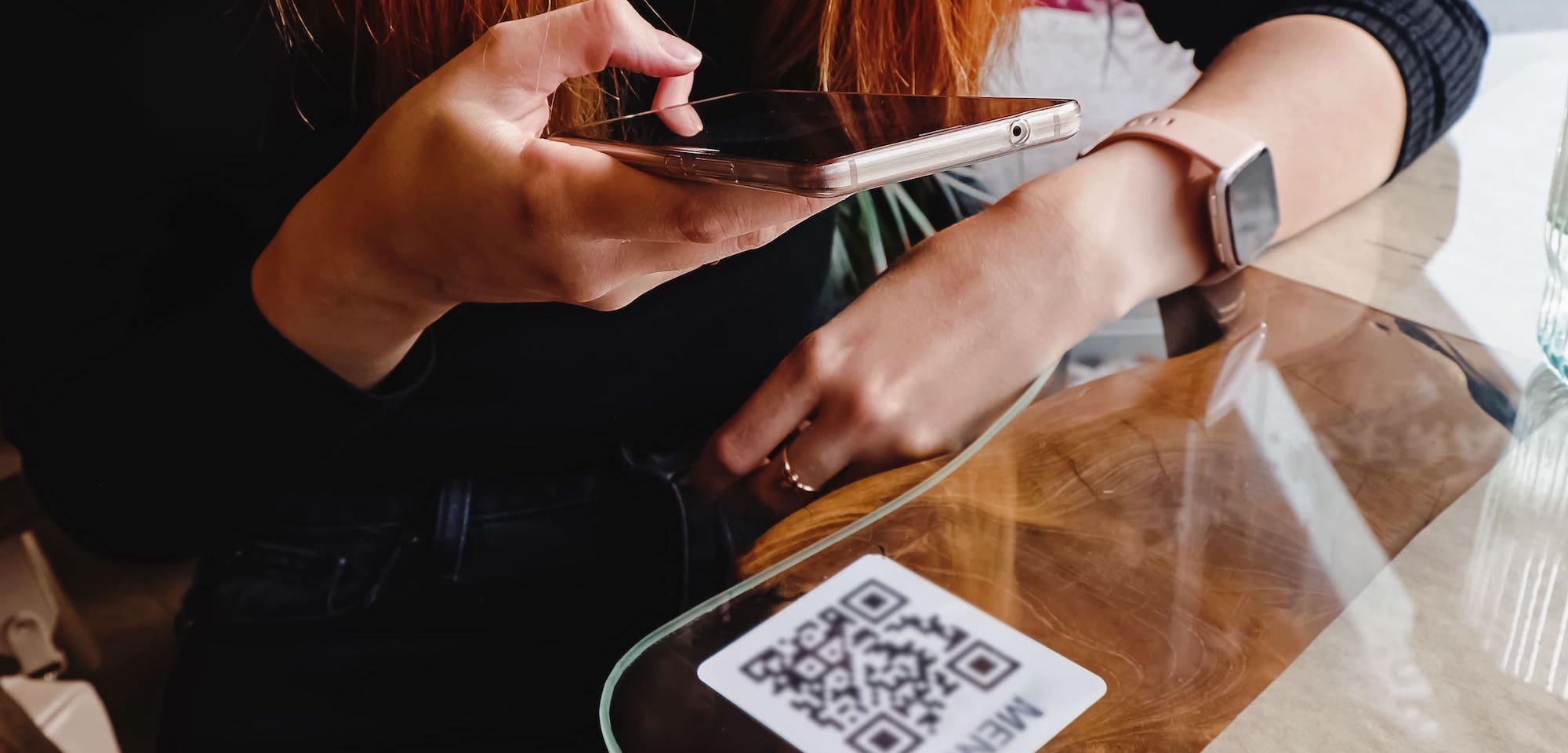 Tablet POS and table management
Your venue's service can make or break a customer's experience, so your POS needs to be efficient and intuitive to speed up your service – rather than hinder it.
Tablet POS
Cloud POS systems are hyper-connected, meaning orders can be taken from anywhere in the venue, on a tablet, for example, and sent straight to production. Not only does this save staff from running to and from the POS terminal to input orders, but it also gives them more time to focus on the customer and get orders to the table quicker.
Plus, customer requests can be added simultaneously and are printed on the same docket – reducing the chance of miscommunication, so the customer gets exactly what they ordered.
Table management
Peak times can be stressful for any hospo venue, and sometimes tables can be left waiting a little longer than necessary. A POS system that maps out your venue's floor plan and enables staff to easily track dining journeys is the most efficient way for your team to understand who needs attention and when.
Lightspeed POS, for example, lets you plot your exact table layout, and handy colour coding lets staff know if tables have received their order or if they're waiting to pay.
Did you know? Lightspeed integrates with OpenTable, allowing you to accept online reservations seamlessly. When your guests arrive, you can assign them a table number from OpenTable that will automatically sync with Lightspeed POS. Plus, in-depth dining data, like average spend and best selling menu items, automatically sync between the two systems empowering you to provide a personalised experience for your customers.
3. Accept new payment methods with quick and easy integrated payments
In today's fast-paced digital world, customers crave convenience, and there's an expectation that transactions should be quick and easy so guests can carry on with their day. Unsurprisingly, cash payments are on the decline and account for under 27% of all consumer payments.
As more customers opt to pay with cards or digital wallets, like Apple Pay, it's imperative that your business is able to accept a variety of payment methods. Declining a customer's chosen means of payment can be frustrating and may end their experience on a sour note.
Having a POS system that can facilitate integrated payments means you'll always be able to accept new payment methods, as the software is regularly updated to accommodate changing requirements. Plus, the POS terminal will automatically sync with payment terminals, like EFTPOS machines, safely and securely.
These features will make it easy for you to:
Accept new payment methods

Easily split bills by item or amount

Accept payment at the table

Avoid keying errors from staff, meaning faster payments and shorter queues
Integrate with accounting software
Let's be honest; reconciliation can be a headache – especially at the end of a long shift. Luckily, most modern POS systems integrate with a whole host of accounting platforms, like Xero, MYOB and Quickbooks, so all of your transactions are automatically reconciled. This means no more late nights trying to work out variances and card discrepancies – giving you more time to focus on what matters, be it your customers, staff or sprucing up your menu.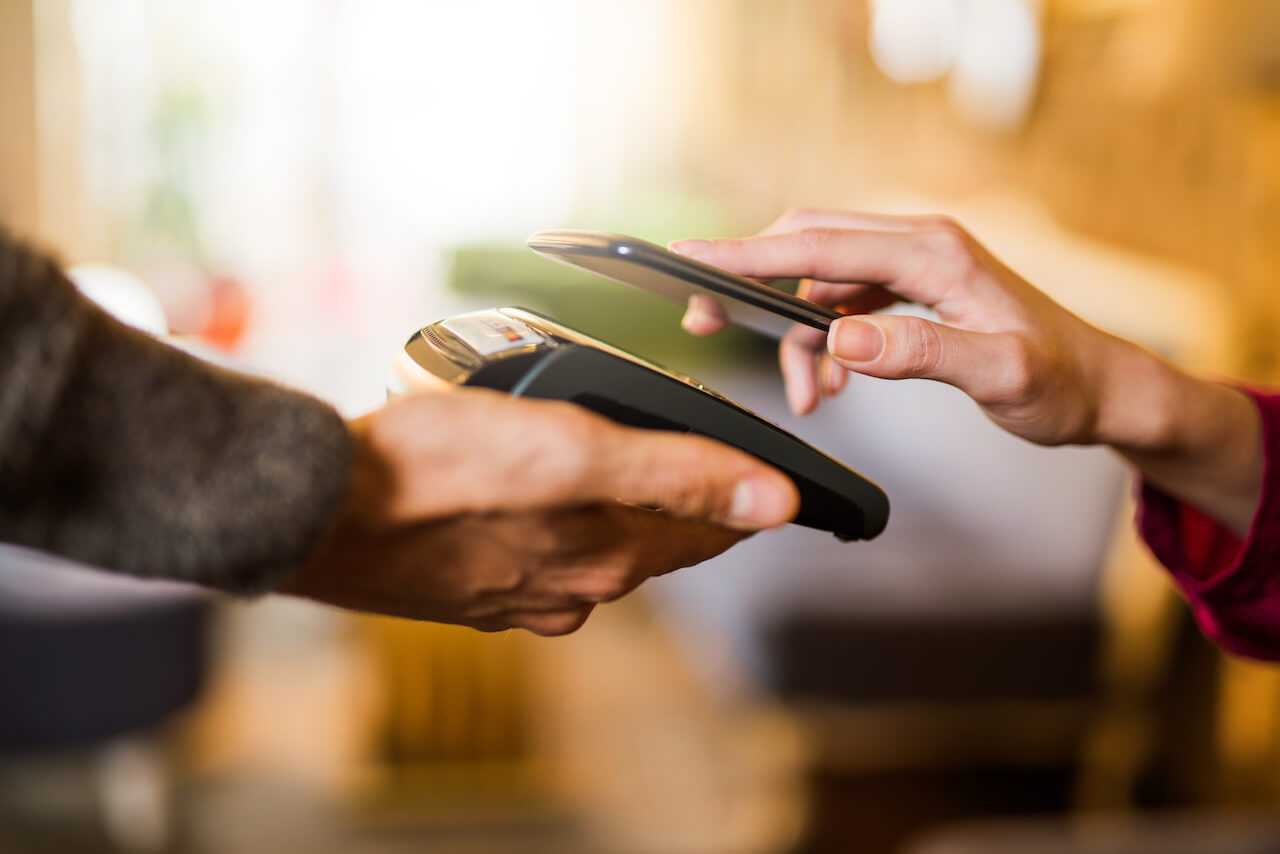 4. Control margins with in-built inventory management software
Aside from rent and wages, the cost of goods is a huge expense for your business. And, with over 40% of food bought for inventory never making it past the back of house, many hospitality businesses are needlessly wasting thousands of dollars a year due to inefficient inventory management.
A POS system with in-built inventory management software is the best way to optimise your inventory processes to cut costs and save precious dollars.
Stock counts and wastage
Having a clear understanding of your stock levels, what you've bought versus what you've sold and how much waste you generate is a crucial element of accurate inventory management.
Employing a POS system that lets you monitor everything from one place means you can save time manually checking stock, reducing expenses, and minimise waste.
Stock counts
Traditionally, stocktakes are counted and recorded on a sheet of paper. While this method is still popular, sheets can get lost and accuracy compromised. As a result, many hospitality businesses turn to tech to assist with stocktaking.
A POS system with an in-built stock counts feature will enable you to easily audit and update stock levels so you can quickly understand the cost of variances between your recorded stock and actual stock.
Data from your stocktakes can then be compiled and analysed to help you understand:
How often you over or under order items

How quickly certain items get depleted

If you need to increase or decrease your deliveries
The key to accurate inventory management is to perform consistent stocktakes. By sticking to a schedule, you avoid revenue-draining mistakes like inventory shortages and spoilage.
Did you know? Lightspeed can be used on smartphones or tablets to record stock levels directly into the platform. You can even assign stock to different locations for further accuracy, like your bar fridge, storeroom or freezer.
Wastage
Accurate inventory tracking isn't just about knowing what you have on hand. When you know what you've wasted, you can assign costs to those losses and understand the impact. When you know why you've wasted, you can take measures to prevent it from happening again – saving you money in the long run.
A POS system with a waste management feature empowers you to understand your precise wastage and its costs so you can take action to minimise future waste.
But how?
Easily record waste, who entered it and why

Inventory is automatically updated in the POS when wastage is recorded

Minimise waste by running reports to spot trends over time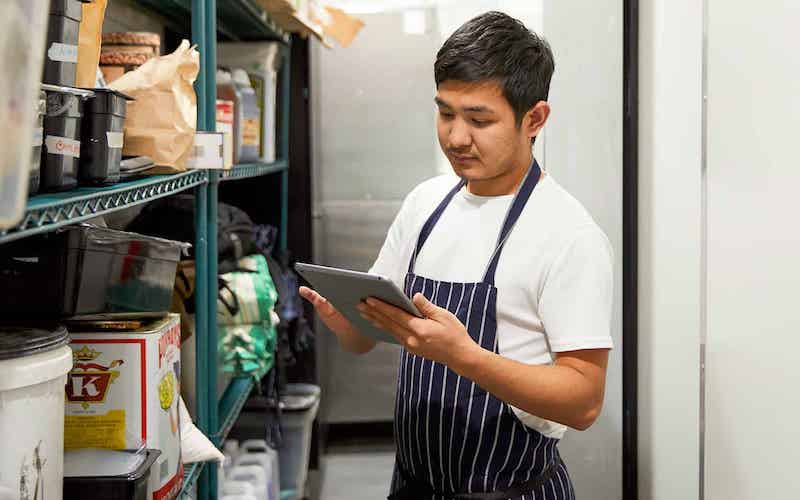 Manage recipes, costs and margins
Accurately inputting stock into your POS platform allows you to operate more efficiently before food or drinks are even purchased by the customer. It also creates a better process to manage what you've bought versus what you've sold and how much it costs you.
Lightspeed Inventory, for example, enables you to create recipes and batches by entering ingredients that make up your menu items, their quantities and price so you can track stock levels as items are sold, wasted and replenished.
These features empower you to ​​make informed pricing decisions for your menu items and pre-batched ingredients. Plus, the system does the calculations for you.
Know exactly how much of each ingredient should go into a recipe or batch

Understand the cost of ingredients and how many units each batch will make

A live margin calculator highlights profit margins as you build recipes and batches

Suggested pricing is generated based on your COGS and stipulated margins
Order and supplier management
A POS system that has the ability to manage your suppliers, assign ingredients to them and place orders to par, all from the same system, makes ordering quick and easy for you and your staff.
It also gives you complete end-to-end visibility of your supply chain, making it easy to review past orders, troubleshoot what went wrong and spot trends, such as order discrepancies – saving you time and money.
Plus, when stock needs replenishing, you can:
View incoming orders, mark stock as received and record discrepancies

Attach invoices and photos to received orders for complete traceability

Create a manual purchase order by selecting the items you need from suppliers and generate a purchase order.

Set email reminders to purchase certain items, e.g. every 1st and 2nd Wednesday of the month, you can opt to receive an email reminder to buy more wine.

Set recurring orders. These orders will be sent out automatically at a designated time for pre-determined stock quantities.

See live stock on hand against par levels and order to par.
5. Drive profits with invaluable insights and analytics
If there's one thing every hospo business owner has in common, it's the drive to grow their business and increase profitability. Many owners and managers have a pretty good idea about the inner workings of their business, what days are the most profitable and which dishes consistently drive revenue.
However, educated guesses don't always tell the whole story so it's essential to back up any assumptions with cold hard facts. As POS systems connect all aspects of your business – from online food delivery to popular payment methods and best-performing staff members – they contain a wealth of information and are the perfect source to make informed revenue-boosting decisions.
Easy to read reports
Lightspeed Insights makes it easy to drill down into your numbers. The data is presented in an easy to read format – making it simple to spot trends and patterns. These insights are the best way to really understand the dynamics of your venue and take action from them.
Site overview and performance

– see a snapshot of your venue's performance, including daily sales, average guest spend, top-selling categories and more.

Sales by channel

– understand exactly how much revenue each channel generates and how much it's costing. E.g. delivery apps vs QR table orders vs pay at the counter.

Product performance

– know exactly which dishes are most popular, the most profitable and which ones cost too much.

Average spend per table/order

– understand how much a table spends on average and set KPIs for staff to encourage upselling and increase average spend.

Payment methods

– understand ​​popular payment methods, e.g. cash vs card vs digital wallet, and track payment trends over time.

Staff performance

– drill down into individual staff performance, understand who has the highest AOV and compare staff members.
Manage your business with Lightspeed POS
A fully integrated POS system, like Lightspeed, should be the focal point of your venue. Thanks to its connectivity, businesses owners can achieve a holistic understanding of their venue, saving them precious time by streamlining processes and taking the hassle out of day-to-day operations.
Free POS Buyers Guide
This guide covers the 11 questions you should ask before taking the leap and investing in a new POS for your venue.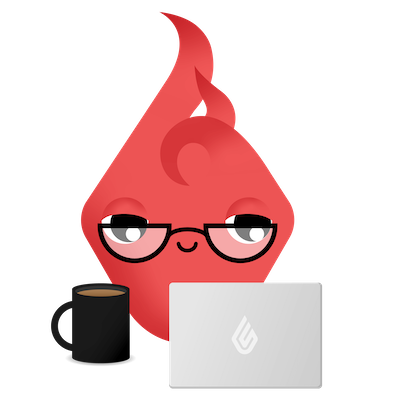 News you care about. Tips you can use.
Everything your business needs to grow, delivered straight to your inbox.