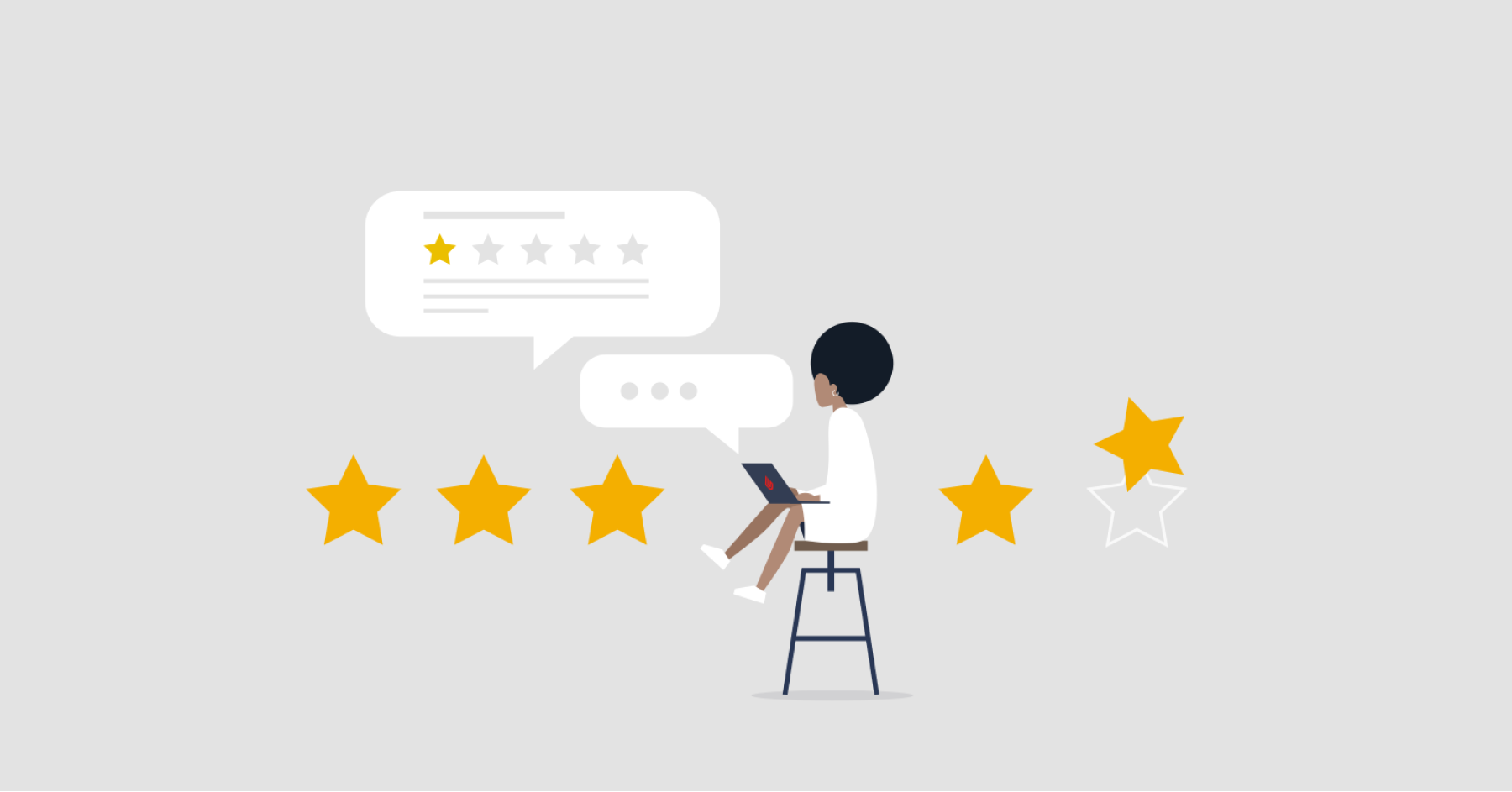 According to a study in the Journal of Interactive Marketing, there are two types of reviews:
Utilitarian – a functional critique of the product, service or experience; and
Hedonic – a more emotional review of the product, service or experience
Unsurprisingly, the researchers found that consumers respond differently depending on what kind of review they're reading.
When we research a place to eat, we generally perform a number of actions:
We check the average rating
We check the number of reviews
We check the details of a few really good reviews, and a few negative ones
In performing that last action, we tend to do something really interesting (and usually, it's subconscious): we'll attribute less weight to a negative hedonic review than a negative utilitarian review.
If this is all sounding a bit too academic, let's break that down a bit.
What do these types of bad reviews mean for hospitality businesses?
We worry a lot about 'rage' reviews, trolls, bots or revenge ratings. And sometimes it's true that someone's bad day could turn into a 1-star review that hurts our business, particularly if we have a small volume of reviews.
However, revenge reviews might not hurt you as much as you think…
When someone gives a really specific product-related critique (a utilitarian review), we take this on board and weigh up whether or not this is something that would positively or negatively affect our experience.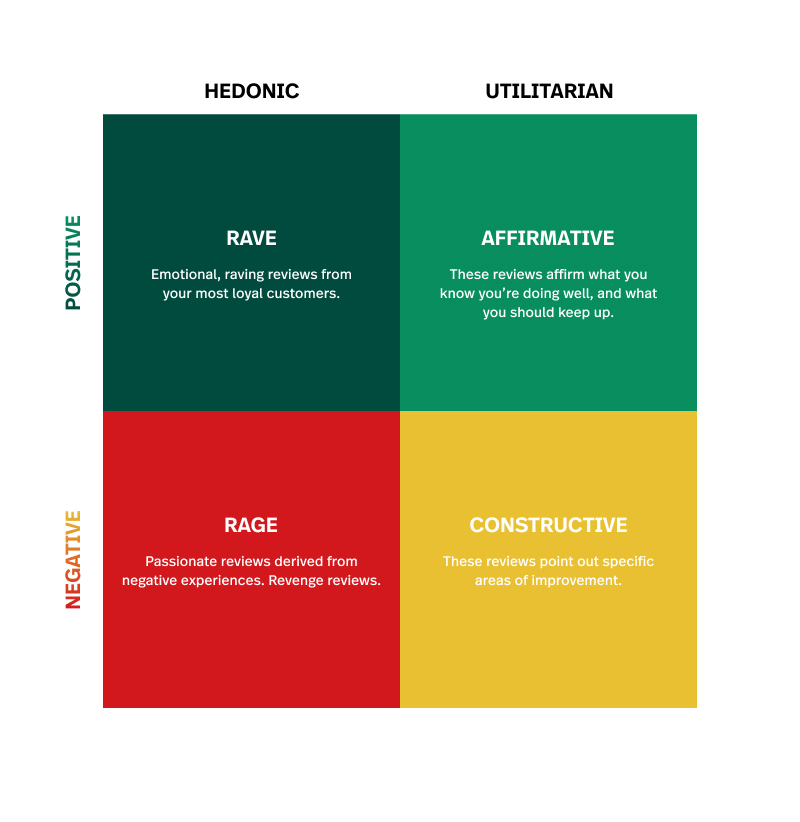 An example of a utilitarian review might be:
1-star. Soon after arriving, I realized that the bathrooms were not accessible and I had to leave to find another cafe.
It's specific, it's functional, and it tells you exactly what was wrong, in a way that others can relate to (or at least understand).
Now let's look at a negative hedonic review (the 'rage' review category). You'll notice that hedonic reviews are filled with emotive language.
1-star. The staff were really rude, they dismissed me when I walked in and continued to be annoyed by me whenever I ordered anything for the table.
Can you note the difference? Words like "rude", "annoyed", and "dismissive"… we tend to be skeptical of reviews that use language like this. We don't know if that person shares the same perception of "rude" as we do. We can argue with others about what "rude" means, but we can't argue with the fact that the bathrooms weren't accessible to someone who uses a wheelchair.
Consumers aren't silly! If a 'rage' review goes against the grain, we'll probably just assume that person was a nightmare customer. Better still, if you've built up a loyal customer base, they'll drown out the negative reviews with their own positive feedback.
Whether or not a negative review will actually hurt your business, receiving them never feels nice, even if the feedback is constructive and specific.
So, what should I do if I get a negative review?

If you're worried about a negative review you've received, what should you do?
There's general agreement that businesses should respond to negative reviews where they can. But what's harder to find is exactly how to respond. Should you apologise? Should you not? Should you identify steps you're taking to mitigate the experience for others, or is that overkill?
In a collaborative study between the business schools at Texas A&M University and East Carolina University, researchers wanted to find out what kind of response worked best to increase purchase intent and consumer sentiment.
Here's what they found:

(When) a response contains an apology, and an explanation, and a pledge to rectify the issue identified in the review, purchase intention for future consumers can increase.

What does that look like? Here's a hotel's response to a negative review on Yelp! with an apology, an explanation, and a promise to work on the issue or concern mentioned.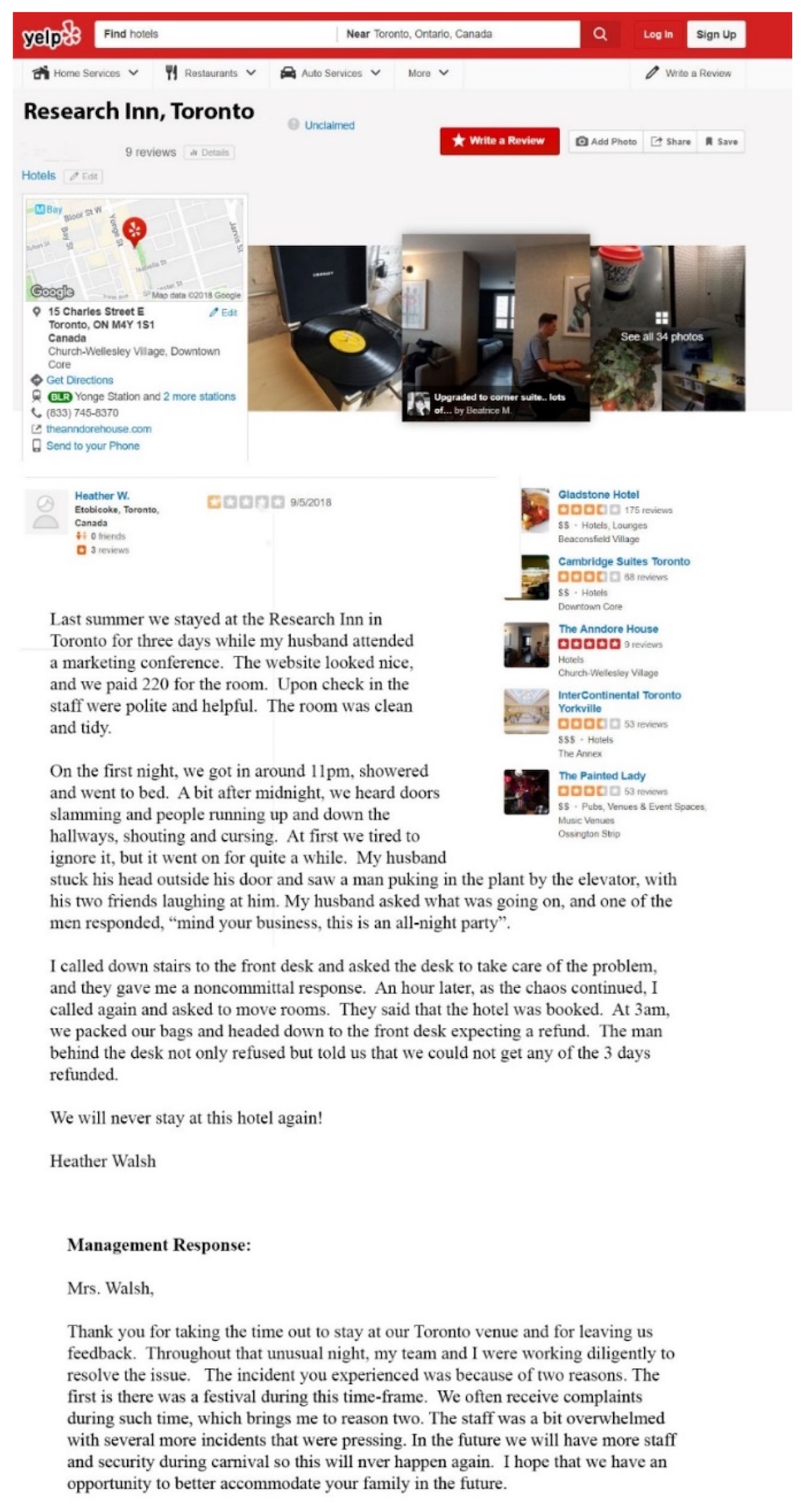 (Source: Zinko et al, 2021)
Here's another example of a response to a negative review: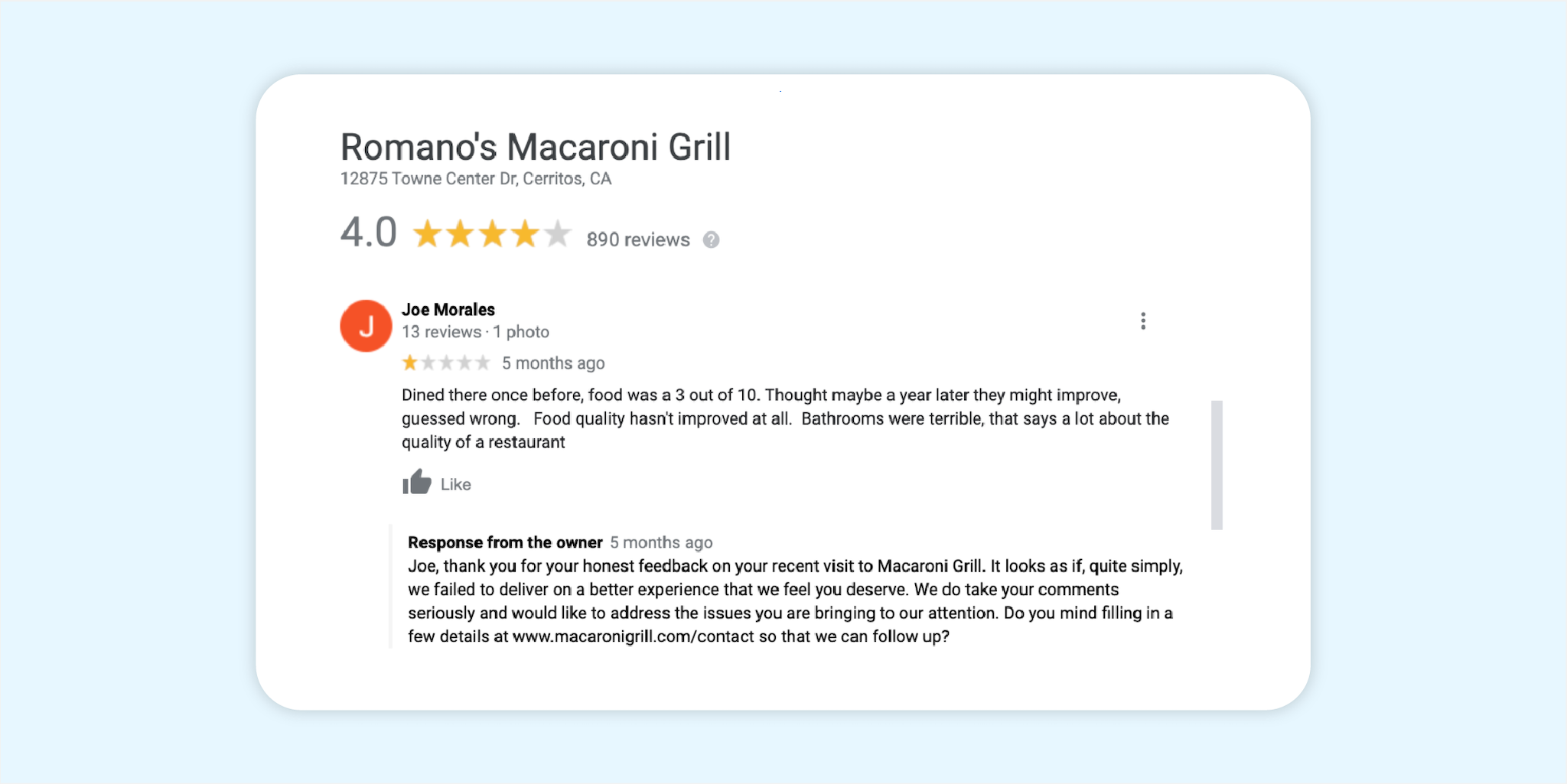 It is a good idea to thank the customer for their feedback, like both of these examples do.
Additionally, you can consider offering them a discount for their next visit to encourage them to return and see the changes you've made; this puts the ball back in their court and shows onlookers that you have made a serious effort to resolve the issue.
If you are still concerned about your average rating, or getting too many negative reviews, let's dive into some tips for how you can get more great reviews (and avoid those pesky detractors).
5 tips for getting great Google Reviews, consistently

Firstly — yes, you can ask for reviews. But there are a few ground rules.
Incentives are usually a no-go, and you certainly are not allowed to pay customers to leave a good review. Google also frowns upon "review-gating" (discouraging customers from leaving negative reviews).
In another lesser-known rule, you can't use reviews left on Google in marketing (that includes posting them on social media, using them in ads, or featuring them on your website), without explicit consent from the reviewer.
Here's a clever list of ways you can manage your Google Reviews and ensure your best customers are leaving feedback.
1. Use email and SMS automated flows to request reviews
The best time to request a review is when you're fresh in your customer's mind. As time goes on after purchase, your customers become less likely to give you feedback.
If you have customer details on hand (we highly recommend this!), send an automated message after they've visited, asking them to leave feedback. If the feedback is positive, you can reach out (or use an automation) to request a review.
2. Ask for reviews at POS directly after service
Ah, the good old reciprocity trick.
If your customers pay after service, ask them how they found the food, coffee or experience. If they express delight, thank them genuinely and ask if they would leave a review.
They've just told you they had a great experience, so they'll feel an obligation to pay it forward and give you good public feedback.
3. Ask for a review when a sale is completed during a promotion
Customers are highly likely to have had a good experience if they've taken part in a special promotion or just redeemed a voucher, discount code, or offer.
That means it's also a really ideal time to ask for a review.
For example, if your brand runs a flash sale for 24 – 48 hours, you can set up an automation flow that sends a review request to a specific segment of customers (i.e., those who placed an order during your flash sale).
Pro-tip: Using Lightspeed Marketing & Loyalty, you can segment customers by promotion tags, then ask for reviews from customers who participated—automatically.
4. Customers engaging with your loyalty program are better primed to leave good reviews
Customers in your loyalty program are already more engaged than those who aren't. But you can get even more targeted, and request reviews from customers who take particular actions. For example, loyalty customers are much more likely to leave a great review after they redeem a loyalty reward, or progress to a new loyalty tier.
These touchpoints remind your customers of the experience you deliver them, and engage that reciprocity mindset.
5. Encourage reviews using social media
Anyone who follows your business on social media is likely an engaged and loyal customer. So why not tap into that and run a campaign to request reviews from followers? Put out a call on your social channels asking customers to share their experiences on social, leave a review, or give you a rating on Google.
Note: As mentioned earlier, Google does not allow you to use reviews as advertising collateral on other platforms. However, this is allowed if you reach out and receive explicit, written consent.
Manage your Google Reviews with Lightspeed Marketing & Loyalty
When it's working in your favour, Google Reviews can be a real asset to your business. Use Lightspeed Marketing & Loyalty's Google Review Manager to support to streamline your review requests (and deliver them to your best customers, at the right time).
By taking a responsive and automated approach to Google Reviews, your business can proactively enhance its reputation and build stronger relationships with customers – one review at a time.
Watch Lightspeed Marketing & Loyalty in action!
In this 5-minute demo video, we explore the different features of Marketing & Loyalty, including how to encourge 5-star Google reviews and win back lost customers. Watch now.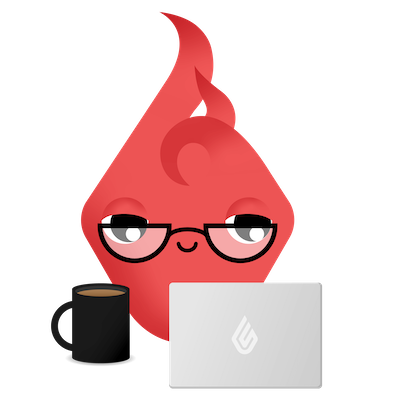 News you care about. Tips you can use.
Everything your business needs to grow, delivered straight to your inbox.