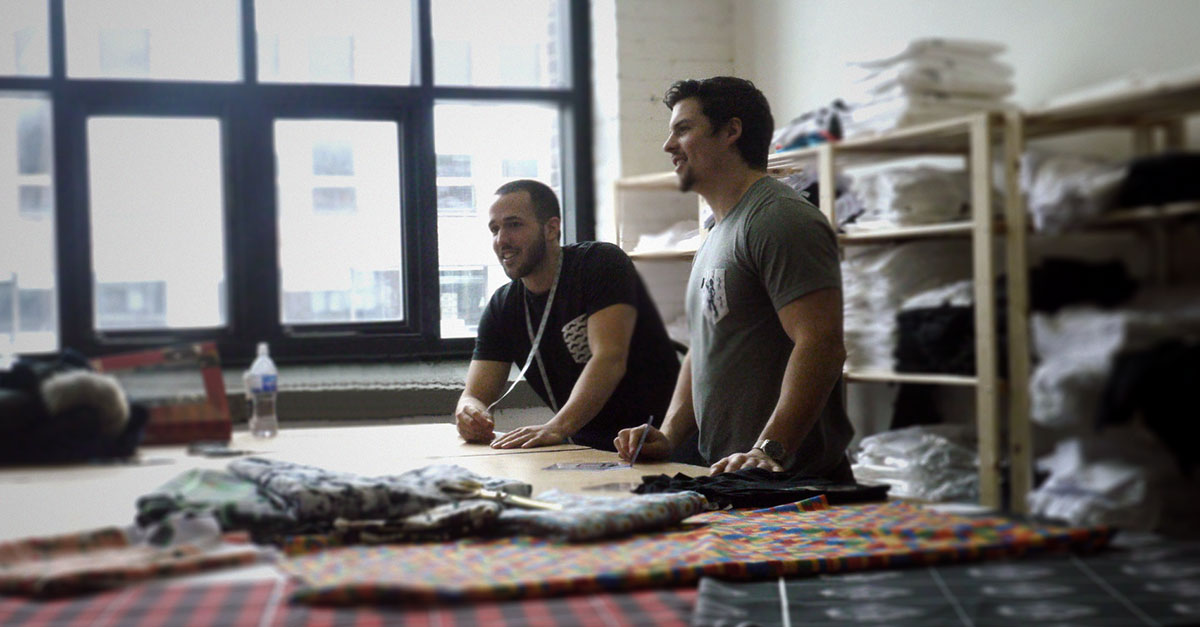 Stacked with multi-patterned fabrics from floor to ceiling, the Poches & Fils workshop, or atelier, is quite a picturesque environment. Owners Anthony Vendrame and Nicolas Dubeau proudly show off their different patterns, ranging from moustaches and Leggo to plants and animals, and explain the creation process of their t-shirts. The shirts are imported and the pockets cut and sewn right there in the shop by employees, who are able to create approximately six t-shirts in one hour.
An exciting new concept, the appeal for customers is having the freedom to choose the t-shirt and pocket combination rather than selecting a ready-made product in a store.
Having garnered somewhat of a cult following in Montreal, the Quebec-born company is staying true to its roots. "We're from Montreal and proud of it. The local celebrities who have worn our shirts are very supportive of the fact that they're made in Quebec, and as we grow into new markets, we want to maintain our identity." Eventually, they plan to expand internationally, "but for the moment, we're really excited about where we are."
Poches & Fils feels a kinship with their customers and do everything they can to involve them in the pocket design process. They ask for feedback and new pocket ideas through social media, using suggestions as inspiration for new designs.
Infusing the brand with humour, the t-shirts are delivered in what can only be described as pizza boxes. The creative packaging not only helps the company distinguish themselves, but simplifies the logistical part of delivery — identical dimensions for every shipment makes orders easier to coordinate.
With a great concept and energy to spare, why sell online rather than in a brick-and-mortar store? Cost and flexibility were the deciding factors for the company in choosing to open a web store rather than a brick-and-mortar. The high costs associated with renting space on a main city street in conjunction with their vast product offering made the decision simple.
For a small company, the right eCommerce platform is extremely important. Any misstep could end up costing them money that they don't have to spare, which is why Poches & Fils chose to move from their current platform to Lightspeed eCommerce.
With their new platform, Poches & Fils plan to not only track inventory, but track customer conversion to see where they're losing customers and where they're making the best connections. They were extremely attracted to the possibility of tracking the customer journey as well as optimizing their business directly in the platform. Being able to see where customers are clicking and what they're liking will help them create targeted promotions and address exactly what the customers want. "It's a very powerful marketing tool besides being an eCommerce tool. The fact that you can always work on your SEO directly from the platform was a selling point for us. The switch over was a no-brainer."
Without a positive user experience, shopping cart abandonment goes up — something the owners of Poches & Fils understand all too well. Their final product is a combination of two products, the t-shirt and the pocket, which were impossible to combine in their previous platform. Leaving the items as two separate products in the shopping cart, made for a less natural shopping experience. "Lightspeed eCommerce let us be more flexible with our store and let us generate a better user experience."
The final push towards Lightspeed eCommerce was the bilingual reality of Montreal's shoppers and the international appeal of their product. Selling in a bilingual environment made it imperative that the store and checkout be accessible in English and French, and that both Canadian and American currencies be displayed.
The sky is truly the limit for Poches & Fils, as they consider expanding their product offering into sweatshirts and getting more and more creative with fresh pocket designs. "Working with Lightspeed eCommerce is better, easier and faster — not only for us, but most importantly, for our customers. Lightspeed is perfect for us and satisfies our need for flexibility."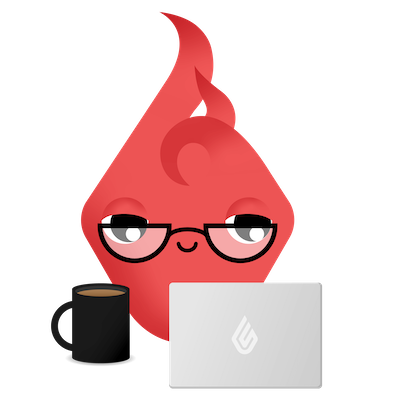 News you care about. Tips you can use.
Everything your business needs to grow, delivered straight to your inbox.