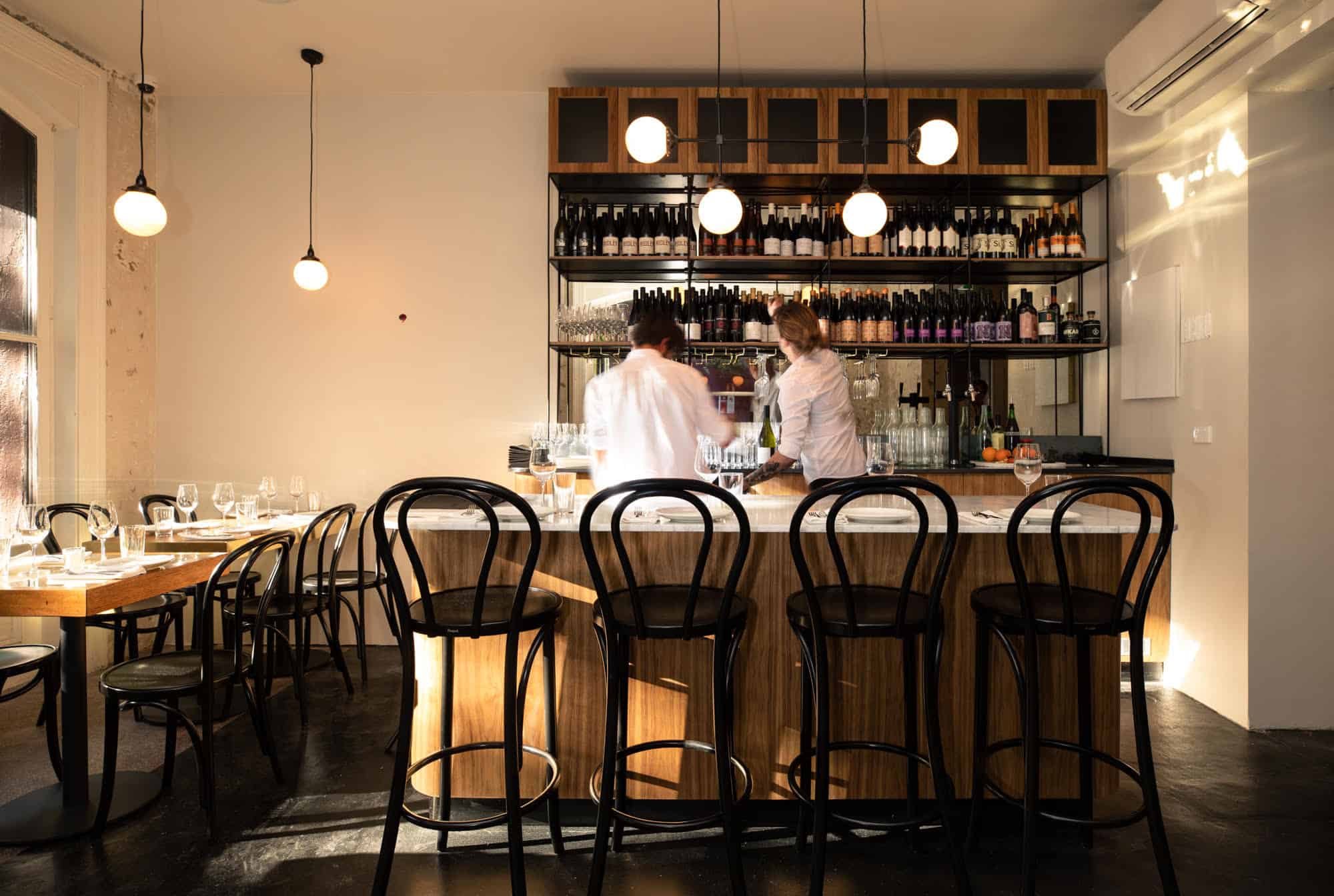 2020 was a year for the history books and if there's one thing everyone in hospitality can agree on, it's that 2020 changed the face of the industry forever. Businesses had to quickly adapt and deal with a raft of new changes from social distancing to sanitising, guest check-in and contactless ordering. Despite this, the hospo industry took everything in its stride and many businesses came out stronger and more resilient.
As the old saying goes, with a new year comes new opportunities, and it's important to prepare your venue for the year ahead. To help, we've created the ultimate checklist for hospitality businesses in 2021 so you can stay ahead of the curve and implement growth-boosting changes in the upcoming year.
Spoilt for choice: omnichannel ordering
2020 saw a surge in the popularity of omnichannel ordering and this trend is set to really take off in 2021. Customers now have access to quick and convenient ordering solutions thanks to a wide range of delivery and food collection apps. Simply offering dine-in options is no longer enough to remain competitive, and it's important for hospitality businesses to diversify their services in 2021 and offer options like delivery or order ahead for collection.
Lightspeed Ordering, for example, is a great solution for venues who want to serve up convenient ordering options from one platform. Lightspeed Ordering offers a range of features, including:
Digital menus

Contactless table-ordering

Collection

Delivery
No matter what channel a customer uses to place their order – be it via a QR code at the table or through a digital menu on your website for collection – all orders automatically sync straight to your POS and kitchen printer, just like a dine-in order.
Showcase your dishes with a digital menu
The shift towards digital menus is changing the way we order food. Whether it's a dine-in guest looking through your digital menu at the table or someone ordering online for takeaway, having a well crafted digital menu is going to be key in 2021.
Not only are digital menus a great way to facilitate contactless dining in your restaurant, they're also an effective tool for upselling and increasing average order value. Plus, you'll save money on printing costs as you'll no longer need to print new menus every time your dishes change or when menus get damaged.
Get social with Instagram and Facebook
Social media, particularly Instagram and Facebook, are great ways for hospo businesses to showcase and promote their offerings and reach new customers. 49% of people use Facebook to discover new restaurants and Instagram is the number one social media app for engagement with restaurant profiles. So it's crucial that your hospitality business is active and visible on social media in 2021 to remain relevant, competitive and reach a new pool of customers.
If you haven't got any social media profiles for your business, we recommend setting some up as soon as possible. Not only does social media help showcase your business to potential customers, but it's also a great way to communicate and interact with existing customers and your local community.
If you do have social profiles but don't use them that often, try and commit to posting a few times a week. It doesn't have to be an elaborate or time-consuming exercise, a nice photo of your favourite menu item or signature cocktail accompanied by an informative caption is all you need. You could even delegate the task and tap into the skills of your staff members and get them involved.
Tip: encourage guests to take photos in your venue, post them on their social channels and tag your business in the post. User-generated content is a form of social proof and an authentic way to promote your business.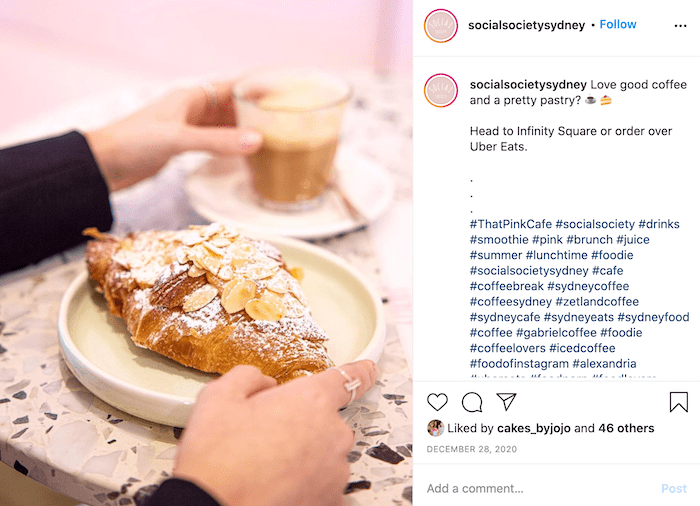 Example of social media post from Social Society
Waste not, want not: reduce your food waste
Food waste is a massive issue both in Australia and across the globe. Nearly one-third of all the food produced for human consumption around the world gets wasted every year. Sadly, this issue isn't going anywhere and with 40% of food bought for inventory ending up in the kitchen bin, hospo businesses need to dramatically reduce their food waste in 2021 to cut costs and help the environment.
Hospitality businesses can cut down on the amount of food waste produced in their venue with a helping hand from technology. Lightspeed POS, for example, offers an in-built waste management feature that lets you track and record wastage so you can take action to minimise waste in the future and cut costs!
Food for thought: drool-worthy food photos are a must-have
Thanks to the rise in popularity of digital menus, food photography is now a key factor when it comes to selling and promoting your menu items. Therefore creating beautiful, drool-worthy photos is crucial in making sure your dishes stand out from the crowd. In fact, adding good quality images to your digital menu can increase sales by 30%.
Take the time to photograph your menu items, showing them off in the best possible way, and upload them to your digital menu, restaurant website and social media channels. People are visual eaters, so creating beautiful images of your food is the best way to tempt people into trying your dishes.

Convenience (and hygiene) is king: contactless payments
The popularity of contactless payments, like tap and go and Apple Pay, has boomed over recent years due to their quick and convenient nature. In fact, Commbank predicted that Australia could be a cashless society by 2026. This trend was further accelerated by the coronavirus pandemic as consumers ditched cash for contactless payments.
Implementing a fully cashless system is not necessary at this stage; it is, however, necessary to be prepared for a rise in contactless payments in 2021. Incorporating a payment system that's regularly updated to meet changing customer demands means your venue will be prepared to accept all forms of payment methods.
Get noticed with a website for your venue
In today's digital world having a website for your venue is an absolute necessity. 77% of diners check a restaurant's website before choosing to visit, which highlights how important it is to have a website that is regularly updated, informative and (most importantly) easily found online.
First impressions really do count and for many people your website will be the first interaction they have with your business. Make sure your website is up-to-date, loads quickly and contains all the information your customers might be looking for. If your site is slow or your menu isn't easy to find, you risk people clicking away and looking elsewhere.
The paperless revolution
Paper waste is a huge global issue contributing to deforestation, greenhouse gas emission and water pollution to name a few. As a result, over 90% of customers are worried about the environment and are willing to spend more at sustainable businesses.
Governments, consumers and businesses are becoming increasingly conscious about their paper consumption habits and many hospitality owners are turning to technology to help reduce their paper waste in 2021.
Digital receipts are a great way for venues to cut costs and reduce the amount of paper they waste. With 90% of paper receipts ending up in the bin, offering a digital alternative is a great way to show customers you care about sustainability.
Another way to reduce paper waste in your venue is to invest in a kitchen display screen (KDS). They're a great alternative to a kitchen printer, reduce paper waste and cut costs by eliminating the need for printer paper. Plus, Orders are sent straight from the POS to the KDS in real time, meaning faster and more efficient service.
Embrace technology and upgrade your POS
The hospitality industry is constantly evolving and it's so important for businesses to embrace technology. A seamlessly integrated POS system, like Lightspeed, is the perfect solution for any hospitality business as you can manage all aspects of your business from one centralised system.
Lightspeed's connectability makes it easy to integrate with a whole host of partners from omnichannel ordering to contactless payments. Plus, it has an in-built and sophisticated inventory management system that streamlines stock control, minimises food waste and automates purchase orders.
Modern POS systems empower hospo businesses to offer quicker, more convenient service, reach new customers, cut costs and keep their customers (and staff) safe and happy.
Future-proof your venue in 2021
As 2020 proved all too well, it's so important for businesses to plan ahead in order to be agile and easily adapt to changing circumstances. Offering convenient ordering options, enhancing your business' visibility online and embracing technology to operate smoothly and cut costs is an effective way to grow sustainably in 2021.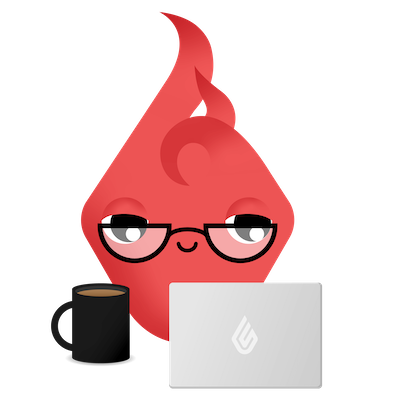 News you care about. Tips you can use.
Everything your business needs to grow, delivered straight to your inbox.