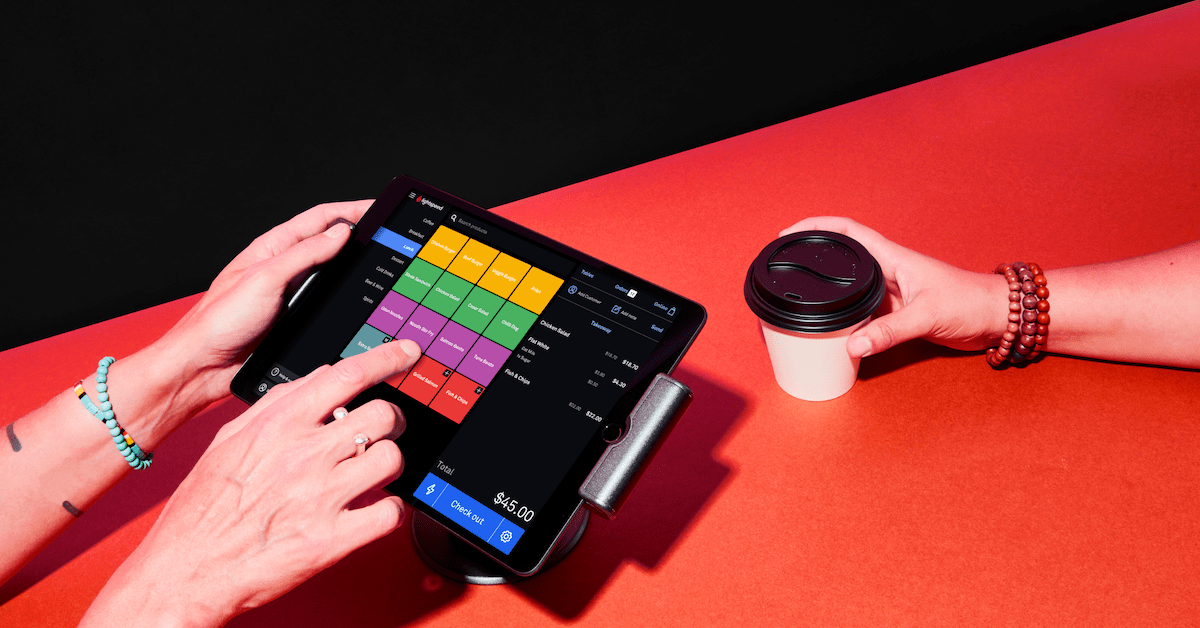 Most of you are familiar with point of sale (POS) systems, even if you don't realise it.
A POS system is the software and hardware that a hospitality venue needs to run its business. From ordering and managing inventory to processing transactions and managing customers and staff, the point of sale is the central hub that helps hospitality owners grow their business.
POS systems have enabled anyone, from business-savvy entrepreneurs to artisans who want to turn their passion into their profession, to open a business and grow. So let's get into answering your burning POS questions.
Shopping for a new POS system?
Download our free POS Buyers Guide that covers the 11 questions you should ask before taking the leap and investing in a new POS for your venue - from inventory management to flexible payments and ongoing support.
What is a POS?
"POS" is an abbreviation for point of sale, which refers to any place where a transaction can happen, whether for a product or service.
For hospitality businesses, that's usually at the bar or counter – where customers pay for their food and drinks. But If you have a mobile POS, your entire venue effectively becomes a point of sale (but we'll get to that a little later).
What is a POS system?
A point of sale (POS) system is the software and hardware that allows a business to accept payments and track sales. Whilst point of sale system used to refer to the cash register, POS systems today are entirely digital, allowing payments to be processed from anywhere.
Traditionally, POS systems were on-premise, which means they used an on-site server and could only run in a specific area of your store. That's why your desktop computer, cash register, receipt printer and payment terminal were all set up at your counter and couldn't easily be moved.
In the early 2000s, a significant technological breakthrough happened: the cloud. With the advent of cloud-based storage and computing came the next step in POS technologies evolution: mobility.
What's the difference between an on-premise POS and cloud POS?
There are a number of differences between on-premise and cloud POS systems, and while each system is different there are six key differentiating factors between the two:
An on-premise POS usually requires the business to purchase a licence for the POS program and installs it on their computer.

Cloud POS software can be downloaded onto any device that has access to the internet, such as a laptop, phone or tablet.

On-premise POS programs require the business to update and maintain the software.

Software updates are automatically 'pushed' to cloud POS systems, meaning no maintenance for the business.

On-premise POS systems often require costly upfront hardware purchases

Cloud POS systems are typically cheaper to get up and running with less hardware.
What is a mobile POS system?
Thanks to cloud-based servers, hospitality businesses could start accessing their POS system by picking up any device with internet connectivity—whether it was a laptop, desktop, tablet or smartphone—and logging into their business portal.
In a nutshell, a mobile POS system lets hospitality venues manage their entire business from any device, at any time.
The democratisation of great customer experiences
The impact that mobile POS systems had on hospitality venues was enormous. Being able to run their business, serve customers and process transactions from anywhere resulted in reduced lineups to pay and faster customer service.
Did you know that over 80% of restaurants are turning to technology, like POS systems, to help them run their business successfully and efficiently?
Mobile POS systems also opened up a ton of new sales opportunities, like opening a pop-up store or selling at events and festivals.
What are the benefits of a mobile POS system?
Mobile checkout and payments

Centralised inventory management

Real-time access to sales reports

Advanced customer data

Schedule and manage employees

Integrated payment processing

Manage your business anytime, on any device, anywhere

Open up new stores, fast

Customer relationship management capabilities
What hardware does a POS system need?
The hardware products you need can vary depending on your business type. We've listed the most common hardware used by hospitality businesses, but keep in mind that not every venue will need all of these products.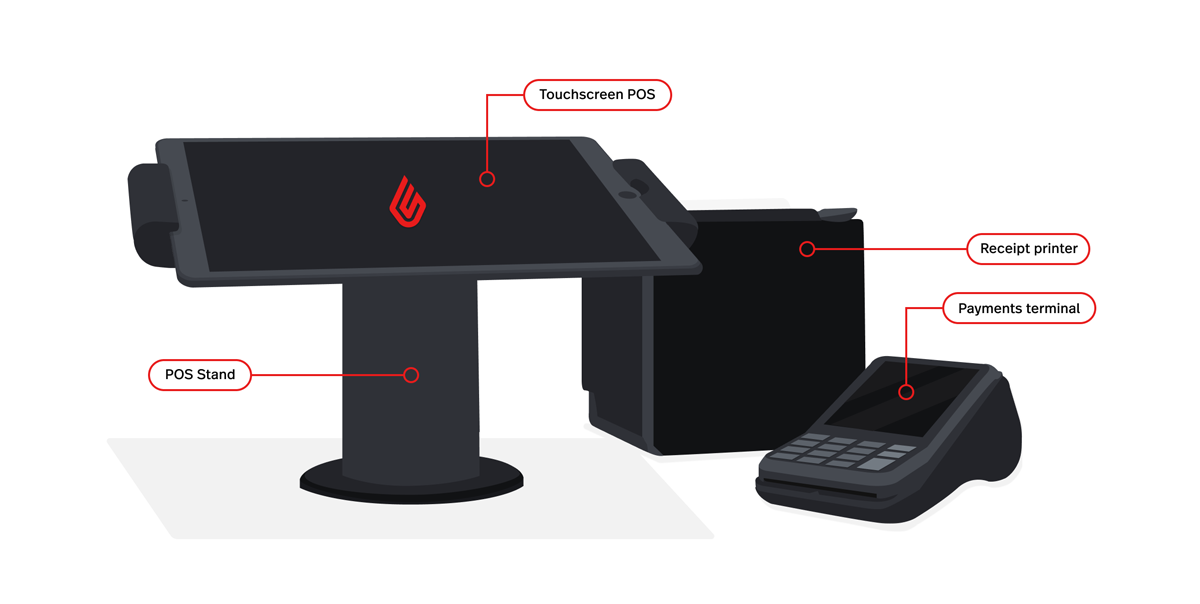 1. Touchscreen POS
A touchscreen POS is the device that the mobile POS software runs on.
For old-school, legacy systems, the cash register was the POS terminal. For the newer options, merchants can use either a desktop computer, laptop, tablet, or smartphone—any device with internet connectivity.
Many hospitality venues opt to use tablets, like an iPad, with a stand that turns them into a countertop device. The advantage of this setup is in its inherent flexibility. Front of house staff have the freedom to pick up and move the tablet to take orders around the venue, access customer profiles, and process transactions.
2. EFTPOS Terminal
This is also referred to as a credit card terminal or payment terminal—it's what merchants use to accept credit and debit card payments.
There are three ways an EFTPOS terminal can accept payments:
Reading the card's magstripe (swiping the card)

Reading the card's chip through an EMV (Mastercard, Visa or Amex)

Using near-field communication (NFC) to accept payments from mobile payment providers like ApplePay
Most consumers prefer cashless payments. By 2024, it is predicted that cash payments in Australia will make up just 2.1% of transactions – effectively making Australia a cashless society.
Why? Because cashless payments are typically quicker and more efficient, which leaves the customer with more time to do their thing.
The best credit card reader features
Print or email receipts

Take any payment (swipe, tap, or insert)

POS-integrated payment processing
3. Receipt printer
While the majority of consumers now opt for email receipts or none at all, it's still important to offer printed receipts.
Similarly to cash drawers, receipt printers can connect to a POS terminal via USB or Bluetooth. Most POS system providers can also provide you with receipt printer paper.
4. Cash drawer
To support the customers that still want to pay in cash, most businesses need a cash drawer. They generally come in several sizes to support all business types.
As with receipt printers, most POS-compatible cash drawers can connect to the POS terminal either by USB or Bluetooth.
Most POS system providers provide you with a list of compatible hardware and can get you set up with what you need with minimal hassle.
What is a POS transaction?
A POS transaction is the moment where a transaction is finalised or the moment where a customer makes payment in exchange for their food and drinks. Any form of payment can be used, such as cash, debit cards, credit cards, mobile payments, and even accumulated loyalty points.
In order for a POS purchase to be completed, a PIN number, card tap or for newer mobile payment technology, a fingerprint or face scan usually needs to be authenticated before an authorised transaction can be made.
The authentication information from the PIN number or other security features then travels through the ATM networks until it reaches its destination–the issuing bank. At this point, the bank can either authorise it or deny it depending on the transaction type and how much funds are available in the cardholder's account.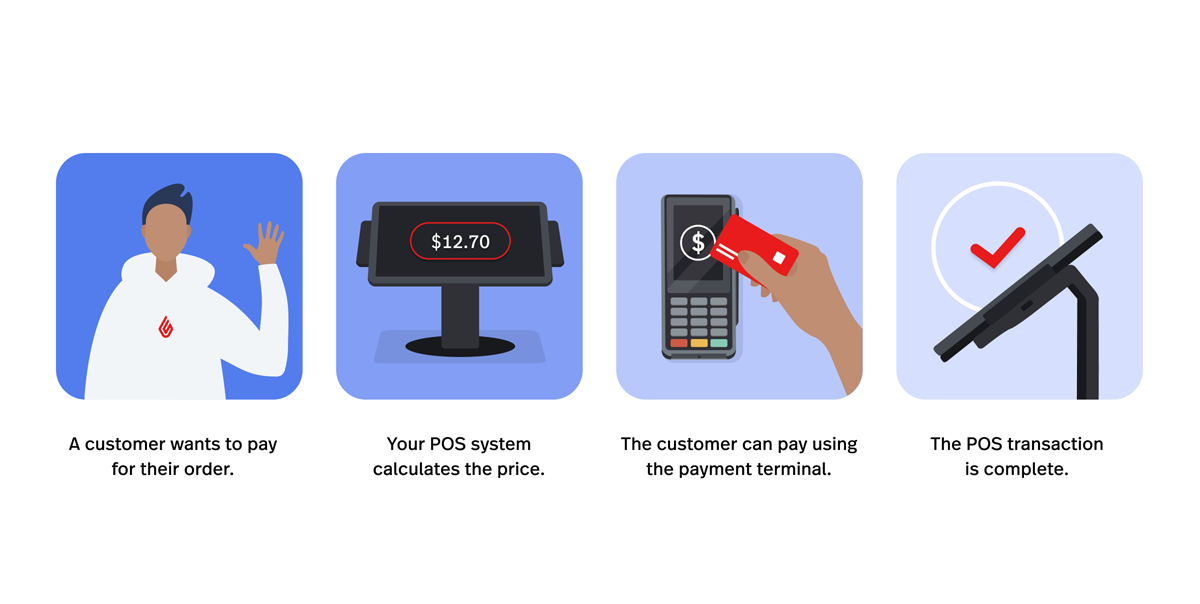 What are a POS system's key features?
In 2022, 22.43 million Australians have a smartphone – that's 86% of the population. With the ever-growing dependence on the internet and consumers using smartphones at an explosive rate, a host of new POS functionalities and features have emerged to help hospitality businesses offer a connected, omnichannel dining experience.
Key features to look for in a hospitality point of sale:
Omnichannel selling capabilities

Integrated payment processing

Customer loyalty program and marketing

Inventory management

Staff management

Multi-site management

Advanced reporting

Integrations and add-ons

Ongoing support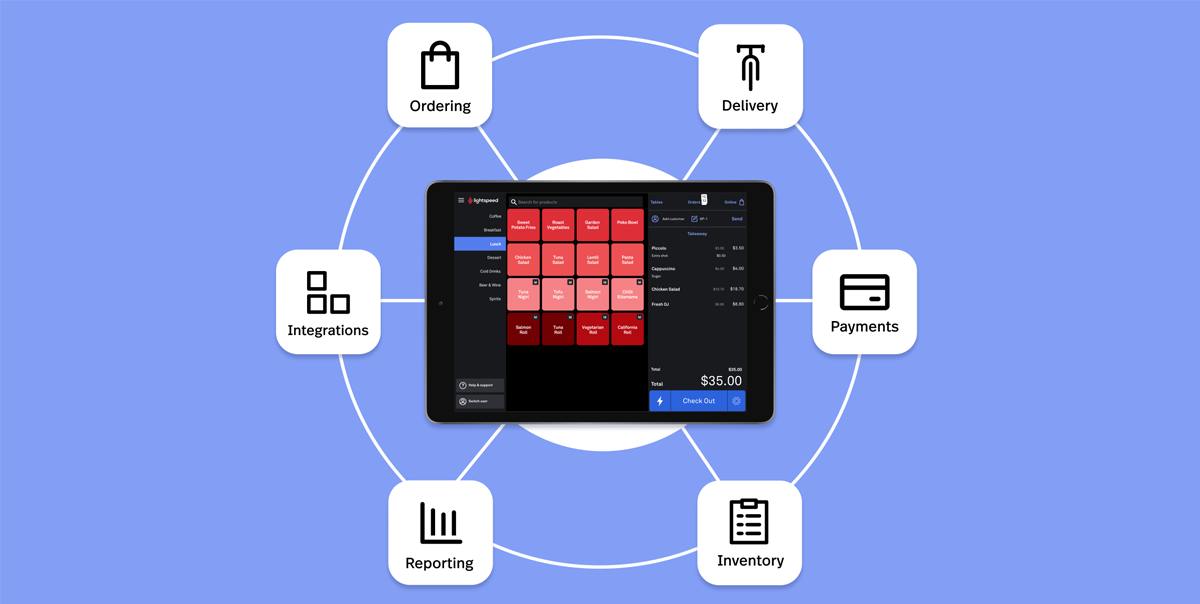 1. Omnichannel selling capabilities
Customers habitually research venues and menus online before they ever step foot through your doors. When they arrive at your venue, the majority of them already have a good idea of the kind of dish or drinks they want. That's the kind of omnichannel dining experience that customers have grown to expect.
Omnichannel dining experiences start with having an easy-to-browse website, complete with a digital menu and images of your dishes or drinks. It ends with having an equally convenient in-venue (or takeaway and delivery) experience.
As a result, an increasing number of hospitality businesses have adapted to their customer's behaviour by choosing a mobile POS system that allows them to run both a dine-in venue and online food ordering from the same platform.
This enables hospitality businesses to offer a wider range of services to their customer base, be it traditional dine-in, QR table ordering, takeaway or food for delivery.
As consumer technology evolves and consumer behaviours change, mobile POS systems are increasingly focusing on evolving their omnichannel selling capabilities and blurring the lines between online and in-person dining.
The benefits of an omnichannel point of sale:
Extra revenue stream

Sell both online and in-venue

Increased visibility online

Customer-focused dining experience

Multiple order options
2. Integrated payment processing
Between managing multiple online ordering channels, a dine-in venue, inventory, customers and employees, being a hospitality owner is more complicated than it's ever been.
In an effort to make business owners' lives easier, mobile POS system providers started taking payment processing in-house, officially removing complicated third-party payment processors from the equation.
Fully integrated payment processing allows businesses to benefit from one transaction rate for all payment methods and no startup or monthly fees. The result is that hospitality owners get to keep more of their money while removing any complexity associated with payment processing.
The benefits of POS-integrated payment processing:
Integrated POS payments solutions allow you to handle payments with ease, speed and security while reducing errors, paying lower rates and saving time.
Speed up service

– take payments quickly with the amount owed sent straight to the payment terminal

Ultimate convenience for customers

– accept a range of payment methods, such as contactless and credit cards, easily split bills, add tips and take payment at the table.

Reduce errors

– cut down on payment errors, no manual entry means the right amount is charged every time.

Save on fees

– with the ability to pass on surcharges, combined with low rates and no set-up, termination or hidden fees.

Improve security

– have peace of mind with built-in PCI compliance and fraud prevention.

Less admin

– save time on reconciliation and reports, with everything in one system.

More insight – understand exactly how the way people pay impacts your business with real-time reports
3. Customer loyalty program and marketing
Some POS system providers also offer customisable customer loyalty programs.
9 in 10 Aussies belong to a loyalty program (everything from frequent flyer memberships to Woolies rewards) with the average Aussie belonging to 6 different loyalty schemes. Surprising? Not really.
The use-case for hospitality venues implementing a loyalty program is simple: to show customers that you value their business so that they feel appreciated and keep coming back.
Customer retention is up to five times less expensive than attracting new customers. Therefore, implementing a loyalty program that's integrated with your POS is a great way to keep loyal customers coming back.
Hospo loyalty programs come in many different forms – from the traditional coffee cards, where you buy 9 coffees and get a 10th free, to more sophisticated, digital programs that offer a range of different reward tiers, from percentage discounts to free menu items.
Paired with a CRM database, loyalty programs enable hospo owners to take their customers' purchase history and market them with relevant offers by email, social media, or any other communications channel.
Why are customer loyalty programs valuable?
Scaling your loyal customers by as little as 5% can grow your sales by
up to 75%.
When you make your customers feel like their business is appreciated and consistently suggest products and services that align with their needs, you increase the likelihood that they talk about your venue with their friends.
Your customers become your business' ultimate cheerleader, speaking positively about you within their social circles and essentially attracting new customers for you.
4. Inventory management
It's important to be smart about what and how much inventory you buy, as your cost of goods can fluctuate throughout the year and over purchasing can result in food waste, impacting your bottom line.
Inventory is one of the most difficult balancing acts hospitality businesses face, but it's also the most important thing to master as it directly impacts your cash flow and revenue.
POS systems typically have robust inventory management functionalities that simplify how venues purchase, prepare and sell their inventory.
With real-time inventory tracking, venues can trust that their inventory levels are accurate as stock is prepped, sold or wasted.
To go along with real-time inventory management, there are a host of inventory management features in a POS:
Supplier management

Order management

Stock counts

Recipe tools

Food waste calculators

Margin calculators
5. Staff management
Your POS should let you set custom permissions for managers and employees. With this, you can control who has access to your POS' back end versus those who can only access the front end.
You should also be able to schedule your employees' shifts, track the hours they work, and generate reports that detail their on-the-job performance (like seeing how many transactions they process, their average table turnover time, and their average transaction value).
You can even generate end of day reports that detail your overall sales per employee, per shift.
The best staff management features to look for:
Schedule your employees

Monitor each employee's performance

Assign specific user permissions
6. Multi-site management
One of the biggest advantages of a mobile POS is that it can support your business's growth from one venue to many.
Consolidate your inventory, customer, and staff management across all locations so that you can manage your entire business from one place.
The benefits of multi-store management:
Manage your physical venues and digital menus in one place

Add sites, users, and cash registers to your POS as you open new locations

Transfer stock between locations

Access customer data across all locations

Compare venue performance
7. Advanced reporting
Intuitive sales, inventory, and employee reporting enable you to turn insights into action and run your business smarter.
A mobile POS should offer a variety of preset reports that give you insight into your venue's hourly, daily, weekly, monthly, and yearly performance.
Armed with that information, you can reduce labour costs, maximise your COGS and margins, predict high-volume sales periods, identify your star employees, and much more.
8. Integrations and add-ons
Integrations and add-ons extend the functionality of your POS beyond what its core features are.
Check your POS app marketplaces to find add-ons and integrations for:
Inventory management

Accounting

Staff scheduling

Payroll

Bump screens

Online ordering e.g. order ahead, digital menus and QR ordering

Food delivery

Marketing and loyalty
And much more.
9. Ongoing support
Even if your POS is intuitive and easy to use, you're bound to get stuck and have questions at some point. And when you do, you'll want 24/7 support to help you fix issues fast.
POS system support teams can typically be contacted via phone, email, and live chat.
Along with on-demand support, consider whether or not the POS provider has supporting documentation like video tutorials, blog articles, how-to guides, support communities and forums where you can chat with other businesses using the system.
Which POS is right for your business?
The POS you choose has a big impact on how you run your business day-to-day, and how you grow your business year after year.
There are a lot of options out there, so take the time to research and find the right fit for you.
Subscribe to our fortnightly newsletter for all of your hospitality news, updates, and stories. Just enter your email into the form below to keep yourself in the loop.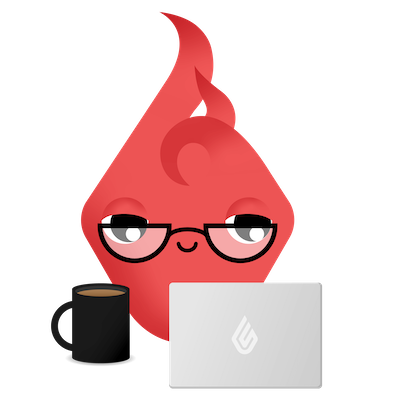 News you care about. Tips you can use.
Everything your business needs to grow, delivered straight to your inbox.