Description
Prevent empty inventory: You'll be notified before inventory gets too low, and never caught off guard by an empty inventory.

Keep customers engaged: If your product sells out faster than you can restock, keep your customers engaged with an automatic back-in-stock email.

Monitor your inventory: See directly which products are out of stock and are wanted most by your customers.
---
"That's correct. Only 14,95 per month! We calculated, for 90% of existing Lightspeed shops, a single sale from Inventory Alarm will cover the license money. Which means, you'll make your money back in no time!"
Why Inventory Alarm?
Our purpose was to develop the most simplistic and user friendly App that will help all webshop owners to be aware of low inventory "the easy way" and at the same time automatically inform custumers when a product is available again. From now on Inventory Alarm will take care of it.
How does Inventory Alarm work?
By setting an alarm in the Inventory Alarm dashboard, you will be notified once the stock of a certain product reaches your alarm level and a final notification when it is completely out of stock. When a complete stock out occurs, your customers can leave their email on the product page and will be notified once the inventory is refilled.
Extra benefits:
Use Inventory Alarm in every country with full multilingual support.
Consult your inventory on the go with our mobile friendly dashboard.
Configure email templates and pop-up to match your shops style.
Create a new product and use the pop-up as a reservation or pre-signup tool.
Can I see a demo?
Of course! You can see a demo of an out of stock product page here.
Inventory Alarm in action: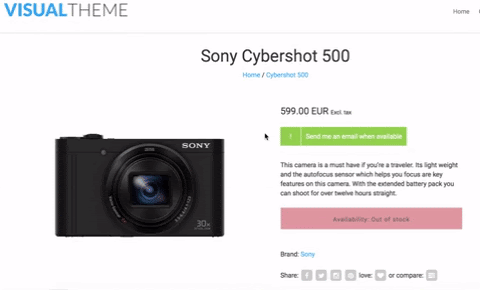 Where do I log in?
Once installed, click here to login directly to your Inventory Alarm Dashboard.
Made by theme specialist Crivex
Our app can be installed with all themes. Inventory Alarm integrates seamlessly with Visual Theme and Blueprint Theme
Terms and Conditions
By installing the application you agree to our terms and conditions.
Do you need support?
Visit our online helpdesk or send an email to [email protected].