Unified payment & POS platform
Fast and secure payments, built into your POS
Lightspeed Payments is made for ambitious retailers. Process sales, get paid and streamline your business from one unified platform.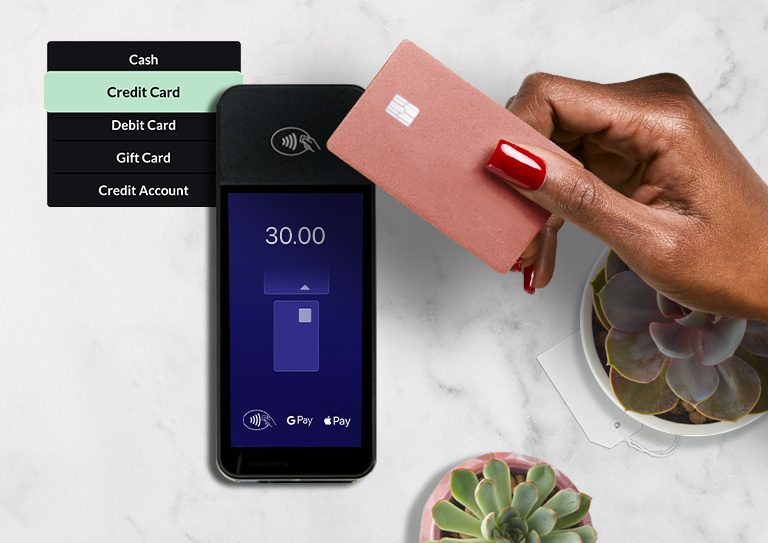 Lightspeed powers leading businesses in over 100 countries.
$87.1B USD
Lightspeed's customers processed $87.1 billion in GTV* through Lightspeed's platform in fiscal 2023
~168K
~168K locations around the world trust Lightspeed**
Drive efficiency across your business with one solution.
Get paid quickly with Lightspeed Payments, no matter where customers shop.
Get up and running fast with our intuitive, in-depth setup process

Unify your operations with payments hardware, software and customer support in one place

Personalize the customer experience using insights from payment data

Identify top revenue streams with a full view of multilocation and multichannel sales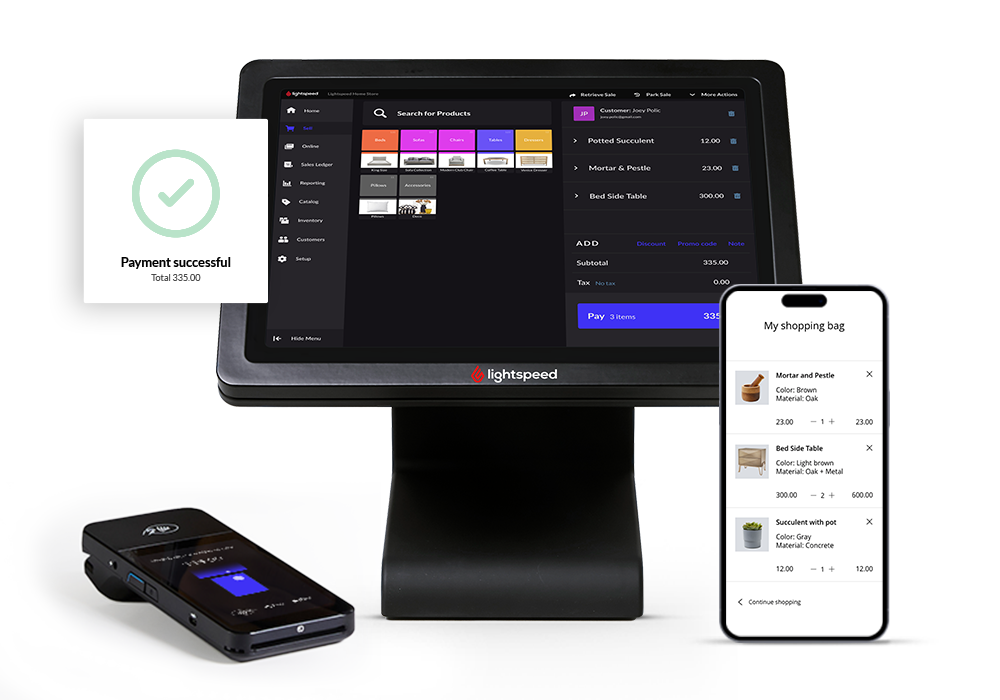 Cost-effective and transparent payment processing fees
Processing fees are always simple and predictable, so you can accept payments with confidence.
Save money with simple pricing
No hidden fees or markups
Negotiate a competitive rate
Free chargeback assistance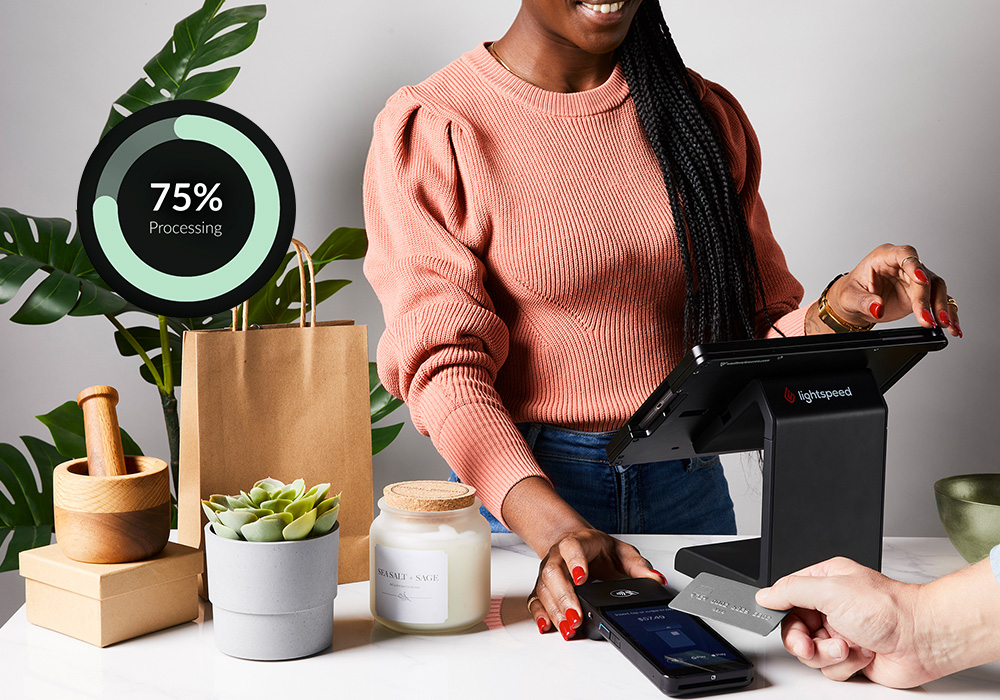 Considering the switch to Lightspeed?
Switching to Lightspeed is easy. From data migration to hardware and payments setup, our industry experts will support you each step of the way.
Get fast 24/7 support
One-on-one onboarding
Dedicated Account Manager to answer every question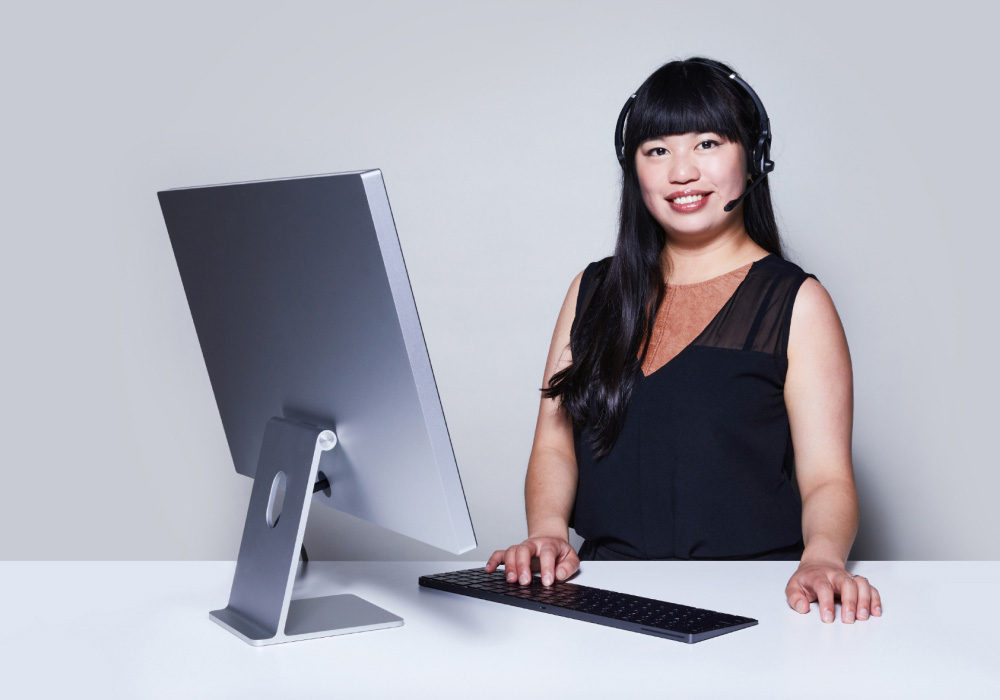 Accept any payment, anytime.
Lightspeed Payments provides leading terminals and equipment, so you can accept any mobile payment with ease.
Accept payments from all major credit and debit cards, Apple Pay and Google Pay
Enjoy increased mobility to accept payments anywhere in-store or curbside
Help drive revenue with tipping functionality and other built-in features
Keep things simple with an easy-to-use interface that's staff and customer-friendly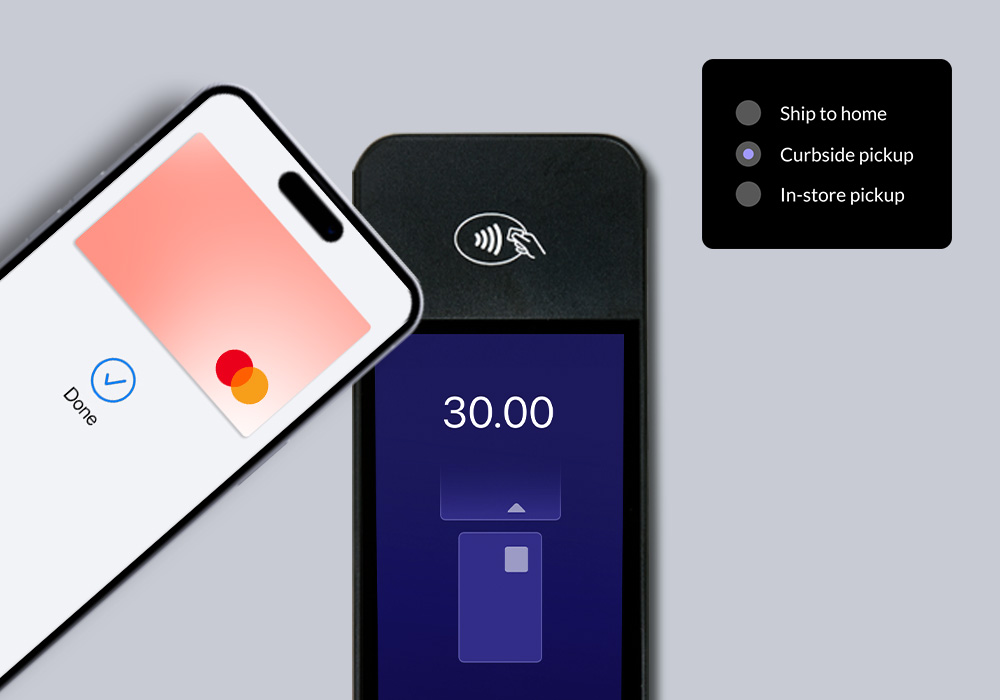 Premium security comes standard.
Security is our top priority. Lightspeed Payments comes with premium security features built-in, so you'll have peace of mind from day one.
Protect their data with PCI DSS validated Level 1 Service compliance
Secure your data with end-to-end encryption for all transactions, in-store and online
Get 24/7 server security monitoring by our in-house team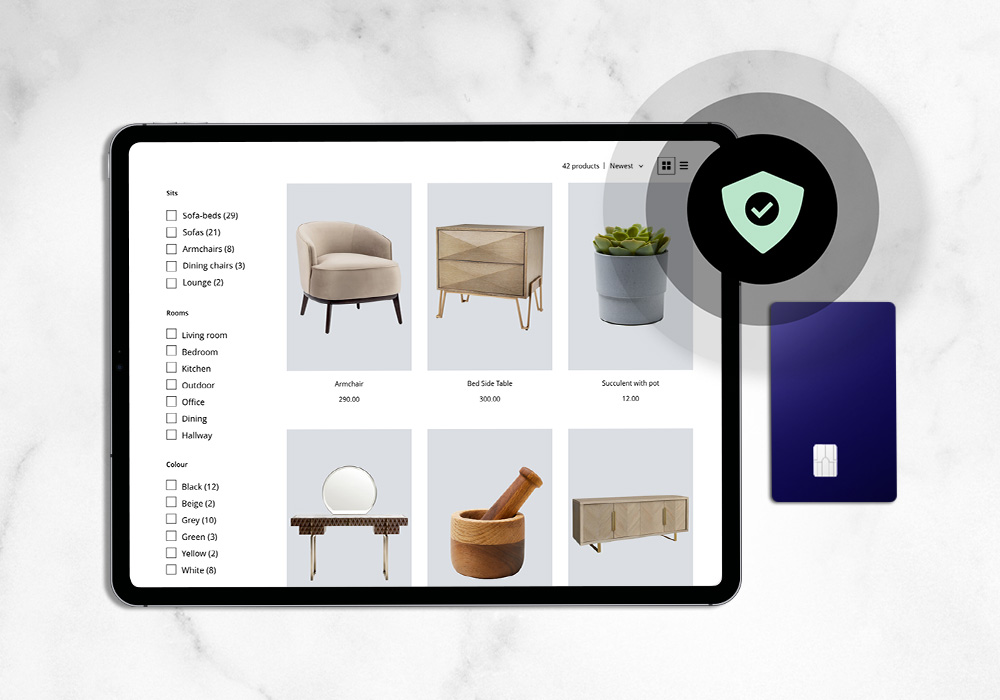 All the answers you're looking for.
Does Lightspeed offer a complete solution?

Lightspeed proudly offers a 360° embedded solution. Having only one provider for your point of sale technology, payment services, hardware and support team saves you countless time and money. Plus, it makes running your business so much easier.
I currently have a contract with another payment provider. How can I switch?

Depending on which provider you currently have a contract with and what your terms are, the cancellation fees they impose will differ. Thankfully, the switch process to Lightspeed Payments is smooth sailing. Our friendly support agents take you from start to finish and make sure you're running without a hitch before you go live.
Is hardware included?

Lightspeed hardware is sold separately. For security purposes, you cannot use any existing terminal hardware you might already have as these have not been injected with the certified firmware. Safety first!
What is the average deposit time for funds?

You can expect to see money deposited into your account within 2 business days after a transaction is made. Please note, that a number of circumstances may affect this timeline, including delays caused by bank systems or risk monitoring. For further details on when to expect your funds, please refer to our documentation on getting paid and integrated payments report.
Are there hidden fees?

Never. With Lightspeed you'll never find a complicated or cryptic fee on your statement. The only thing you can expect is a $15 chargeback fee, should one even occur at all. We offer competitive rates and our experts are happy to tailor the right solution to fit your business. No monkey business here.
What happens if I get a chargeback?

Sadly, chargebacks can happen and they are a reality no retailer can escape. Luckily, we make it so much easier for you to deal with. You will be charged a single $15 fee and we will fight tooth and nail to dispute the claim on your behalf. We'll assist you from start to finish and keep you updated on the status as the dispute progresses.
Where can I find all my payment related reports?

Your transaction and settlement reports are all in your Lightspeed POS, in the same place you run all your other standard reports from. Your deposits and batches are tracked in real-time, which makes reconciliation much faster and easier.
Can I use Lightspeed Payments for my Lightspeed eCom store?

Absolutely. In fact, you really should. It'll save you lots of time, headaches, and money. The second you turn on Lightspeed Payments, you instantly have both in-store and online processing. It's that simple.
What are embedded vs. non-embedded payments?

Lightspeed Payments is an embedded payment processor, meaning it communicates with Lightspeed POS to process payments. Transactions are automatically recorded in your POS system, saving time and reducing errors because it eliminates the need for manual entry. Embedded payments make for a better checkout experience for both your employees and customers. Plus, you have access to plenty of valuable info including batch settlements, reports and customer data.

With non-embedded payments, processors don't communicate with the POS system. Transaction data isn't recorded—you have to manually input information, making the checkout process more complex.
More questions?
*For the twelve months preceding December 31, 2022, Lightspeed's customers processed $85.3 billion in GTV through Lightspeed's platform. "Gross Transaction Volume" or "GTV" means the total dollar value of transactions processed through Lightspeed's cloud-based software-as-a-service platform, excluding amounts processed through the NuORDER solution, in the period, net of refunds, inclusive of shipping and handling, duty and value-added taxes. GTV does not represent revenue earned by Lightspeed. GTV excludes amounts processed through the NuORDER solution because they represent business-to-business volume rather than business-to-consumer volume and Lightspeed does not currently have a robust payments solution for business-to-business volume. See the sectioned entitled "Key Performance Indicators" in Lightspeed's most recent MD&A available on its investor relations website and at www.sedar.com and www.sec.gov for more details.

**Customer locations as of December 31, 2022. Excluding the impact of Ecwid.