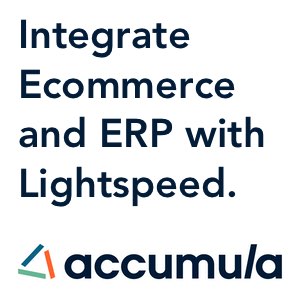 Complete, real-time integration from the Lightspeed experts.
Winner of the Lightspeed Customer Success Award and Lightspeed Service Excellence Award. More Lightspeed users rely on Accumula than any other integrator.
Accumula unites Lightspeed with platforms like Shopify/Plus, Magento 2, and Netsuite to help businesses grow faster. Whether you have 1 location or 100, Accumula streamlines operations and optimizes inventory. Increase efficiency and profits while delivering a better customer experience both online and in-store. All managed from within Lightspeed.
"Since switching to Accumula, our business has grown by 500%. It's seamless and reliable. Highly recommended if you want real results with omnichannel." – Chris Bone, Deadstock.ca
The most complete integrations available for Lightspeed (Shopify/Shopify Plus, Magento 2, Shipstation, Netsuite, etc) 

Full multi-store/multi-site support, automated order management, ship from store, in-store pickup, and more

Integrate with existing Ecommerce stores with no downtime

Regular updates and feature improvements

Dedicated Support Team of Lightspeed Experts.
Extended Description:
Flexible Product Info Management across channels (ERP to Lightspeed to Ecommerce)

Real-time inventory updates across platforms (from ERP to Lightspeed to Ecommerce)

Intelligently route Ecommerce orders to optimize fulfillments including Curbside/Instore Pickup and Returns/Refunds

Automate Inventory Transfers between ERP and Lightspeed
For scaling retailers, Accumula offers complete omnichannel integration between POS, Ecommerce, and ERP to unlock operational efficiency and improve data visibility while minimizing training overhead and software logins.
Product:

eCommerce,

OnSite,

Retail