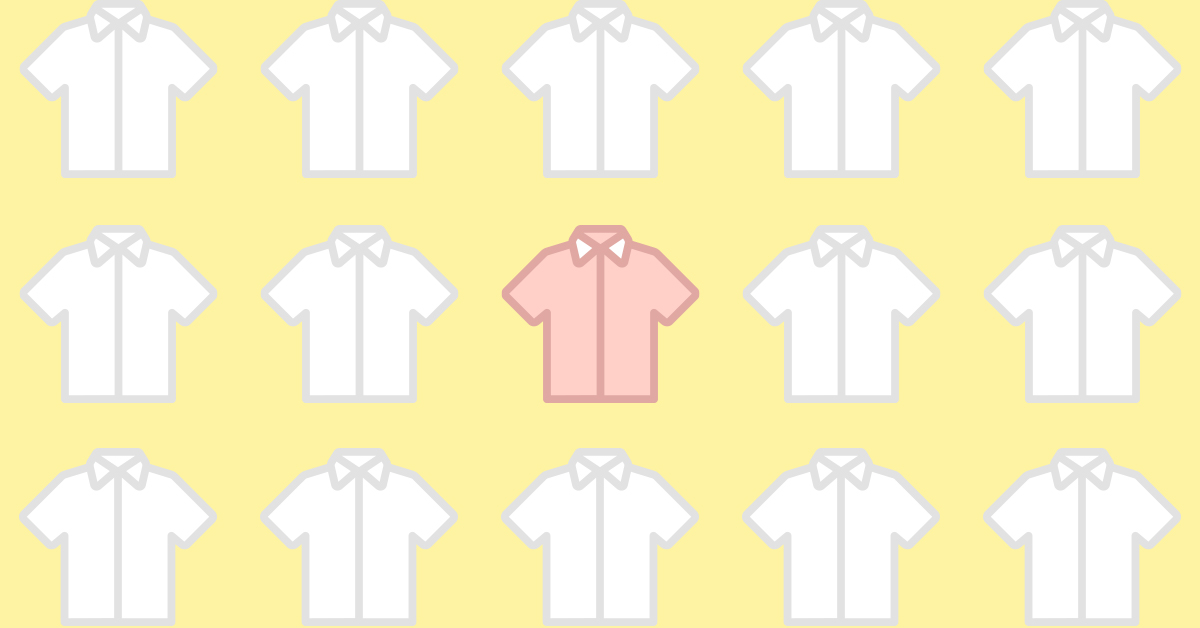 What are the motivating factors that make people buy your product or service over the alternatives? What makes you better than everyone else?
The answer is your value proposition—and most of you have been exposed to them without even realizing it.
If you craft a strong value proposition that clearly outlines the value your business offers that differentiate it from its alternatives, you can strengthen your marketing messaging and improve your campaign conversion rates. In this post, you'll learn:
Step up your social media game
Download our free social media templates to create eye-catching posts in minutes (even if you're not a designer.)
What is a value proposition?
A value proposition is a statement that clearly defines the value your business promises to deliver to customers. It's what makes the product or service compelling to your target consumer. Typically, a strong value proposition possesses each of the following criteria:
It focuses on your target customer's pain point: How does your product or service fix a problem or improve your customer's life?
It's distinctive:

How is your product or service different from its competitors? What is the value that differentiates what you sell from the competition?

It's specific:

What benefits can your customers expect to receive if they purchase your product or service?
Not to be confused with your product's features, your value proposition focuses on the key benefit that your customer gets from using your product.
It focuses on how your customers can improve their lives.
Your value proposition should always be clearly featured on your website. The only way for it drive meaningful conversions is for it to be front and center on the website pages with high purchase intent (like your product pages, landing pages, and category pages).
How to write a value proposition
Now that you know what a value proposition is, it's time to learn how to write your own. Where do you start?
1. Use the same language that your customers use
What we mean by this is to use the same words in your value proposition as your customers use. Use the language of your current customers to attract your future, like-minded, customers.
Consider reaching out to your existing customers with a survey to see how they describe your product. How would they describe your company? How do your products and services make their lives better? What made them align with your brand enough to purchase from you?
Pay close attention to the words customers commonly use to respond to those questions. Your goal here is to use those common words in your value proposition. If you speak using the same language as your customers, you're likely to attract future customers that match your target customer profile.
2. Prioritize clear writing over creative writing
When people start writing, many have the tendency of trying to make things sound poetic—don't fall into this trap!
Your value proposition needs to be crystal clear and easy to understand. When writing drafts, ask yourself whether or not the value proposition answers the following questions:
What do you sell?

Why should people buy your product or service?

How does your product or service make your customer's lives better?

Why should someone buy from you over your competitors?
Your value proposition should be no more than three sentences. Every word you choose needs to improve clarity and understanding while making the products and services you offer sound attractive. If the word doesn't help you towards that goal, it needs to be removed.
3. Focus on benefits, not features
Before anyone cares about your product's features, they care about its benefits (i.e., how it improves their lives).
Benefits highlight the distinct value your product promises to deliver.
For an example of a benefits-driven product value proposition, check out Allbirds Tree Runners. It doesn't talk about features (like what materials it's made of), it focuses on the clear benefit consumers can expect by wearing this shoe: It's lightweight, breathable, and comfortable.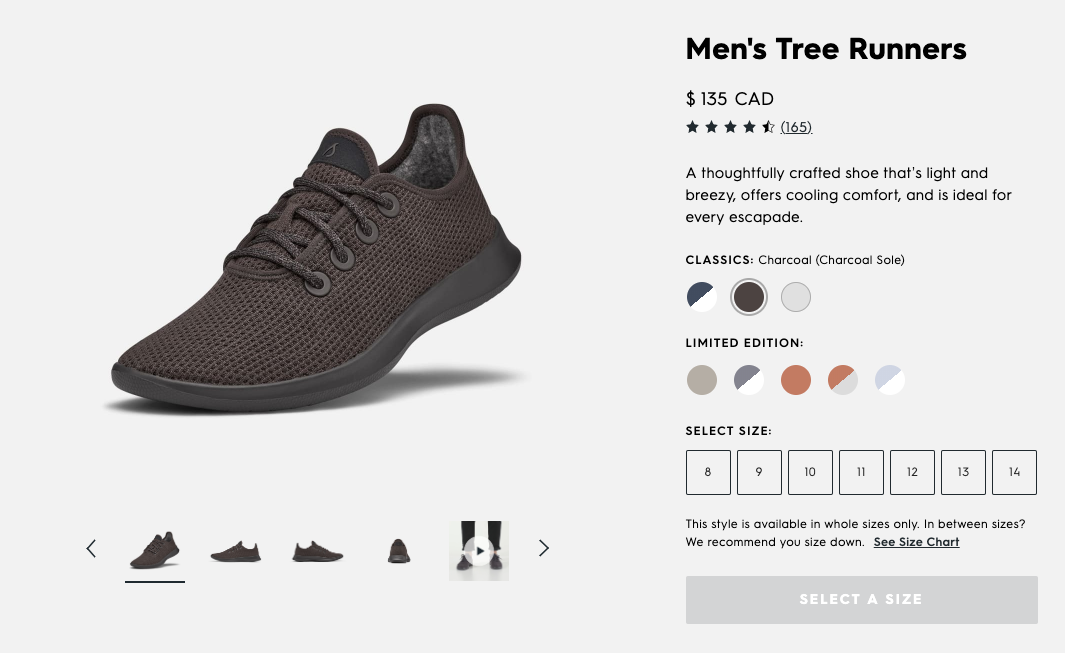 Three types of value propositions
Value propositions come in several formats depending on the value they're trying to communicate.
There are actually three types of value propositions that you should use on your eCommerce site:
Company value proposition

Product category value propositions

Product value propositions
1. Company value proposition
There's a big difference between your company's value proposition and your product's value proposition.
Your company value proposition typically focuses on your company ethos.
For example, TOMS company value proposition is "Stand for Tomorrow". By supporting TOMS, consumers aren't just buying shoes—they're helping put an end to gun violence, inequality for marginalized communities, combatting homelessness, and providing drinkable water to impoverished communities.
You can even see their company value proposition in the search engine results page (SERP).

If consumers align with TOMS's value proposition for solving some of the world's most pressing social and environmental issues, they'll buy their products and be part of the solution, together.
2. Product category value proposition
Your product category pages also need a unique value proposition. Typically, you can see product category value propositions on the search engine results page (SERP), as well as the product category page itself.
Take Buck Mason for example.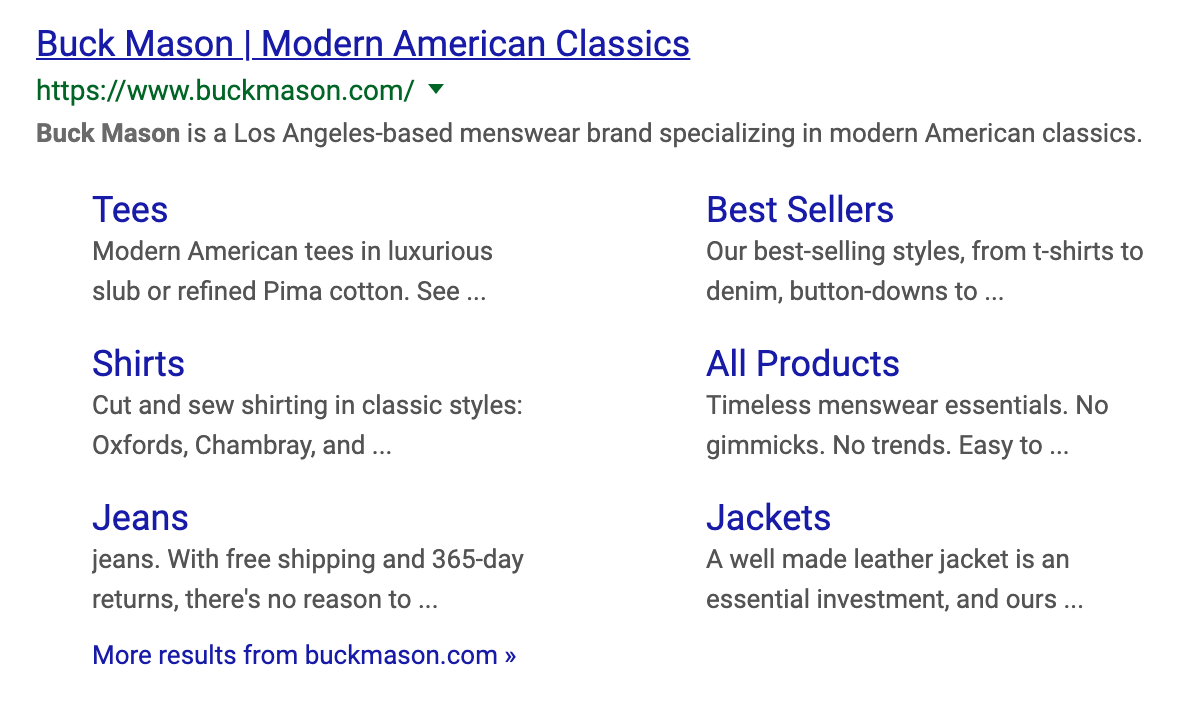 When you search for "Buck Mason", results for each of their product categories appears. Notice that many of the listed page descriptions are also value propositions. Buck Mason uses value propositions to describe the key benefit of each product category.
When writing the content for your product category pages, ask yourself what that product category's promise is to consumers and clearly communicate that value.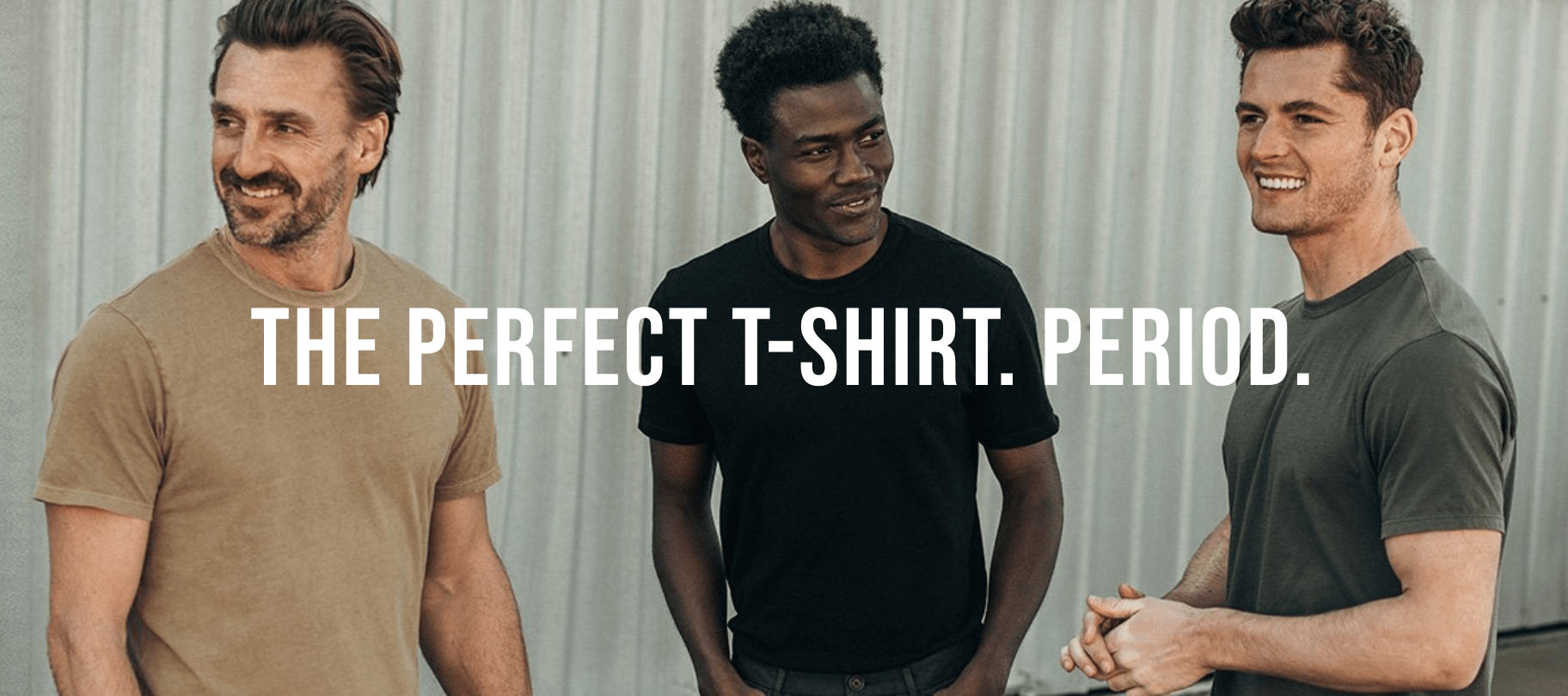 3. Product value proposition
Each product within a product category (for example, shoes) needs a specific value proposition as well. Let's rewind back to the example from Allbirds.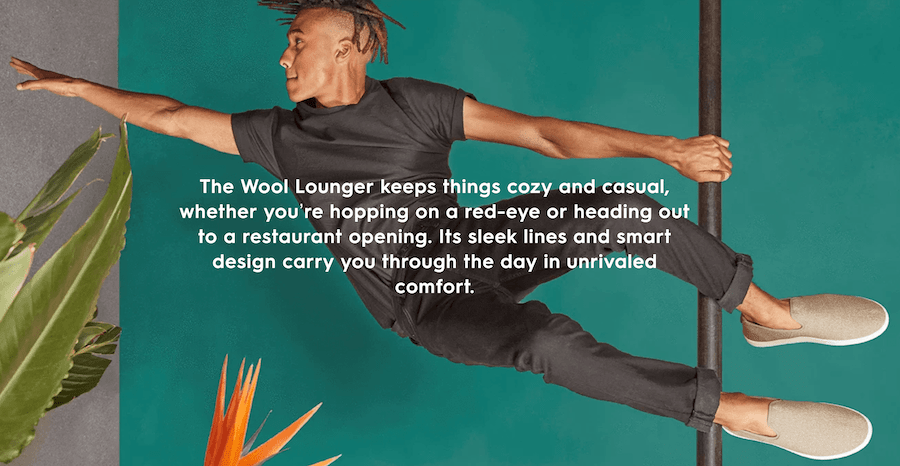 While their Tree Runner shoe's value proposition was that the shoe is light, breezy, and cooling, their Wool Lounger shoe's value proposition is that it's cozy, casual, and ready for anything your day throws at you.
All value propositions influence one another
Whether it's a company, product category, or product value proposition, typically all three will (and should) relate and overlap with one another.
Your company value proposition ultimately informs what both your product category and product value proposition will be. They all need to align with your company ethos. Start by defining your company value proposition as that will inform the direction you take for the others.
Here's a breakdown of Allbird's company, product, and category value propositions.

You'll notice several themes are repeated in each value proposition. In each of their three value propositions, comfort and versatility are consistently reinforced. Allbirds wants anyone who visits their website, sees an ad on Facebook or Instagram or reads a product review, to walk away knowing that their shoes are comfortable and versatile, above all else. That's Allbird's primary value to consumers.
Notice how Allbird's value propositions aren't focused on their product's features—like what fabric they're made of, how much they weigh, etc. Each of their value propositions focuses on a benefit that customers can expect when they wear Allbirds shoes.
Before a customer cares about a product's features, they care about its benefits.
Examples of great value propositions
If you're stuck for ideas, check out these examples of strong value propositions in action.
1. CHÉ Studios
CHÉ Studio's product category value proposition is "modern + sustainable swimwear."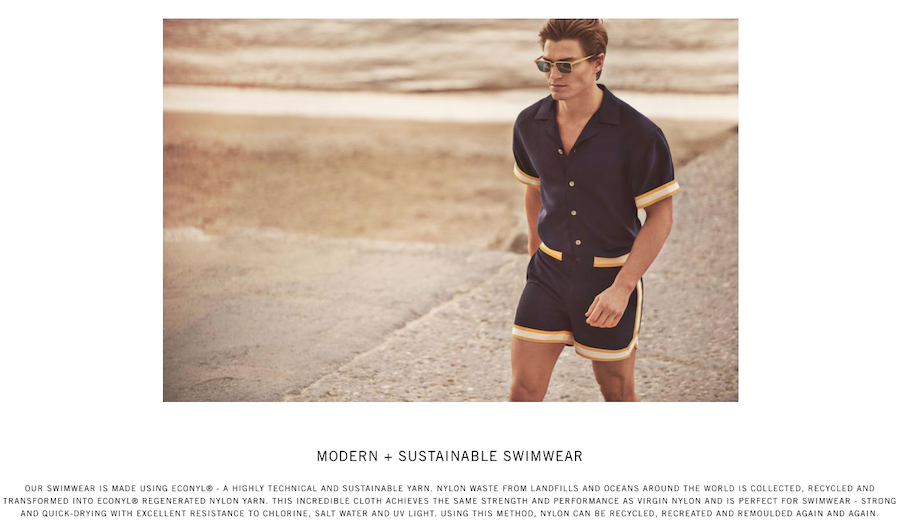 In this example, their swimwear's value proposition is that they are at the intersection of environmentally-friendly materials and a modern aesthetic.
They follow-up their value proposition with a brief explanation of the materials they use, reaffirming the brand's commitment to making quality, comfortable products out of recycled materials.
For environmentally-conscious, fashion-forward consumers, CHÉ Studios swimwear becomes a standout option. Their value proposition clearly illustrates their product's benefits: great looking clothing that isn't hurting the planet.
2. Moscot
Moscot is an American eyewear company whose value proposition is simple: trendy eyewear made with unparalleled craftsmanship.

They set the tone for what makes them different right out of the gate: they have over 100 years of experience making eyewear and, as a result, their products are high quality and timelessly cool.
3. Spotify
Spotify's value proposition can be found in their tagline: "Music for everyone."

They came onto the scene during a time when consumers and artists were unable to agree on how digital music was to be accessed and shared. Music-lovers would need to spend far more than Spotify's subscription fee to purchase their music through other platforms.
The promise Spotify makes to consumers is simple: unrestricted access to every song imaginable without needing to pull out your credit card every time.
2 Steps for creating a standout value proposition
Now that you know about the different types of value propositions and have seen some examples, it's time to create yours. Here's how.
Step 1:

Identify what makes your company unique

Step 2:

Clearly communicate your value proposition
Identify what makes your company unique
All great value propositions start by asking yourself one question: What does your company do better than anyone else?
It can be anything that your customers find valuable: Your heritage, expertise, customer support, design, quality, etc.
While you're in this stage, be sure to check out what your competitors are saying in their value proposition. Odds are that if you thought of it, someone else in your industry has as well. See how your competition is communicating their value proposition and make sure that yours is different and helps you stand out.
If you can, consider reaching out to existing customers and finding out what they love about your brand. If you see a common theme as to why they chose you, that can help inform your value proposition.
Clearly communicate your value proposition
Your value proposition should be no more than three sentences long. If a word doesn't actively help someone understand what your company does that's unique, consider removing it.
Think of your value proposition similarly to a news headline: short and attention-grabbing. You can always follow up your value proposition with a slightly longer explanation to elaborate further.
Look back at the CHÉ Studios example to see this in action.
While their value proposition was only three words, they elaborated on it with a few sentences that emphasized what makes their products different: they're made from entirely recycled materials.
When you're drafting potential value propositions, we suggest coming up with a list of as many options as possible. To find out which ones are the most persuasive, consider split testing several Facebook Ads that feature different value propositions. The ad that generates the highest engagement features your most persuasive value proposition and is crowned the winner.
Set your company apart with a strong value proposition
A strong value proposition is your promise to your current and future customers.
If your value proposition addresses a pain point, is different from your competitors, and is communicated in language that your customers use, you have a good shot at attracting more customers in the future.
Take the time to get your value proposition right—it's ultimately going to inform a lot more than the headline of your online store's landing pages.
It's going to inform how you communicate the value of your company in most (if not all) your marketing efforts. Create a good one now so you're not scrambling for slogans at the start of a campaign.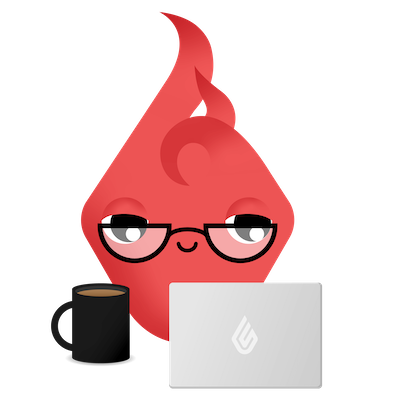 News you care about. Tips you can use.
Everything your business needs to grow, delivered straight to your inbox.