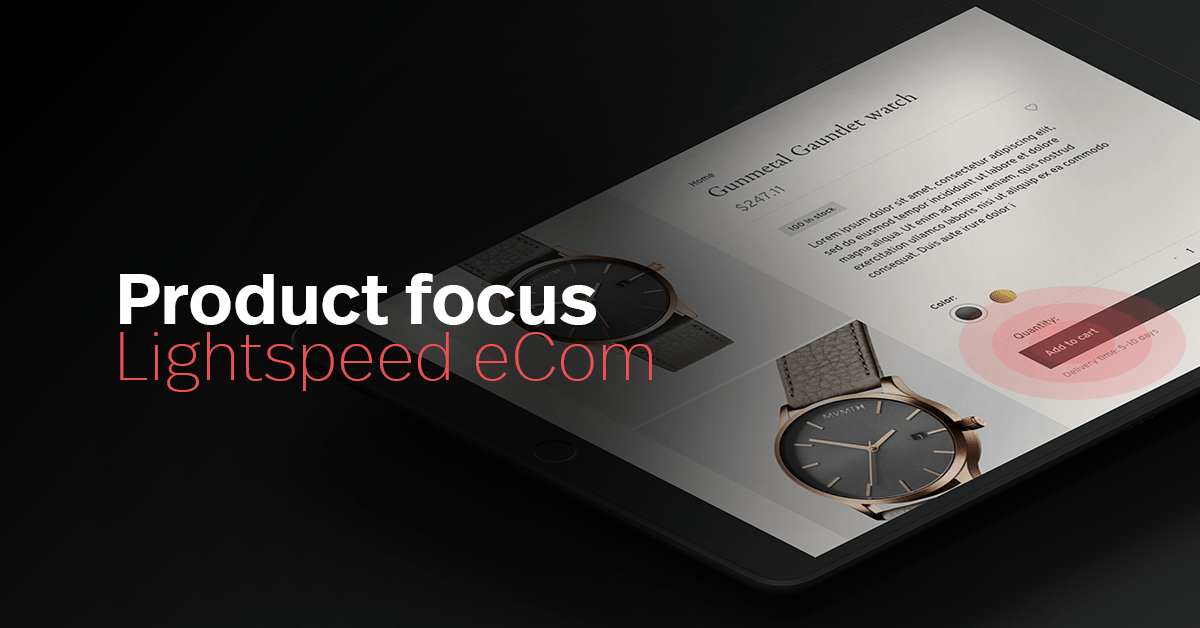 As one of the oldest Lightspeed partners, Dyvelopment is a real pioneer in Lightspeed themes and apps. All this expertise and the latest trends have come together to create Lightspeed's most recent theme, Invision. Just like every other Lightspeed theme, this one brings you the highest theme quality with a lot of unique(!) features.

Your theme is the key to success online
As a merchant, your online shop is your main tool to realize revenue online. The shop design can make or break not only the user experience, but also your ability to meet your sales targets. Everything depends heavily on the look and usability of your website. Without an optimal design, the majority of shoppers will bounce off your site for lack of trust in your brand.
The Invision theme gives you the right tools to get your online shop to the next level and gives your customers the best possible user experience. With unique built-in features like Shop the Look, Bundles, Daily deal timers, Size charts, and lots of space for your unique selling propositions, you can get the maximum out of you shop. Plus, the mobile first design automatically gives you mobile responsiveness of exceptional quality right from the start.
The most nifty (and popular) features are described below. We'll take a look at the real unique features Invision offers and show how you can sell the way you want to online.
Popular features for a faster sale

Your unique selling points
One of the important aspects of Invision are the unique selling points that get highlighted throughout the theme. These USP's tell your customers in short, why they should buy from your shop. For example, highlighting the (free) shipping costs and delivery times, or other distinctive features like warranties and hallmarks are important.
Sticky cart
Isn't it annoying having to scroll back and forth between reading product descriptions and adding items to your cart? We know that feeling well. Putting your shoppers on a "add to cart" button hunt is by no means a highly converting practice. Which is why one of Invision's key features is a sticky add to cart bar that remains visible no matter how much you scroll.
To top it all off, Invision is developed to instantly add the product to the cart without refreshing the page. This means that when an item is added to the cart, the count is updated in real-time and prevents customers from getting confused as to whether the item was correctly added or not. It's a small detail with major contributions to the overall user experience your site offers.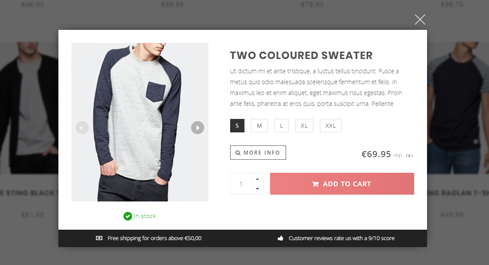 Quick shop
Taking a quick glance at a product without having to reload the whole page is great for user experience The Invision theme has a blazing fast 'quick shop' feature that shows your customer the most important product info in a single popup. From there the customer can also place it in the shopping cart without reloading the page; promoting a better, faster, more convenient shopping experience.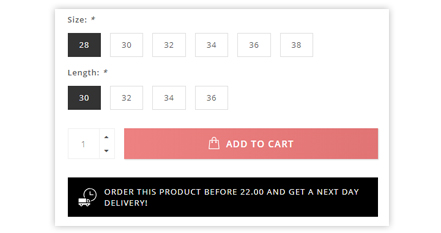 Segmented variants
Are you in the fashion industry? Chances are you want to show your multiple product variants and matrices in segmented blocks instead of all combined in a dropdown menu. Invision is the only theme that's able to show both these variants and matrices separately, i.e. size separate from color. Plus, if you're using default variants, out of stock variants will be disabled automatically.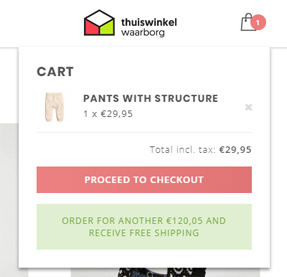 Upselling with 'free shipping for orders over $X'
Are you offering free shipping for orders over X amount? With Invision it's super easy to turn this in an upselling machine. From the shopping cart page, you can enable a notification so they can see exactly what amount is missing from their order in order to be qualified for free shipping.
Customizable unique features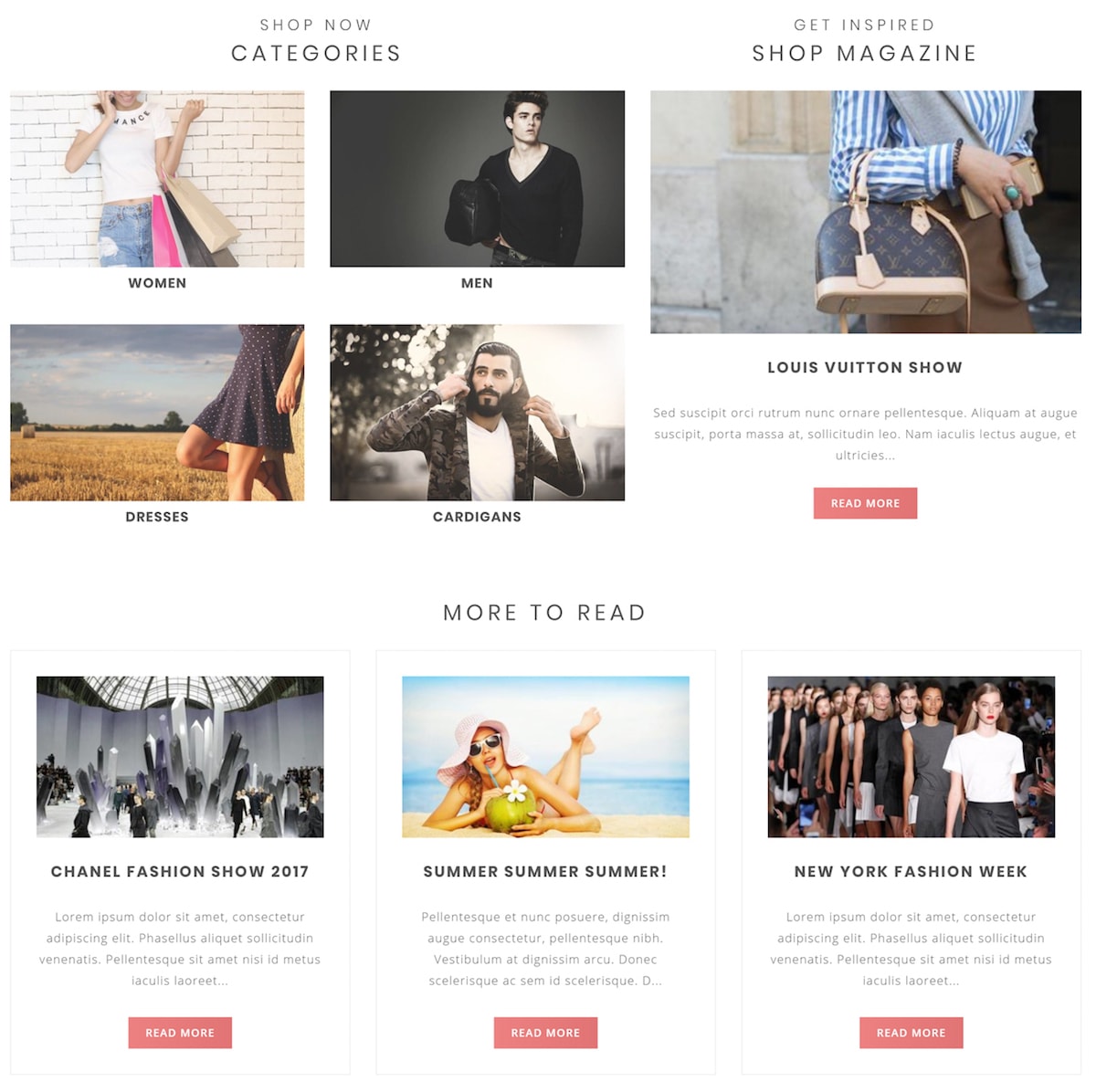 Shop magazine look & feel
Sometimes you want a little more than just a showcase of your featured products on the homepage. That's why Invision makes it possible to give your homepage a shop magazine look & feel where your blogs can also get highlighted in a special way.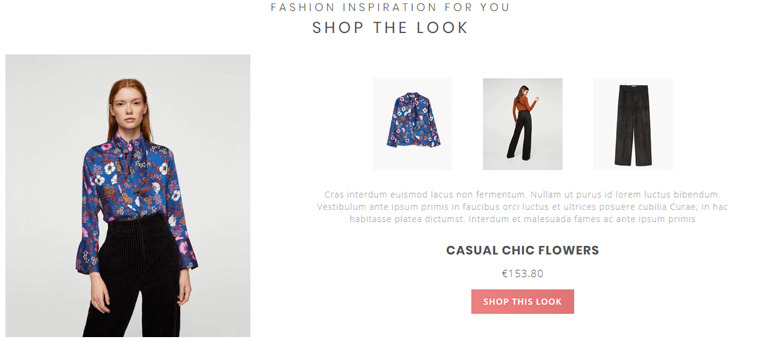 Shop the look
A must have for fashion shops, and the built-in Invision Shop the look feature. In short, this is a complete outfit positioned like a single product, where you can buy multiple pieces (e.g. t-shirt, jeans and shoes) together. Getting creative has never been this easy! Use the related product feature to set up your Shop the look feature in no time.
* This feature lets your customers easily choose their sizes per item and buy the complete set or individual items with the click of a button.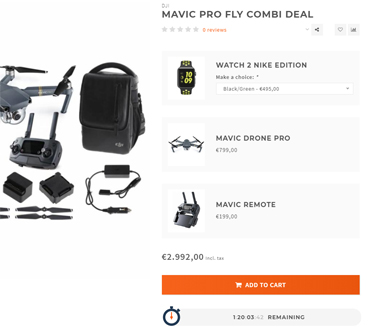 Bundles as a product
Selling something individually but also want to package it into bundles? Invision lets you sell multiple bundled products as 'one product'. This feature is very easy to set up and stock levels get managed automatically just like all your other inventory.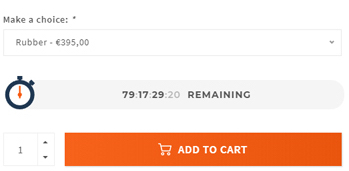 Daily deals
If you're selling special deal products, Invision is the right theme for you. With the daily deal feature you can set up countdown timers per product to create urgency and give that extra incentive to your customer to purchase before they lose out (FOMO is real). When the countdown reaches zero, you can decide to still allow sales, or to disallow them. It's also a perfect trigger to help get rid of some dusty inventory.
Blazing fast speed and advanced techniques
Everyday we work at Dyvelopment with a specialized team of truly passionate Lightspeed experts. This can be seen in the quality, stability, durability and speed of our themes and apps. Everything is developed in house – never outsourced. This means all features are custom developed; you'll never find random bits of downloaded 3rd party code, that's just not our style. When you use our themes, you're sure to have the best performance and quality possible, everytime.
Want to sell online?
See why Lightspeed eCom is the best fit for your business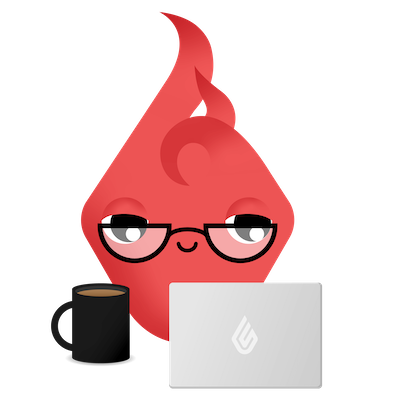 News you care about. Tips you can use.
Everything your business needs to grow, delivered straight to your inbox.