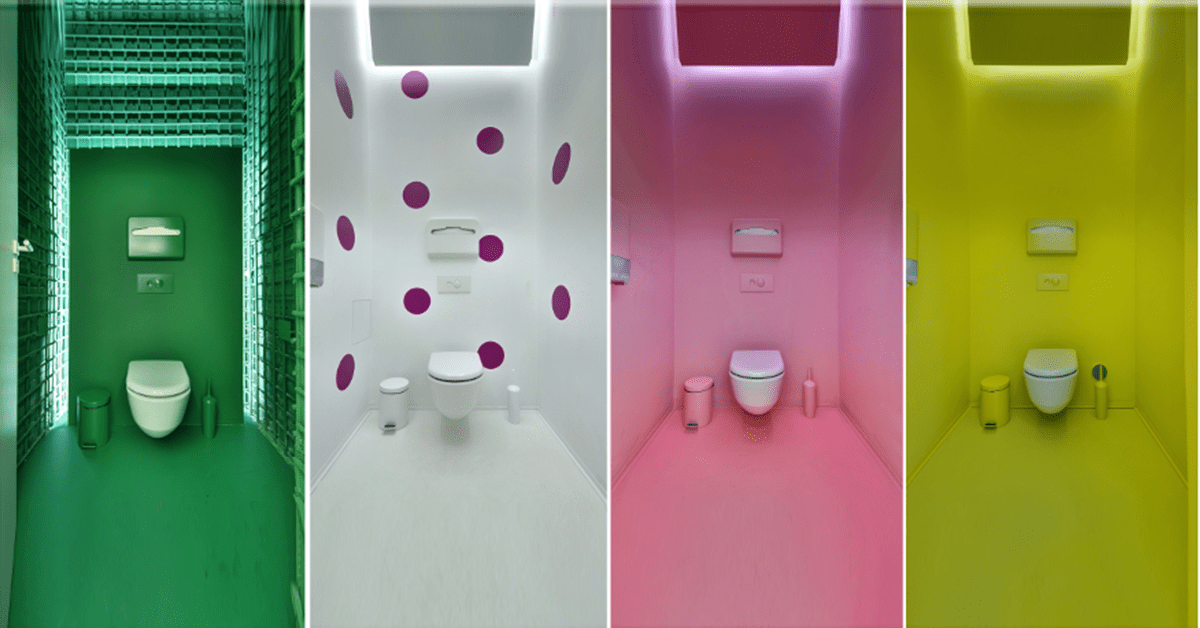 Restaurant bathrooms seemingly fall into two categories.
They're either less-than-pristine and leave you just wanting to get in and get out fast, or they're an immaculate happy place with flattering lighting, trendy wallpaper and tiling, bougie soap and a selfie-ready mirror.
A restaurant's bathroom decor matters almost as much as what's being plated.
From the aroma to the lighting, we've put together a list of the details that take a restaurant bathroom from an unpleasant (but necessary) detour to one of the highlights of a diner's restaurant experience and skyrockets an establishment into Instagram stardom.
1. Funky wallpaper
Where: Al's Deli
Chef Aaron London's Mission District deli knows that a restaurant's bathroom is an extension of its personality. Their tropical print wallpaper and gold gilded mirror is very much on-trend and makes diners want to take a picture and share their experience on Instagram.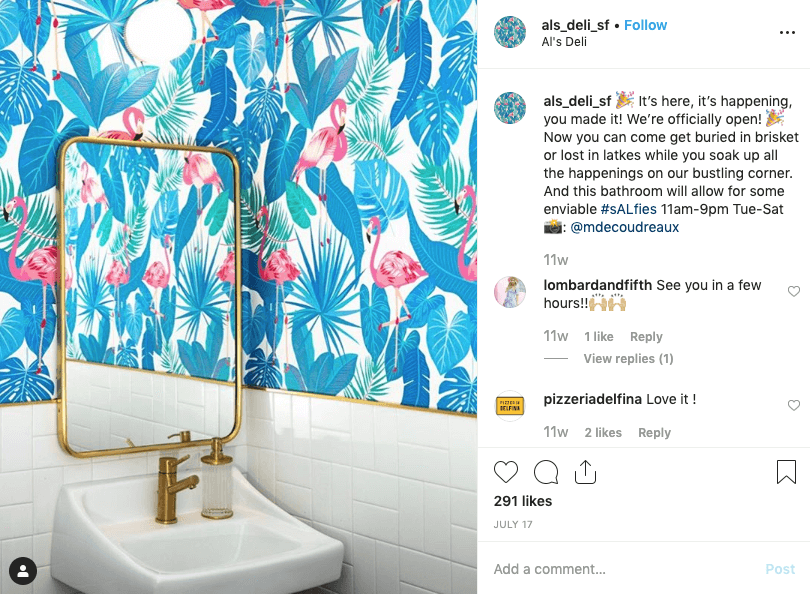 Image source: Molly DeCoudreaux
2. Clean tiles
Where: Media Noche
Bathroom tiles are a great way to add contrast to an otherwise loud, funky design. Just look at how Media Noche balanced its instantly recognizable banana-patterned wallpaper with clean, black-and-white tiles.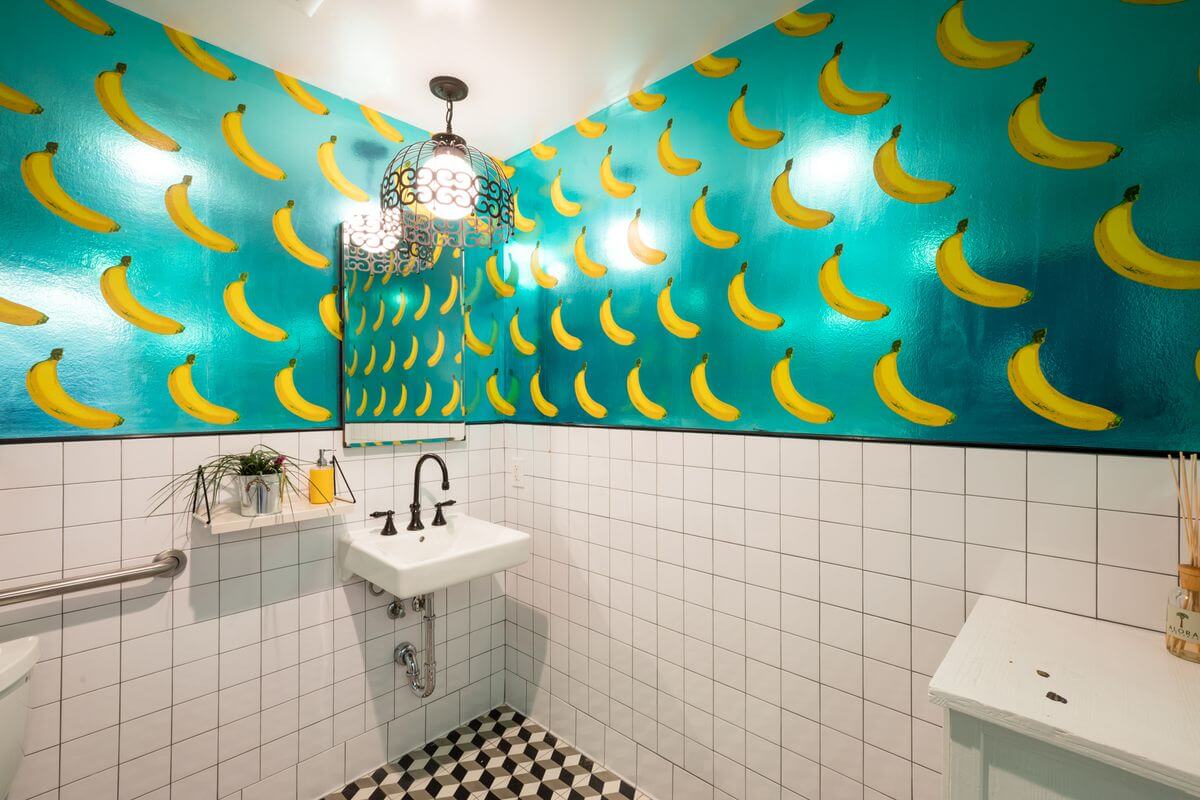 Image source: Patricia Chang
3. Soft lighting
Where: Marcus Four Seasons
The last thing you want is for your bathroom's lighting to make it feel like an interrogation room. The best way to avoid that? Opt for softer lighting, just like Atelier Zebulon Perron did when designing the bathroom of the Montreal's Four Seasons Hotel restaurant, Marcus.
Rather than give off the vibe that you should get in and get out fast, Marcus' bathroom feels more like a luxe powder room.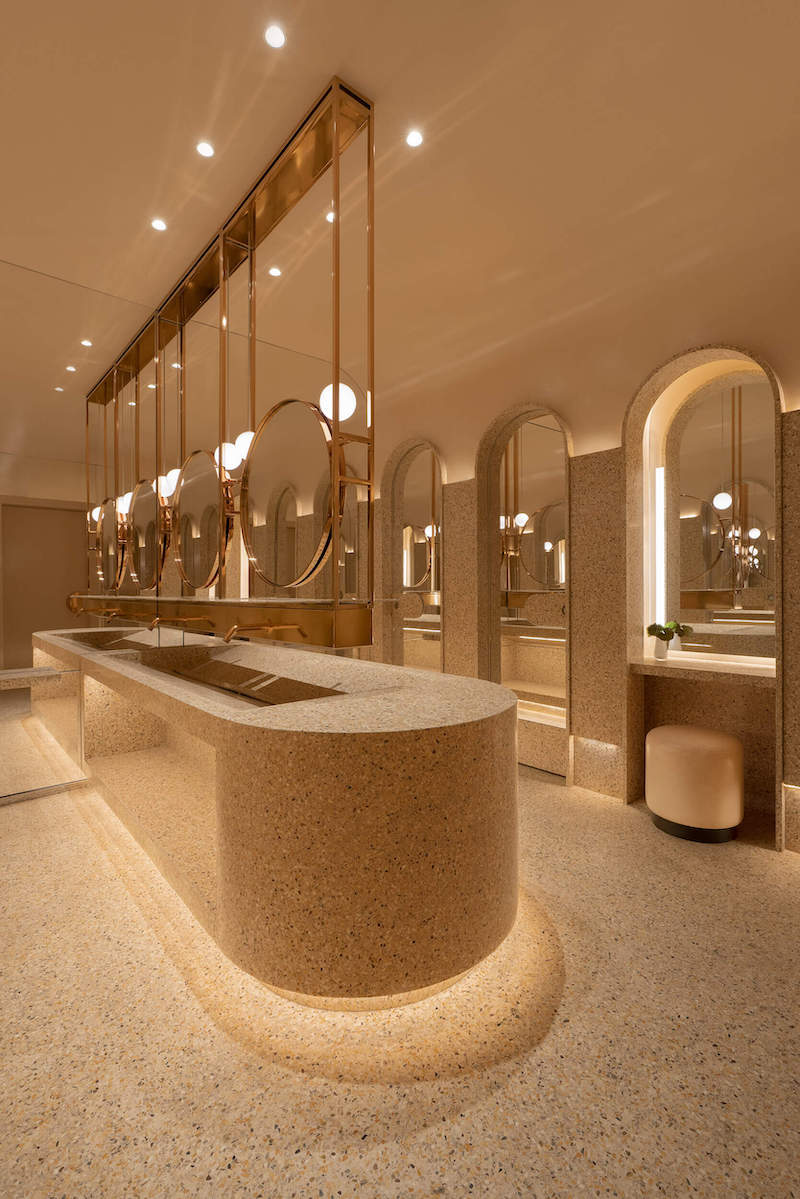 Image source: Atelier Zebulon Perron
4. Fancy handsoap
Where: Esiatorio Louka
Brands like Aesop and Le Labo are the pricey handsoap of choice for trendy restaurants over the past few years. The whole point of dining out is to enjoy things that you can't have at home, and that now includes washing your hands with ultra-luxe products.
Aesop and Le Labo are special because each brand has cultivated an air of exclusivity, and that's entirely intentional. Aesop, for example, makes restaurants sign an agreement to display its soap prominently in the bathroom and not refill the bottles with cheaper products (otherwise Aesop will stop supplying that restaurant with its products).
Le Labo is equally picky about which restaurants it partners with. Estiatorio Louka in Beverly Hills is one of the approved restaurants with a corporate account. "They take pride in their brand and are cautious of making sure it is placed in companies they respect," says Estiatorio Louka co-owner, Theana Kotsiovos.
Le Labo even designed a custom metal bracket dispenser to keep restaurant guests from taking the coveted handsoap home with them.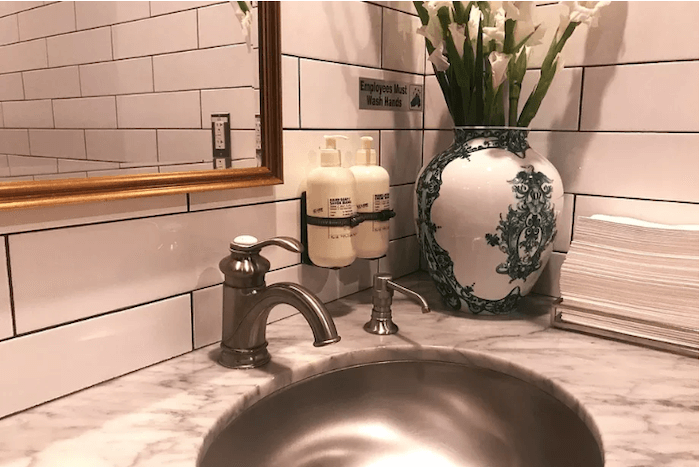 Image source: Esiatorio Louka
5. Alluring scents
Similar to handsoap, bathroom candles and diffusers can be part of a restaurant's sensory experience.
Danu Kennedy, design director at hospitality interior design company Parts and Labor Design, likes to consider how scent works with all the other sensory elements. "We would want to tie in the scent to the overall aesthetic," says Kennedy.
Perhaps even more importantly, social media content is fixated on all things aspirational. Small touches, (like bougie candles) make diners feel like they're dabbling in everyday luxury.
Plus, everyday luxury items can convey all sorts of messages around your restaurant and the clientele you cater to (especially when captured in a bathroom selfie). Bougie candles like Byredo, Aesop, Dyptique and Le Labo can distinguish a bathroom and make it Instagram-worthy.
That user-generated content (UGC) can compel other customers to book online reservations and give the establishment a shot.
6. Next-level toilets
Where: Tempura Matsui
Toto heated toilets have a ton of built-in bells and whistles (like bidets and ocean sounds) that helped them achieve cult status. Once you try one, everything else feels inferior by comparison.
When designing Tempura Matsui's bathroom, designer Shigeki Yoshimoto of Yoshimoto Architectural Design wanted to extend the Japanese vibes from the dining room to the bathrooms. To achieve that, they incorporated Japanese culture into every detail, from the wallpaper and ceramic sink to its coveted Toto toilet.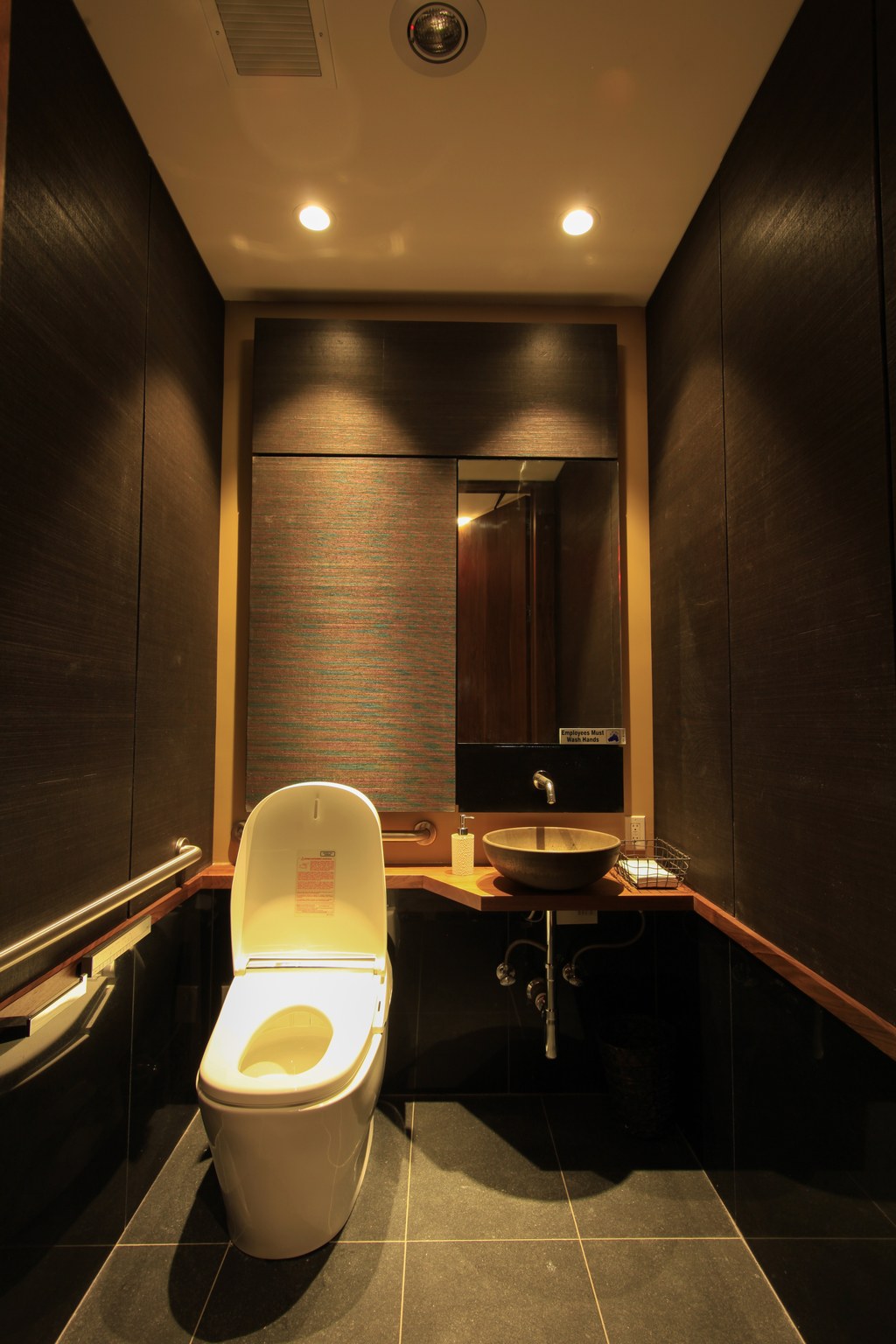 7. Public sinks
Where: Furco
When it comes to preventing long lineups for the loo, public sinks are a game-changer. People can take f-o-r-e-v-e-r sprucing up in individual stalls, which is why public sinks like the one in Montreal hotspot Furco are so nifty. They look cool and they speed up bathroom breaks.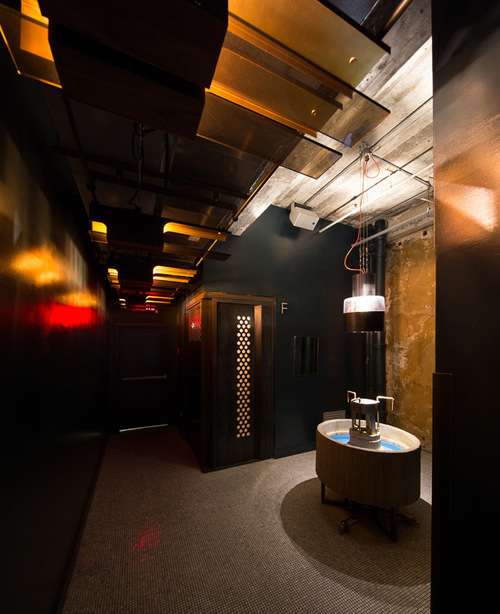 Image source: Atelier Zebulon Perron
8. Next-level hand dryers
Speaking of speeding up bathroom breaks, if public sinks aren't an option, consider investing in high-powered commercial hand dryers. The Dyson Airblade is a popular choice for its minimal look and energy efficiency.
If you want to reduce your restaurant's overhead costs and utility bills while being as eco-friendly as possible, consider moving away from paper towels and installing hand dryers instead.
The appliances you choose can have a huge impact (for better or for worse) on your restaurant's profit margins.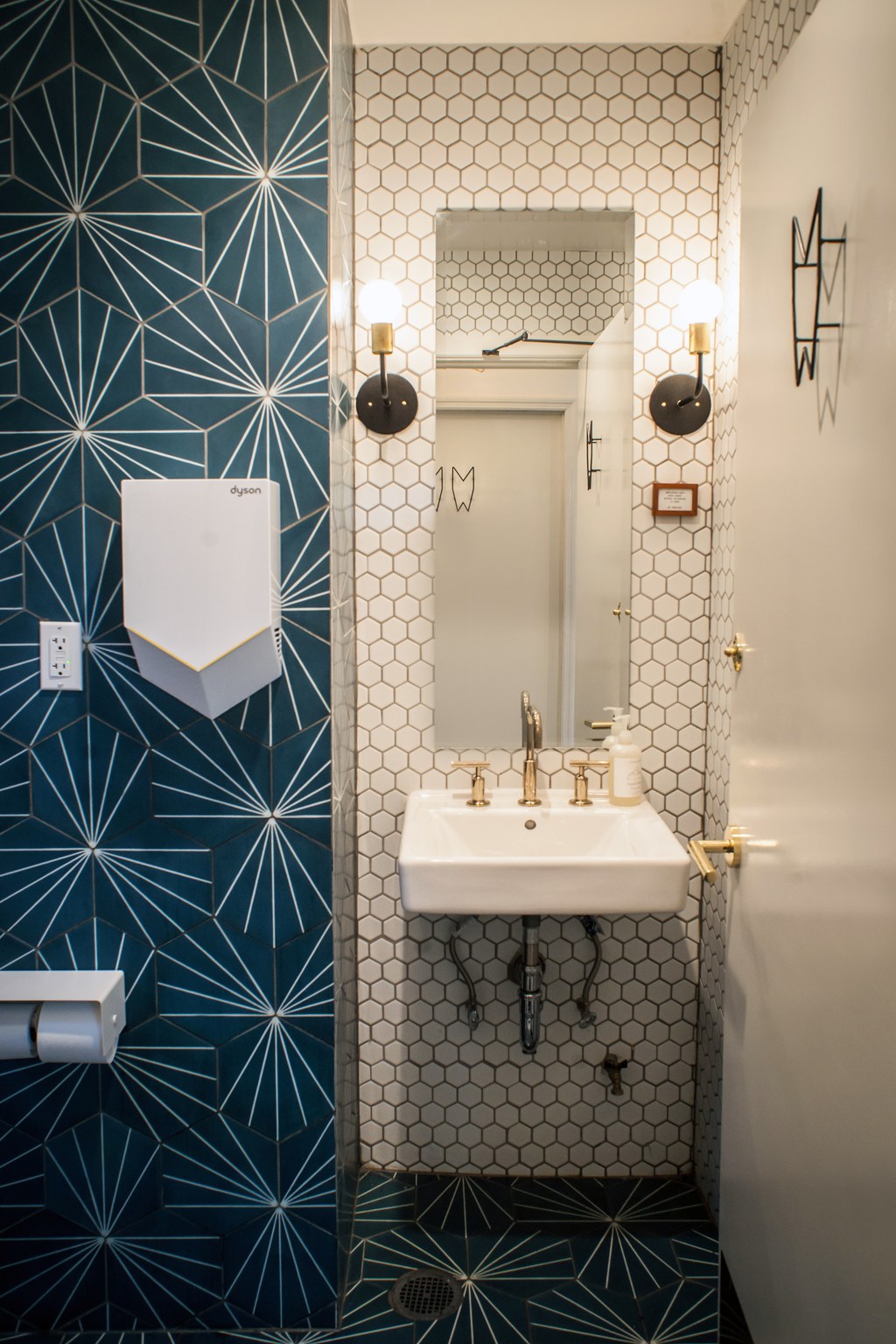 9. Understand your clientele
Where: Habana Outpost
One of the easiest ways to connect with customers is by playing to its clientele's sensibilities.
Habana Outpost is an eco-conscious, solar-powered Cuban cafe that knows its visitors care about the environment. As a result, they've gone above and beyond to make their commitment to sustainability obvious. For example, their toilets flush using rainwater accumulated in a large outdoor tank.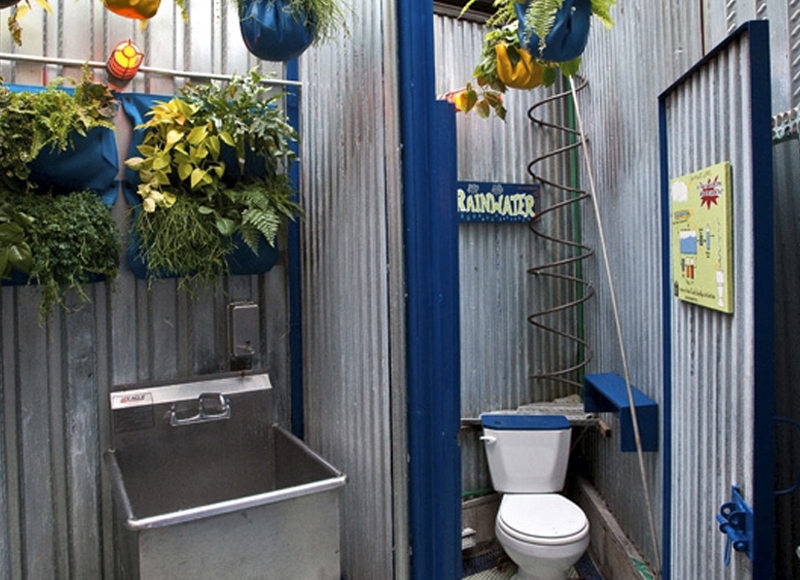 10. When in doubt: Art
Where: Robin
Robin is one of San Francisco's top omakase dining experiences. Its colorful, beautifully-plated sushi is almost like edible art, and its bathroom is art.
Dripping with watercolors and accented with gold and white, owner Adam Tortosa made sure that his restaurant was channeling beauty, both in plating and atmosphere.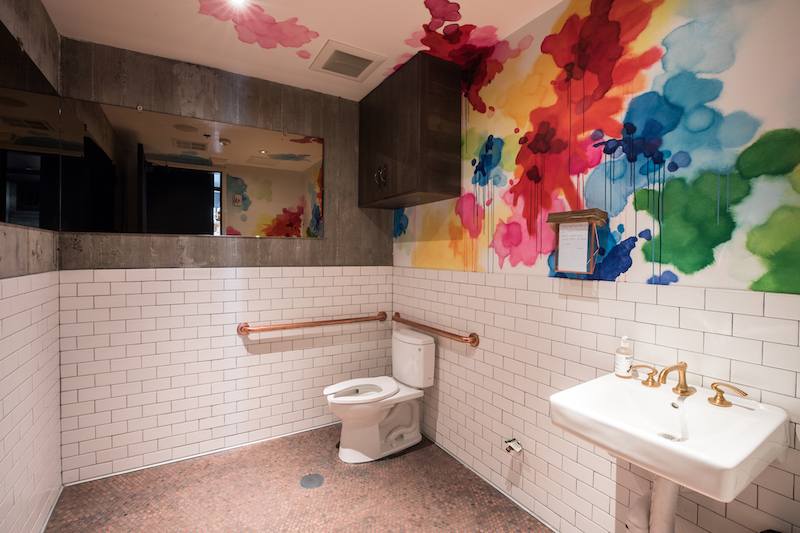 11. Cleanliness
No amount of trendy decor, bougie candles or funky wallpaper can make up for a dirty washroom. Not only should your staff tidy up the restroom frequently during each service, but they must also wash their hands after each visit.
Hang up a sign in your restaurant bathroom that clearly states your establishment's policy: "Employees must wash their hands before returning to work." It gives each guest that visits your (cool) bathroom the confidence of knowing that you take food safety and hygiene seriously.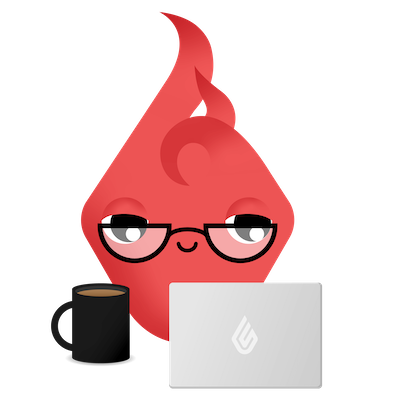 News you care about. Tips you can use.
Everything your business needs to grow, delivered straight to your inbox.