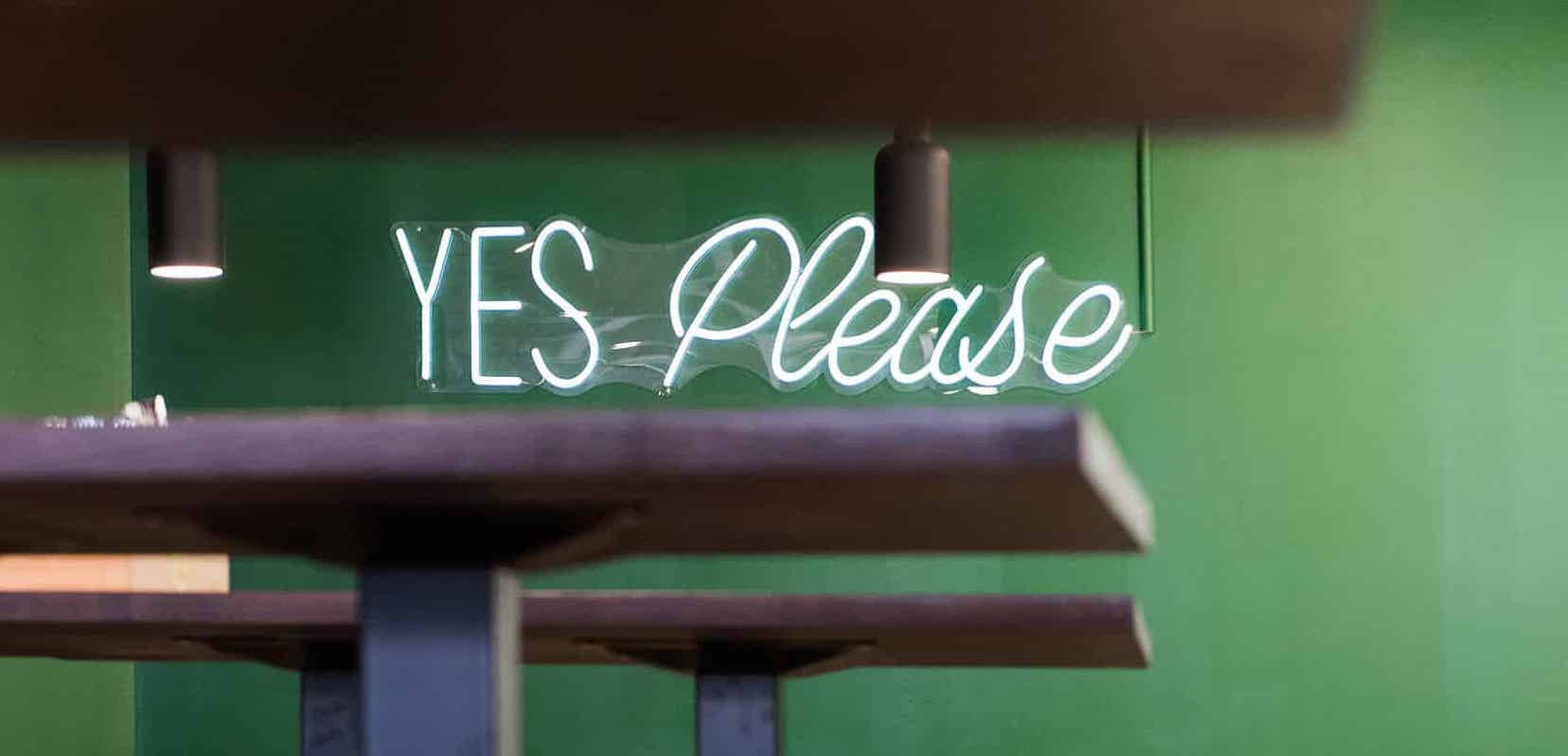 Bonding over a mutual love of Belinda Carlisle, restaurateurs Seb Terkildsen and Steve Hennessy created a late night eatery on Perth's main drag that's as delicious as it is fun. In case you're not in the know already, Seb and Steve, alongside co-owners Callum Hewson and Josh Hennessy, opened up Yes Please Perth in June of 2018. This unassuming haven on the "wrong side" of James Street manages to be impossibly cool while remaining super friendly and welcoming. This is all thanks to its founders who know how to run a tight ship without taking themselves too seriously.
We caught up with Seb about what's behind this killer concept space, and how the boys use Lightspeed to juggle such a supreme amount of awesomeness at all hours while still maintaining an enviable work-life balance. Yes Please serves up five-star quality fare (think crispy skin pork belly with cookies and cream parfait for dessert) and slings smashing cocktails until 2 am on weeknights and 3 am on weekends, and yet the crew still has time to squeeze in 18-hole rounds of golf on the regular.
For starters, who are the guys behind Yes Please?
There are four of us – myself and Steve are sort of the main two dudes of the venue, and then we've got one of our mates, Callum, on board who we've worked with in other bars. And then we've also got Steve's brother, Josh, and he wanted to pass along some investment so we said yeah, cool, you can give us some money – that makes everything better! That's the story of the four of us.
And what's your background, pre-Yes Please?
I've always worked in hospitality, and I started out at eighteen when I was fresh out of high school. I'd always wanted to be a bartender, so I got a job at a bar and I worked my way up. I got into it and then I thought, "ah, this is really good." I was also at uni studying marketing and management, and eventually, I just decided that I liked working in hospitality too much, so I paid all my uni fees in full, left uni, and just went full time in venues.
After that, I thought to myself, "oh, hey, it could be fun to save up and do something for myself." I figured I'd be able to make more decisions – you know, those decisions where you're like, "it would be pretty cool to buy some beanies or scarves, or go for a massive party somewhere," but you're obviously not allowed to do that when you work for other people because they've got your money in their pocket. I was lucky enough to meet Steve in a bar – he used work in London, and he'd run some pubs before. Then, he got back and we worked in a bar together. Belinda Carlisle came on the radio one night, and we both started singing along. I said, "hey, Steve, you like Belinda Carlisle, too?" And then, we just became best friends and decided that when the time was right, we'd open a restaurant together.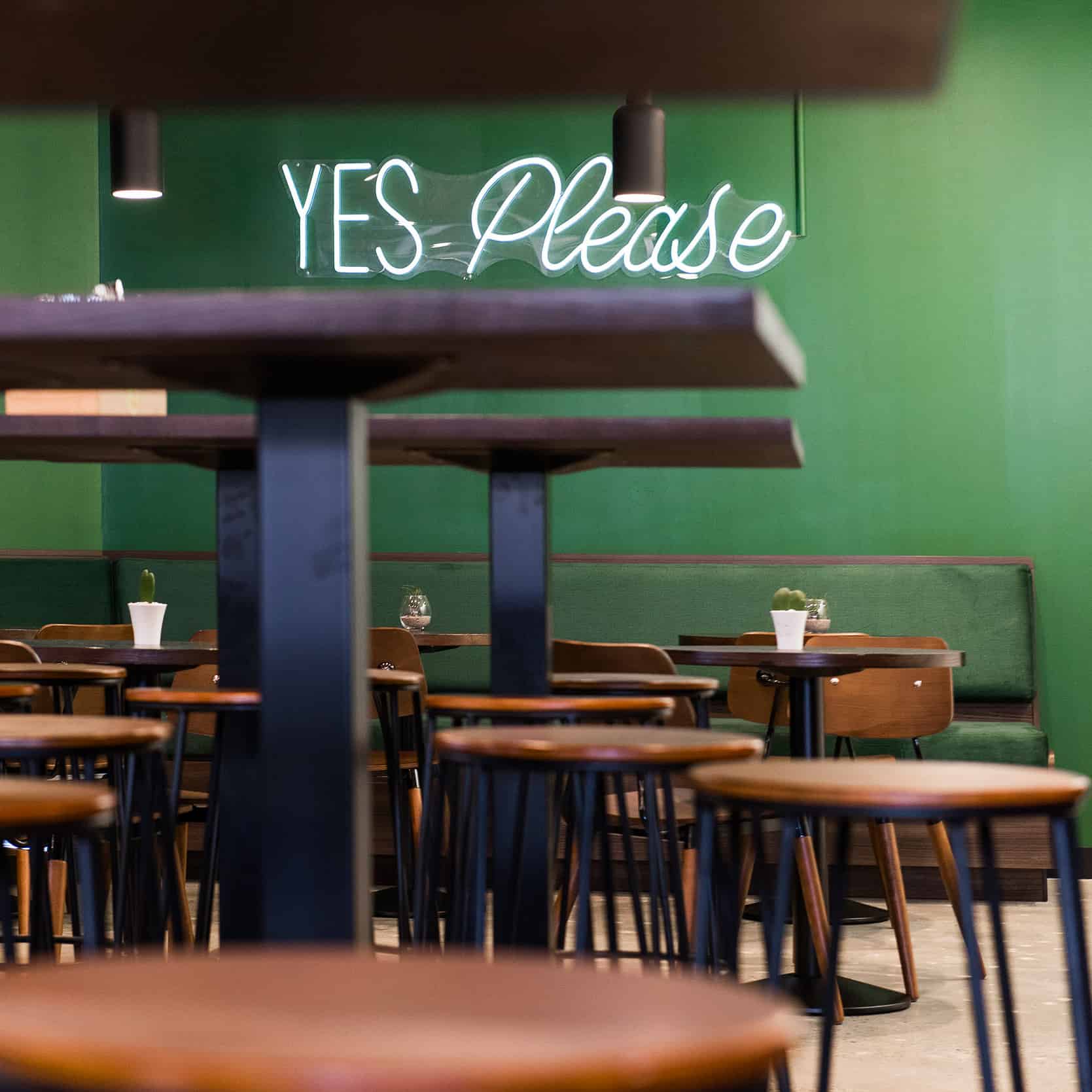 So, Belinda Carlisle brought you guys together?
Pretty much. Yeah, you know, you could say that – Belinda Carlisle and beer.
We read that your partners weren't impressed with the Yes Please space when you first found it, but that you were the one who convinced them. Would you say you're the one with the design eye out of the four of you?
Yeah. I worked briefly for a couple of years for Young Henry's. I worked in sales, so I've always just sort of been the dude that asked different questions. You know, how everybody talks a lot of talk and they say things like, "yeah, how cool would it be to do a video of swing dancing cats?" But, then, they don't know how to execute that. I've always been the guy who walks around and just asks people the right questions. You know, like, "hey, you're a vet, do you know how we can get in touch with swing dancing cats?" It helps make things happen, you know?
In terms of the site, I called a couple of real estate agents and said that we were on the hunt for a site. We went and looked at a couple of places in Northridge and a couple of places in Perth CBD. Nothing really gelled, and then I went and looked at this place at 182 James Street. We're right next to the park, and it's a little bit out of the way. It's kind of at the wrong end, if you like, of James Street which is the main drag in Perth. Initially, to be honest, we were thinking that this place looked like a shithole. But when we looked past all the crap, we saw we could definitely put a new fit-out in there, and we were like, "you know, this could be cool."
So, I took the boys down and had a look. Initially, they weren't very impressed. Then, I got on my Pinterest which is what I do when I want to design things. I came up with the design along with the real estate agent and a builder. I said, "just picture this," and I walked them through the whole thing. From there, everyone started warming up to the idea, and then I got them more and more excited. Eventually, they all said, "yes, let's definitely do this!" So, it wasn't a bad move.
Tell us about your late-night hours?
So, Sunday through Thursday we're open until 2 am, and then on Fridays and Saturdays, we're open until 3. That was kind of an afterthought. We wanted to do dinner and drinks, and just have the late hours for all of our friends in the industry who wanted to come down and have a feed and a drink after they finished work. You know, like 11, 12, and 1 o'clock. And, it turns out that initially that period was much more successful for us than the dinner trade, so we pretty quickly became known as a late-night venue with dining options as well. It's a weird one. You never quite know what you're gonna get, but you always make the most of what you do get.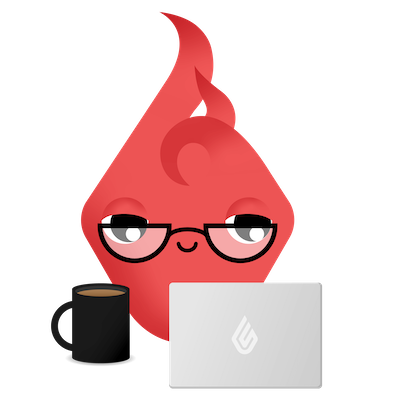 News you care about. Tips you can use.
Everything your business needs to grow, delivered straight to your inbox.