What is a point of sale system?
Traditionally a system for processing sales, today's Point of Sale systems do so much more. Although transactions are processed on a POS system, restaurants and retail stores now use POS systems as business management tools. A point of system can provide the data you need to make better business decisions, help you improve the customer experience, automate repetitive tasks and streamline daily processes. Opening your first location? Switching from another system? A POS system is the tool that can help your business grow.

POS systems today offer many features, but Lightspeed's systems offer something truly unique. Cloud-based and mobile, our POS systems help retailers and restaurateurs bring their customer experience to the next level.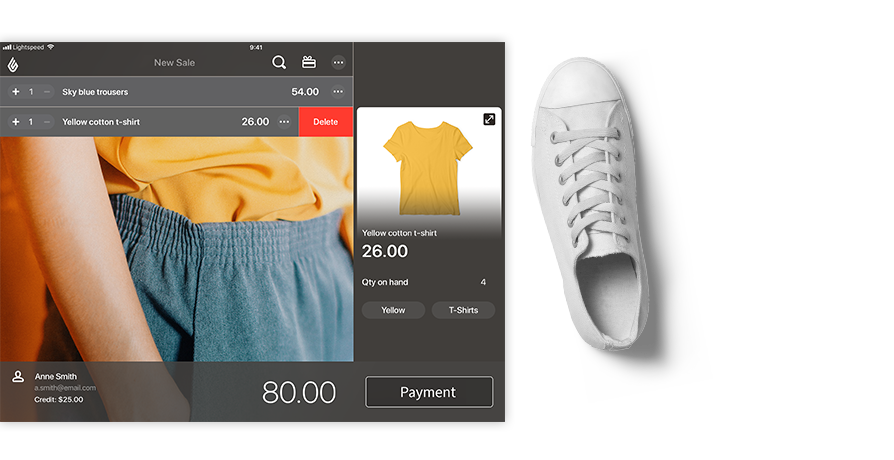 Retail POS system
For retailers, our POS offers many elements not found in other systems. We offer the opportunity to sell online and in a brick-and-mortar from one system. Whereas other POS systems may have reporting tools, our system offers deep analytics that provide actionable data that'll help retailers better manage and grow their business. Our progressive inventory management tools such as integrated catalogs and preset reorder points are sure to streamline business practices for all retailers.
Must-have Retail POS system features
Restaurant POS systems
Lightspeed stands out from other POS systems by simplifying the work of restaurateurs and their staff. Whether you have a cafe, a QSR business, a stand-alone restaurant or a restaurant based in a hotel, our system simplifies the complex and saves you time at the end of a long day. Plus, we offer incredible and useful add-ons such as a kitchen display and kiosk option that'll make running your business even easier.
Must-have Restaurant POS system features
Adjustable floor layout
Nothing ever stays the same for long — as the evening progresses, your floor layout may change. Our POS system floor layout is easily adjustable (simply tap and drag) so your staff knows exactly where to bring the orders. Learn more
Tableside ordering and payments
The experience you give your guests can make or break your business. With Lightspeed's POS, your wait staff take orders at the table and send them directly to the kitchen, bar or salad station, so the preparation can start before the server has even left the customer's side. Not only does this speed up the time it will take for them to get their order, but you'll eliminate mistakes. When the meal's over, your staff can take payments wherever patrons happen to be (at the table? at the bar?) and quickly split or combine bills. Learn more
Cloud-based, mobile, system
With a cloud-based system, your data is available to you whether you're at work, at home, or on the road. Access your end-of-day reports and sales data and employee information and even make menu adjustments in minutes from anywhere you happen to be. Learn more
Keep running regardless of your internet connection
In the event your internet connection goes down, our restaurant POS system offers a local server that saves all your data, so you can keep running your restaurant efficiently and reliably. Once your internet connection comes back, your saved data is pushed to the cloud.
A simple and sleek iPad POS system
Nothing like traditional bulky systems, Lightspeed's point of sale system will add a modern touch to your retail store. Your new staff can master the user-friendly software in no time, saving you much training time and money.
Pricing
All of our pricing plans included onboarding sessions with product specialists and technical support that will be there for you in case of any questions or concerns.



Starting from $139/month, our Retail POS system pricing plans are designed to meet the needs of organizations are every point of growth. Plus, we make sure the system fit your needs: add and remove registers as needed.



Our Restaurant POS system pricing plans start at $97/month and start with 1 register and a basic reporting plan. As your business needs expand, so will your plan. Speak to us about your needs!



---
Free Trial
Try our product for free — and see how it can change your business