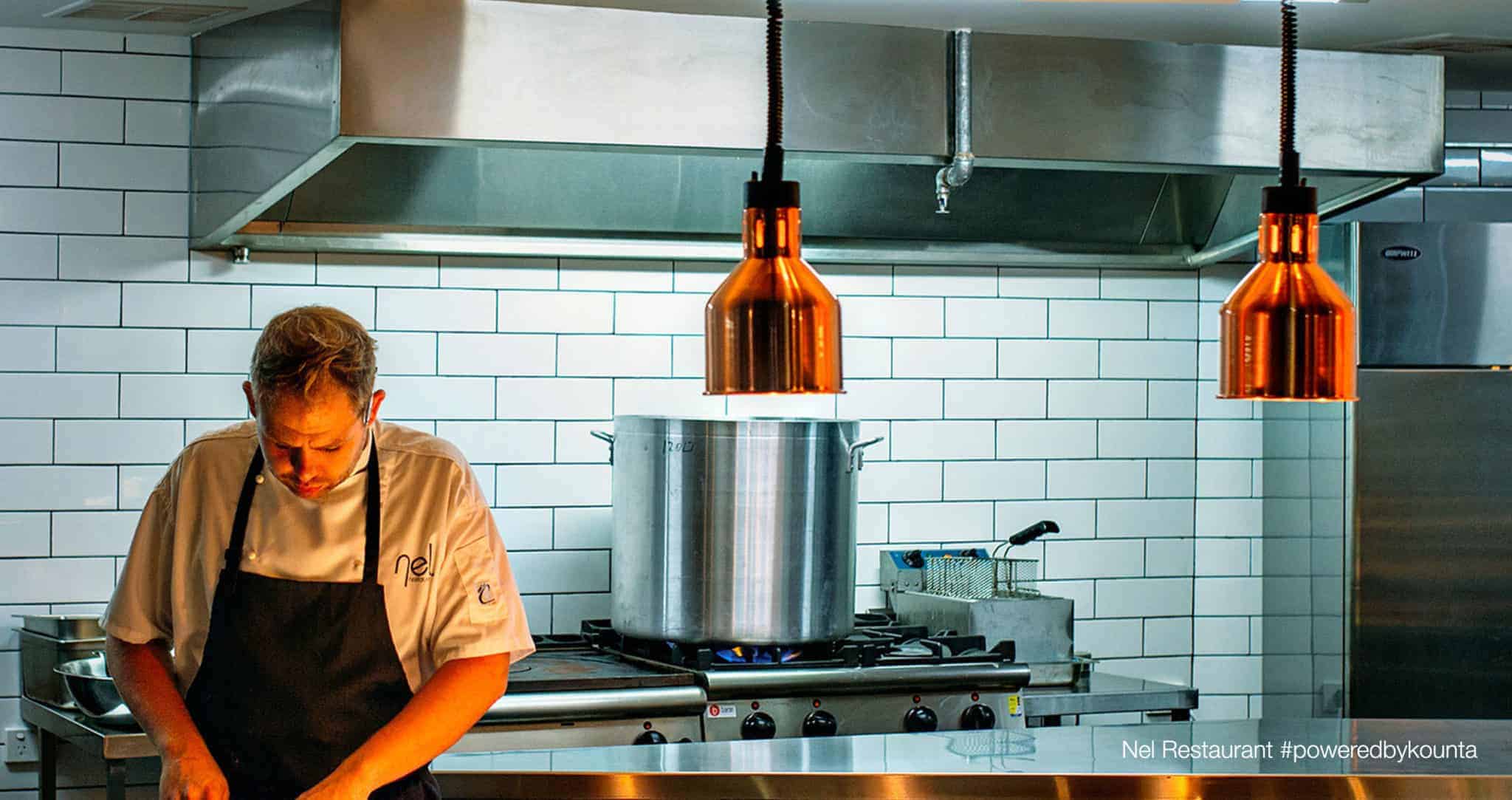 Designing a commercial kitchen doesn't just involve getting the right appliances and figuring out the storage space around it. It's about designing a space that will work efficiently and support a team of people. Even if you're just a one or two person operation, there are still other considerations you have to make with your commercial kitchen design, such as safety regulations and health codes.
Whether it's for a huge catering operation or a tiny hole-in-the-wall cafe, a lot of the process looks the same. And, as with any process, the best place to begin is the beginning.
Commercial kitchen design – 5 steps to follow
1. What are you cooking, and how are you going to cook it?
It's important to finalise your menu before you start planning your kitchen layout and you should already know precisely what you're going to be making. Understanding how each dish needs to be prepared and cooked will help shape your commercial kitchen design.

2. Write out the cooking process for each dish, step by step
Everything that goes into making a dish—from slicing the vegetables to pan frying the meat to plating it up with a garnish—should be listed.

Doing this will help you create an inventory of the kind of equipment you should be buying. It can also give you hints on what not to buy. If you make it through the whole menu, and there's only one entree that needs to go into the deep fryer, maybe you don't need to buy the deep fryer.
At the end of this exercise, you should have a shopping list of all the equipment you'll need, as well as your storage requirements.

Start shopping. When you find the right appliance, record its measurements and note any utility hookups it requires.
3. Define your workflow
What you serve, and how it's prepared, dictates the ergonomic layout of your kitchen.
If you're selling something like burritos, you'd want to go with an assembly line configuration. The process is front-loaded with prep and cooking, and then putting it all together happens at specialised stations along the way.
If your dishes are more complex, you might organise the kitchen into zones. There's a veggie prep station, another for making sauces, another for cooking on burners, another for roasting and baking—the list could go on.
If you're leaving some of the order management to technology, figure out where station printers or kitchen display systems need to be to support this. The main thing is to be able to understand your processes before you even get to the point where the layout is designed.
Knowing in advance the different operations that need to take place, and whether they're happening simultaneously or consecutively, is crucial into the way you're going lay out the available space. Pay close attention to the way staff might have to move back and forth between stations to avoid people getting in one another's way.
4. Keep energy efficiency in mind with your commercial kitchen design
Efficiency in the kitchen isn't just about how you disperse people and order the flow of ingredients on their journey to become a dish. The placement of appliances also has to be part of the equation.
Keeping the refrigerator right next a 10 burner stovetop, for example, isn't a great idea. In a busy kitchen, a fridge door is constantly being opened and closed. Keeping it next to a heat source increases the work the unit has to do to keep things cold, and increases the possibility of the food spoiling.
5. Design the layout, preferably with the assistance of a professional architect or kitchen consultant
Even if you've done this sort of thing before, it's a good idea to have another set of eyes on the design process. Someone who's not as personally vested in the project might have ideas or improvements you hadn't considered. Or maybe there are new electrical codes that you're just not aware of.

Doing things right the first time is always more cost efficient than having to go back and clean up mistakes.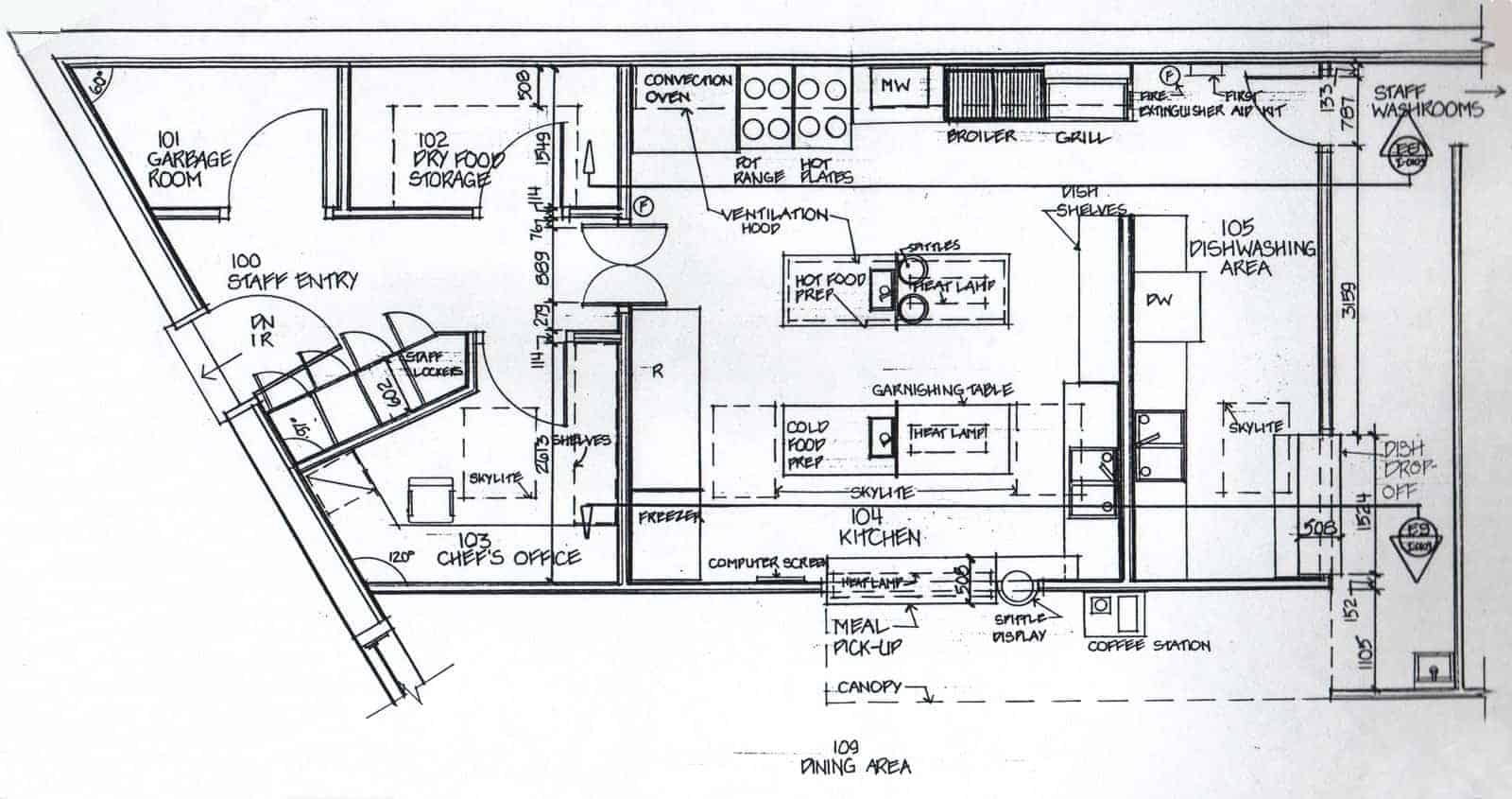 Take your detailed list of appliances from the first step, and your workflow requirements from the second, to a professional and have them design the layout. The more detailed the blueprint, the better. Make sure that the design includes notations of where electrical and plumbing need to be run. Every outlet and water fixture needs to be accounted for.
Once you've got it visualised, you can run through dish making scenarios, and actually choreograph the movements of your kitchen staff. This will help in making sure that movement throughout the kitchen is kept to a minimum.
At this point, you'll want to include a local or city inspector to make sure all your designs comply with any and all codes. If you've worked with professionals in the design, this part ought to go smoothly.
All that's left from there is to build the kitchen out.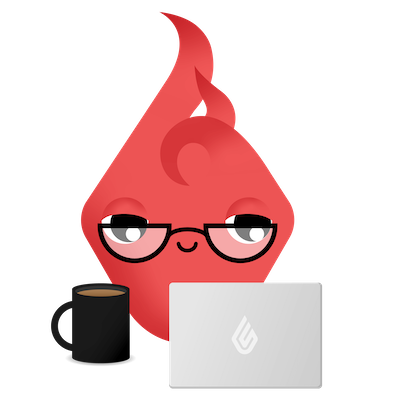 News you care about. Tips you can use.
Everything your business needs to grow, delivered straight to your inbox.