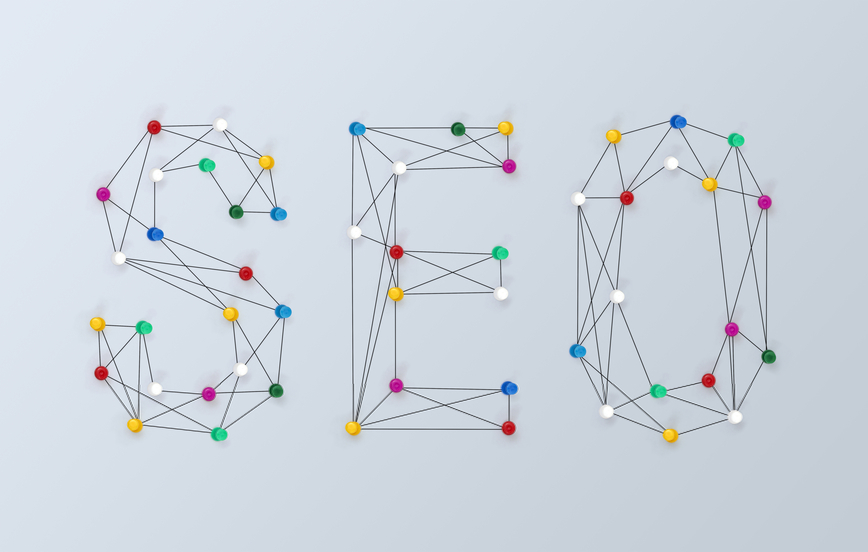 If you thought attracting customers to your brick-and-mortar store is a challenge, getting customers to find your online store can be even more difficult. With an increasing number of ecommerce websites competing for the attention of shoppers with similar products, you need to make sure that your online store stands out. That's where SEO comes in.
What is SEO and how does it work?
What is Search Engine Optimization (SEO)? It's the process of getting a website to rank higher on search engine results pages (such as Google, Yahoo, or Bing) through unpaid and what we call "organic" efforts. When a person types a word or sentence into a search engine, it pulls up a list of web pages that are all ranked so that the most relevant results appear at the top of a page. The top of the results page displays paid ads followed by organic search results. The bottom line is that people tend to click more on the results found on Google's first page, so you want to make sure your website appears at the top.
By making SEO changes to your online store, users will be able to easily find your website at the top of the search engines. So how exactly can you use SEO to improve your ecommerce website? Follow these basic tips:
Tip #1: Invest in keyword research
Imagine you own a brick-and-mortar retail pet store which specializes in selling all-natural food for cats and dogs. You decide to finally open up an ecommerce store because you want to sell both in-store and online. However, there are thousands of competitors ahead of the game. How do you make your ecommerce store stand out from the rest?
Your SEO keywords are the keywords and phrases on your website that make it easy for users to find your site through Google, Yahoo, or Bing. If you want to optimize for the keyword "iPad" in the title and body of your web page, you should sprinkle your keywords on your web page in a coherent and natural way. This will help Googlebots better understand what your website's content is about, rank it higher and, in turn, users will be able to easily find your site.
Conducting keyword research for your website is one of the first steps you need to take in order to be found by potential customers online. What does keyword research entail? It means compiling a list of keywords you will use to label your products online based on search volume, competitiveness, etc.
By writing content using the keywords best suited to the products or services you sell online, you'll be able to help potential customers better find what they're looking for. There are a wide variety of keyword tools you can use online.
SEMrush
We recommend SEMrush as a great tool for keyword research. It allows you to see how many times per month a specific key word was searched, and, more importantly, you can see its keyword difficulty (also known as competition). Sometimes it's better to pick a keyword that does not have high search volume but has low keyword difficulty. In this case, you could easily rank on the first page and get more traffic, versus trying to rank by using big volume keywords.
In our example below, we searched "organic cat food" to see how often it got searched per month (under Volume) and what the keyword difficulty is (under KD). Something a little bit more specific would be better to use for keywords, if you're selling organic cat food, like "organic wet cat food" or "organic canned cat food" which have less competition.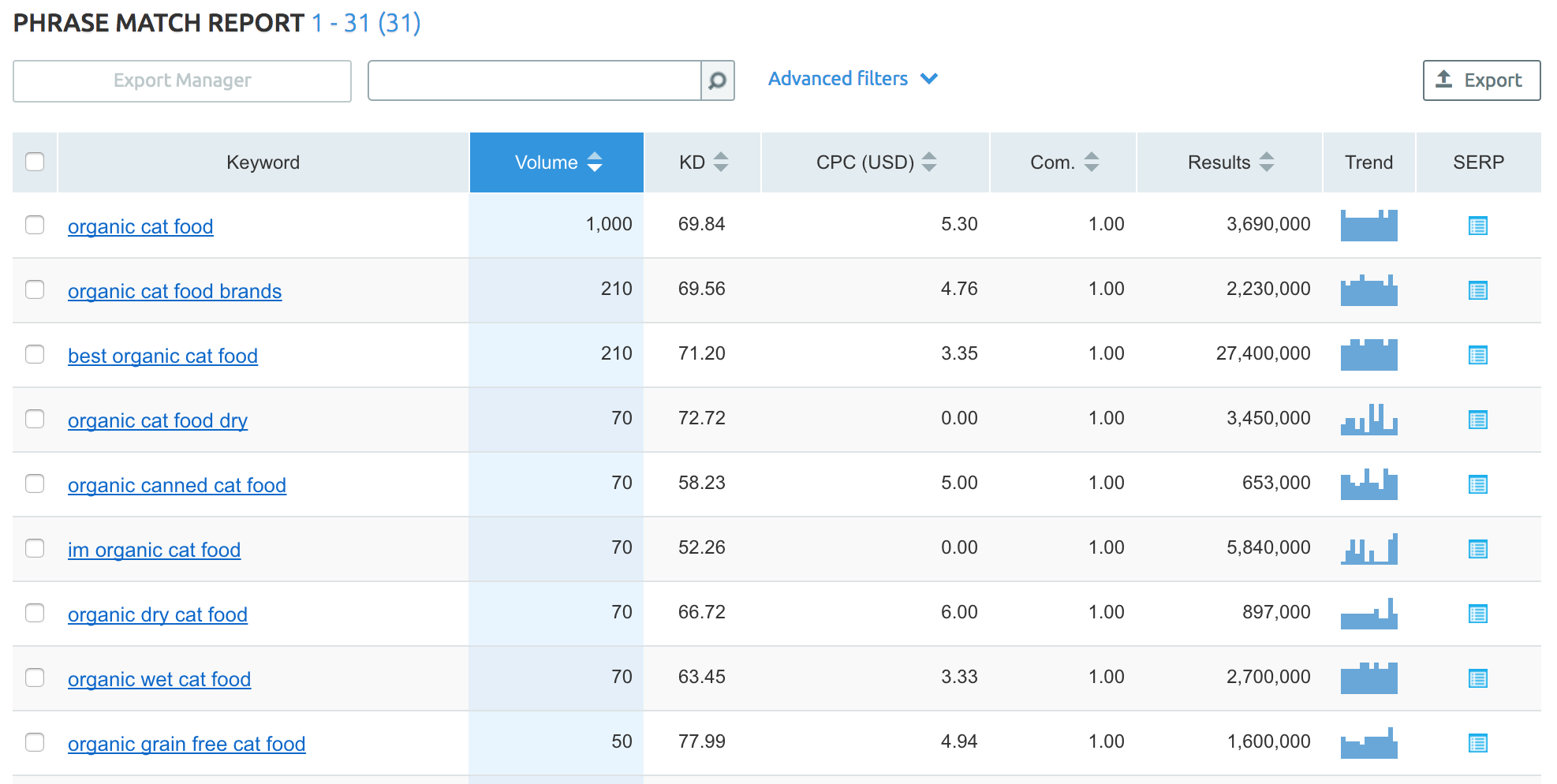 Amazon Suggest
Amazon Suggest is another great way to search for product keywords to give you an idea of what's popular among consumers. It simply suggests search terms that frequently come up, so you know which ones are the most relevant and popular. This doesn't mean you should use these terms for SEO but it might give you an idea of which of your products you want to focus on when optimizing your website's SEO.
For example, "red shoes" may be highly searched, but it won't help you get discovered online because it's too broad.
Tip #2: Write relevant blog posts
Finding the right keywords for your products is only the beginning to setting up your online store. You'll also need an integrated-blogging ecommerce platform that will allow you to post blogs that keep users coming back for more. By writing engaging content, you can build a personal relationship with your users and improve search engine ranking. The more visitors you receive on your website, the more Google sees your site as credible and authoritative, thus moving you higher up in the search results page. By posting frequent, relevant and engaging blog posts to your website, you can help boost online traffic and even online sales.
Notice how the blog post below includes all keyword variations of dog foods. By posting a helpful and relevant blog post on dog treat recipes, users specifically searching for this might land on your website, and even make a product purchase. Writing tips and articles not only helps you stay in touch with customers, but also helps you score points with Google's search engines.
Sprinkle your keywords into your blog content
Tip #3: Optimize pages with titles and meta tags
Optimizing your web pages with title and meta tags not only helps Googlebots crawl and index your pages faster, but also helps better promote your web store in Google's organic results. So what exactly are titles and meta tags?
Meta Titles
A meta title explains what your online store is all about. It's a short 60-70 character title found on the search engine result pages. In this case the title is "Organic, All-Natural Cat and Dog Food | Natura Pet Foods".
Meta Descriptions
A meta description is a short 160 character snippet that summarizes a page's content. In this example, the meta description is "Natura Pet Foods offers all-natural cat and dog food. We offer a wide selection of the best cat and dog food brands for your pet. Get a free sample for your pet today!". To make the most out of your meta description, be sure to also include a call-to-action that will entice users to make a purchase or try your product.
Meta Keywords
Meta keywords are search terms by which you want your websites to be found by search engines. By inserting your target keywords into the meta keywords box of each page, you can easily advertise content for users searching for your products and gain user click-through from search engine result pages.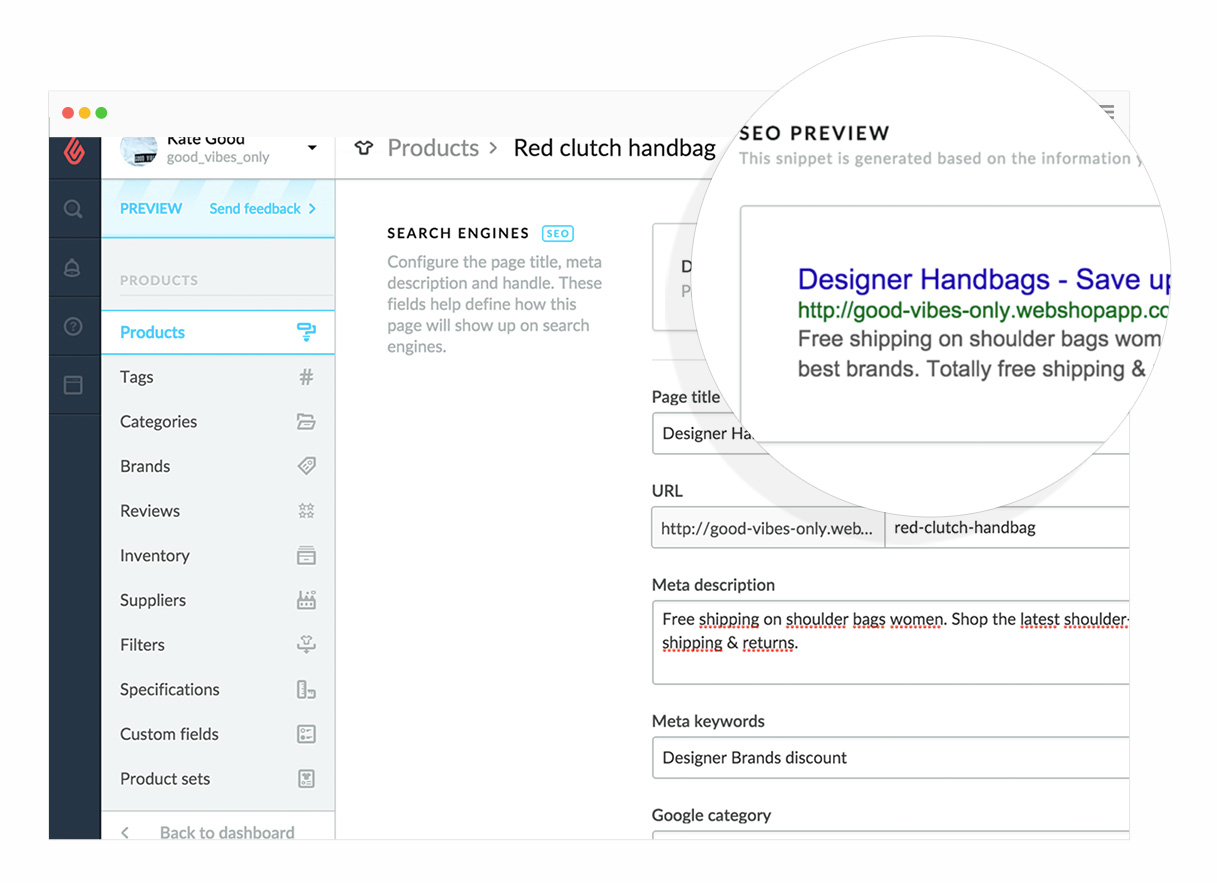 Lightspeed eCom makes SEO easy for beginners, and automatically optimizes your website (for example the URLs it generates).
Implementing the proper titles, keywords, and descriptions on your website's pages is crucial to being found online. With a built-in ecommerce SEO tool like Lightspeed's, you can create the right headings, product tags, and descriptions, giving your online store what it needs to be found at the top of search engines.
With Lightspeed eCom, you can also ensure that your customers feel secure and comfortable on your site. You want to use a secure connection with true HTTPS and site speed that doesn't force people to take a coffee break while they wait for the page to load.
How to Get a Higher Ranking in Google for Your Online Store
Find out how you can increase your ecommerce website's rankings
Tip #4: Be present on social media
Social media plays an important role in promoting your online business. In fact, there are many ways you can use social media to help you grow your online store. Social media, however, doesn't do it alone; you need content marketing, social media and SEO to work all together.
How exactly does social media and content marketing affect search engines? For one, social sharing is a way for you to boost your website's ranking on search engines. By getting many readers to share your engaging content, Google will start to favor your website, moving you higher up in ranking. Here's what you should keep in mind when engaging with your customers:
Understand your target market
Identifying your target market is crucial because it sets the stage for the type of content you'll be publishing. Creating customer personas is a great way to get started. Think about who your audience is: how old are they? What interests them? Which industries do they work for? It's important to identify the type of customers who would be interested in your product so you can write tailored content. Your customers will be that much more likely to share content they relate to, getting your ecommerce site more social shares and increases your place on search engines.
Share first, sell second
When customers are looking to buy a product, they don't want to hear a sales pitch. It's aggressive and pushy. So how can you sell your products without turning them away? Instead of trying to sell them something, try finding a solution to their problems and craft helpful content around it. Luckily, search engines have made it easy for people to find readily available information online for free. If you can show users how your product can benefit them and attend to their needs, they would be more likely to buy from you.
Tip #5: Track your ecommerce sales with Google Analytics
So you've imported all of your products, performed a keyword research, and set up all of your social media accounts. Now what? One of the most important elements you should have in the back-end of your ecommerce store is a system that tracks your site's traffic and online sales. Without any form of ecommerce tracking, it would be nearly impossible to know just how successful your online efforts are.
Google Analytics and Ecommerce Tracking
Implementing a Google Analytics UA tag onto your website is the first step into tracking your ecommerce sales. With the tag in place, you can view your website's usage data such as sessions, traffic source, bounce rate, landing pages, and more. You can also see which landing pages receive the most or least amount of traffic and make changes to those pages.
For example, when you look into the collected data in Google Analytics, say you notice a low percentage of traffic going to your products page. As a way to increase your traffic, you can add compelling product descriptions or even make changes to how your items are displayed on that page. You can then test it out for a few weeks and track how these changes affected your traffic, sales, or bounce rate. By testing what works and what doesn't, you can greatly increase the amount of organic traffic flowing to your website.
Once you have implemented the Google Analytics code onto your website, the next step is to enable and set up ecommerce tracking, which is a must for your online store. eCommerce tracking is a Google Analytics feature that allows you to track transactions made by shoppers. It also gives you insight on your products' revenues, the number of products sold in a specific date range, the number of purchases made, and much more. With Google Analytics ecommerce tracking, you can easily find out which products sell well, and which ones don't, so you can gain valuable insight and maximum ROI on your ecommerce site.
Reporting Dashboards
Many ecommerce platforms offer integrated reporting tools that make it easy to track sales. With a robust ecommerce reporting tool such as Lightspeed's, you can generate sales data, customer information, and product data – all from one dashboard. As a shop owner, you can also check your stats on:
The number of visitors and orders
Average order size
Turnover
Shop actions
Popular forum posts
Much more!
Having your online store set up with ecommerce tracking and a reporting tool gives you the ability to not only track sales, but also see how well you are optimizing your web pages for your customers.
Now that you know the basics on how you can leverage your ecommerce store using SEO, social media, and content marketing, you can start updating your online store in order to rank higher than your competitors.
Get started with Lightspeed eCom
Build your online store and make it a success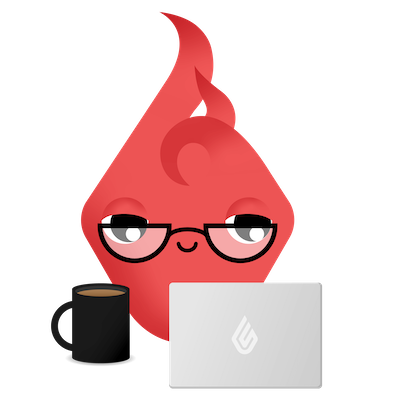 News you care about. Tips you can use.
Everything your business needs to grow, delivered straight to your inbox.