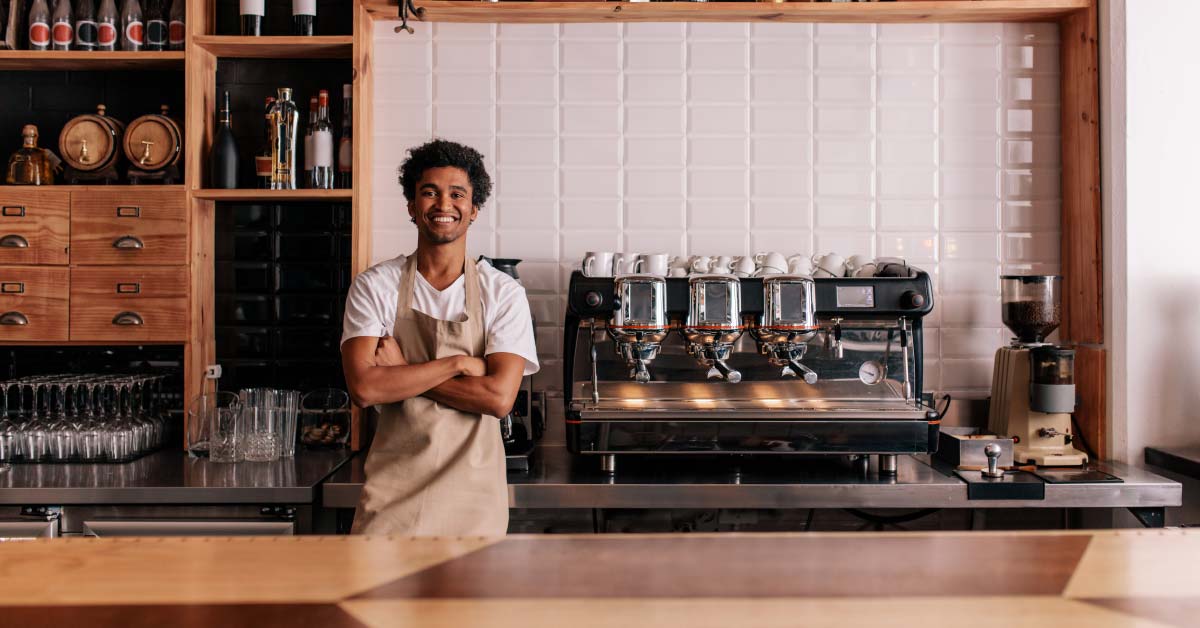 Opening your first and very own cafe unleashes intense (and conflicting) emotions – excitement with traces of uncertainty, adrenaline paired with nerves, and that tenacious drive to make it to the finish line. It's an endeavour of passion and aspiration pierced with moments of logistics, finances, and decisions.

Deciding on cafe equipment & cafe supplies
Amongst the various decisions you'll have to make, cafe equipment and cafe supplies sit on the costly tier of important decisions – right next to rent and wages.

With commercial coffee machines ranging from $2,500 to $12,595, fitting out your cafe with the right equipment is an expensive undertaking.
To help navigate the world of cafe equipment and supplies and to keep costs down, we've narrowed down 10 areas you should explore as a starting point and pertinent questions you should ask to shape your ultimate decisions.
1. Concept and menu
Your business concept and menu will largely determine what equipment you'll need for your cafe, so it's important to map these out in your business plan before making any decisions.
Before investing in any equipment, ask yourself the following questions:
Are you going to offer cooked dishes? If so, how extensive is your menu?

Will you be offering beverages other than coffee? E.g. fresh smoothies and juices

Are you going to offer dine-in, takeaway or both?

What payment methods will you be accepting?

What style of seating would you have?

Will you offer table service, or is it ordering at the counter only?
Understanding exactly how your cafe will operate and what dishes and drinks you're going to offer is the first step to picking the right equipment for your cafe. This will ensure you don't waste any time or money investing in the wrong equipment.
Free cafe business plan template
This easy-to-use business plan template is designed to help aspiring cafe owners set their plans into motion.
2. Barista tools and kitchen equipment
Once you've finalised your concept and menu, the next step is to make a list of the equipment you'll need to bring your dishes and drinks to life. Below is a basic list of tools and equipment that cafes usually invest in that you can use as a starting point and tailor to your operational requirements accordingly.
Automatic drip coffee machine

Coffee grinder

Espresso machine

Scales

Syrup pumps

Frothing thermometers

Timers

Blender

Oven

Toaster

Grill

Hotplate

Microwave

Dishwasher

Preparation table

Chopping boards

Cooking utensils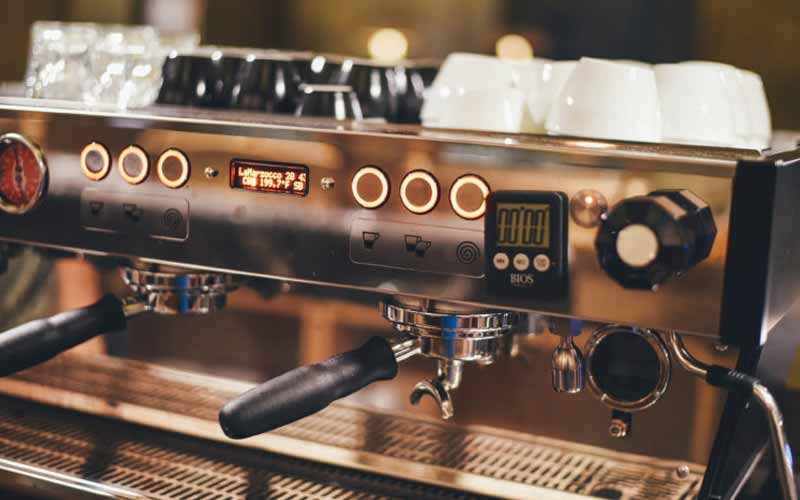 3. Space capacity of your venue
While this sounds obvious, it's actually a key step in your decision-making process. There are multitudes of variations in the types of equipment you've narrowed down on.

Understanding your space constraints early on will allow you to eliminate options that are simply not feasible. Measure out how much room you have to plan your layout and decide on fitting equipment accordingly.
4. Storage
If you're preparing food and drinks on-site, you'll need a safe and secure way to store your stock. While the size of your equipment will vary depending on the size of your venue, there is also storage equipment to consider. Below is a simple list to get you started:
Industrial Fridge / Freezer

Gastronorm pans

Insulated containers for milk & cream

Kitchen shelving units

Storage containers (ingredient bins, preserving jars)

Industrial plastic wrap
5. Customer orders
The next thing to consider is how your customers will place their orders and what equipment you'll need to facilitate this.
Are you going to offer table service? If so, will you invest in tablets (like iPads) that sync orders to your point of sale (POS), or will you opt for pen and paper? If you plan for customers to place their orders at the counter, will you opt for a customer-facing screen?
Once you've determined your ordering process, you'll need to research which cafe POS system can best facilitate your workflows and business goals.
With so many options on the market, finding a POS platform for your cafe can be daunting. To ensure you purchase the best platform for your business needs, ask the following questions:
Is onboarding, training and support included with my purchase?

Does the POS support flexible payment & ordering solutions?

Does the POS facilitate customer marketing & loyalty?

Is the POS scalable – can it support my business as it grows?

Does the POS have options for omnichannel ordering?

Does the POS include inventory & supply management?

Is there a flexible contract?

Does the POS collect sales, product and employee data?
Note, you'll also need to purchase compatible printers to relay orders to baristas and the kitchen.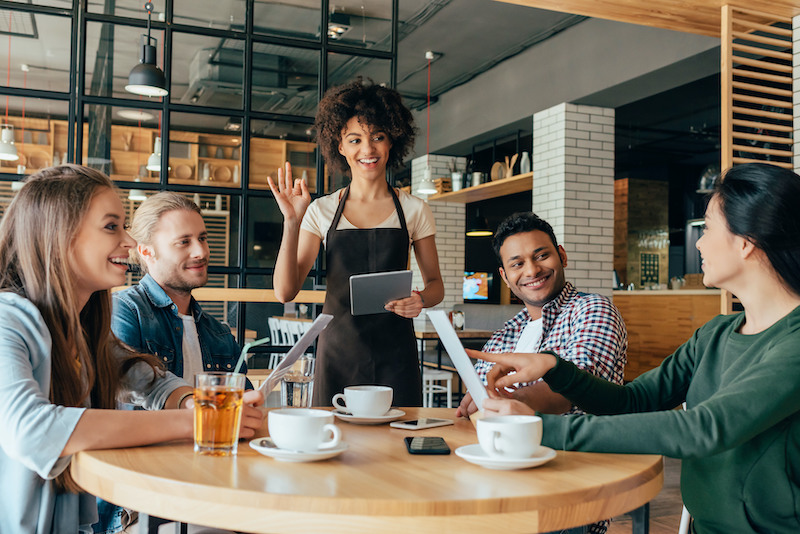 6. Payment methods for your cafe
Cash transactions are rapidly declining in Australia, with fewer than 27% of customers opting to pay with cash. This decline can be attributed to the recent rise in new payment technology, like Apple Pay, and a societal shift towards the convenience of tap and go payments.
So it's important, as a new cafe owner, to factor in customer behaviour when determining the payment methods you'll offer. This will determine the equipment you require to process payments.
Will you accept Google Pay and ApplePay?

Will you accommodate split bills?

Would you prefer your billings to go through a table ordering system (such as me&u)?

Will you go completely cashless or have a hybrid of cash & card?
7. Health, safety and security equipment
Health and safety is a top priority for a new cafe, and it's essential to have the right equipment to ensure your cafe meets the required health and safety standards. Here are some things to consider:
A 3-compartment sink for rinsing, washing, and sanitising dishes

Industrial cleaning products

Trash cans

Mops, bucket and brushes

Fire extinguisher
As well as health and safety equipment, every business needs a security system to deter crime and ensure the safety of their employees, customers, and property. This may include security equipment such as cameras and burglar alarms (both in the cafe and on the front and back doors).
8. Financing your equipment
Purchasing equipment is a weighty financial undertaking and having upfront capital is not always feasible. Taking out a business loan is a popular option for new business owners, and major banks offer a range of different options.

Head to the Australian Government's business advice website to learn more about how to apply for a business loan.
It's also possible to get financial assistance from the federal and state governments. For example, eligible businesses in New South Wales can receive a rebate of up to $1,490 when they purchase or lease a new, eligible, plug-in commercial fridge or freezer.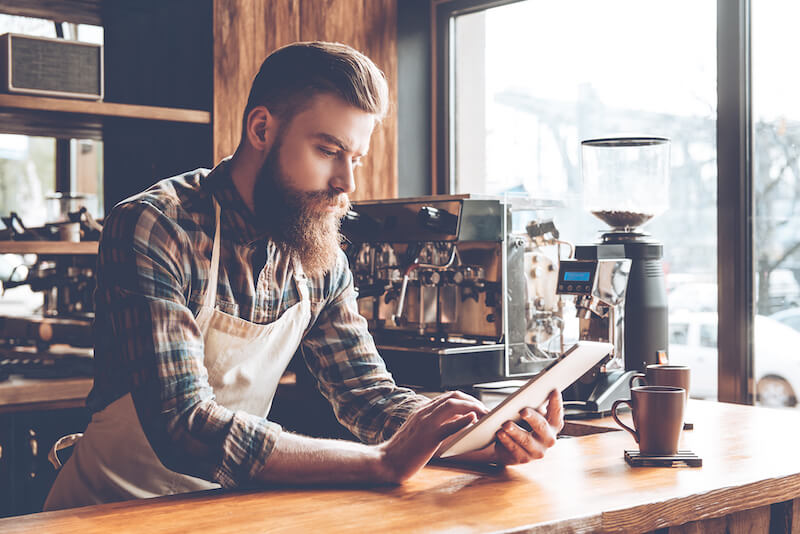 9. Cafe equipment: new vs pre-loved vs leased
There is also the option of purchasing new or used cafe equipment – as well as leasing your equipment. All of these options will have an impact on your finances.
New equipment is clearly the most expensive option, but everything should operate like clockwork, and you'll have a warranty if anything goes wrong. On the other hand, purchasing used equipment is much more cost-effective. However, you'll need to inspect it beforehand to check for issues, and you might have to pay for repairs further down the line.
Depending on your immediate requirements and what you can afford, it could be beneficial to lease your equipment. Leasing equipment can save you from investing large sums of money upfront. Plus, any repairs that need doing won't be your responsibility. After establishing your business and having a steady cash flow, you can then look at buying equipment.
10. Buying cafe supplies & equipment
Below are some popular options that cafe owners explore for their cafe equipment and supplies.
If you're looking to purchase new equipment, try doing a quick search online for the best deal. Here are some well-known retailers:
If you're looking at secondhand equipment, you can consider an auction:
Pick the right equipment for your cafe
We hope this 10-step guide sparks your internal conversation and takes some weight off your decision-making process.

Starting a new cafe is a stressful yet beautifully exciting time, and we wish you all the very best. And we'll be right here on the sidelines, cheering on your first delicious brew!
Free cafe business plan template
This easy-to-use business plan template is designed to help aspiring cafe owners set their plans into motion.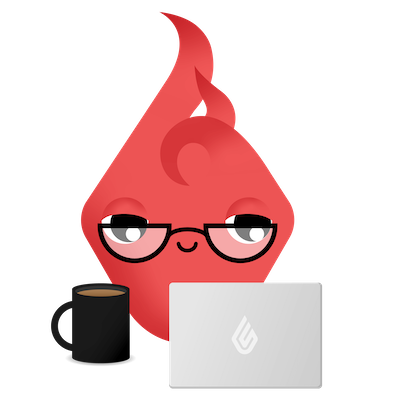 News you care about. Tips you can use.
Everything your business needs to grow, delivered straight to your inbox.