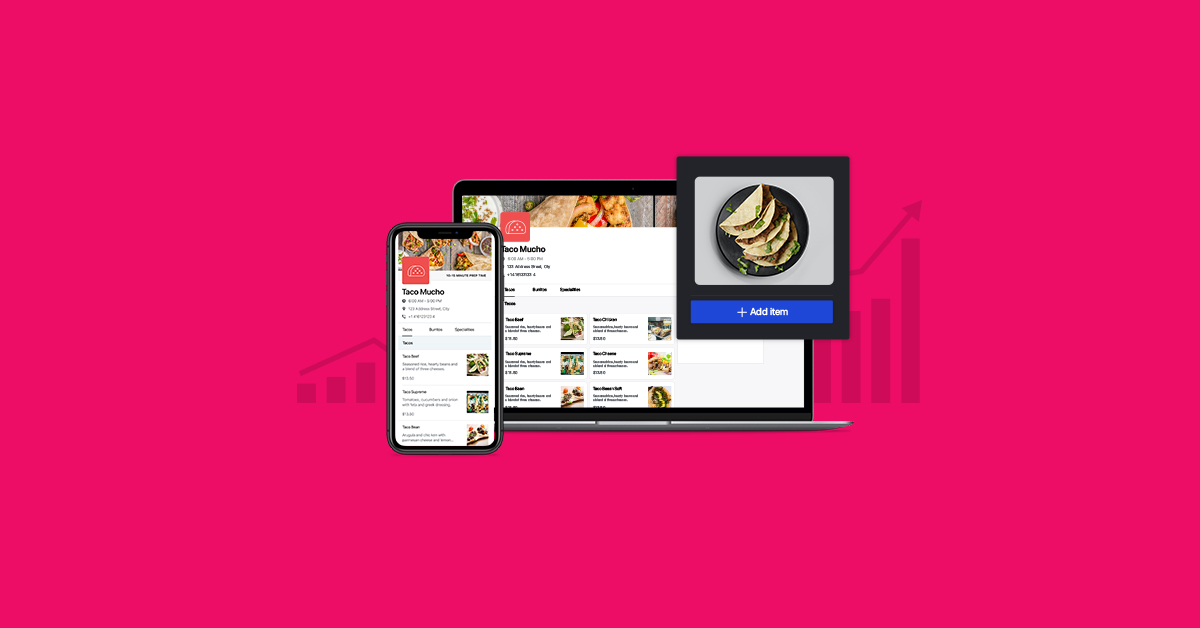 COVID's harsh reality is upon us again, especially in states like NSW where solely relying on delivery & takeaway has not been the norm for over a year.
This time, however, we have some benefit of foresight. While uncertainty still plagues the air, there are some questions for which we do have concrete answers.
Questions like: did any specific offering work well during the previous lockdown(s)? Is there room to adapt systems, staffing, and menus? What can we learn and implement from other venues, states, and even countries?
Below is a list of 7 venues, and their creative strategies for delivery & takeaway that have inspired us – and we hope they inspire you too.

1) Selling in bulk: IIKO Mazesoba
IIKO Mazesoba is a Japanese restaurant that's famous for its special soy tare and handmade noodles, which comes from a recipe passed down from a Ramen Sensei!
Deconstructed mazesoba for a home experience
Along with their à la carte menu where customers can order specific dishes, they've adapted their iconic dish for a 'home experience.'
A pocket-friendly package where they sell bulk portions of their signature noodles, meat, and sauces for $40 that can produce six meals. It comes with a recipe card with step-by-step instructions for easily putting the meal together.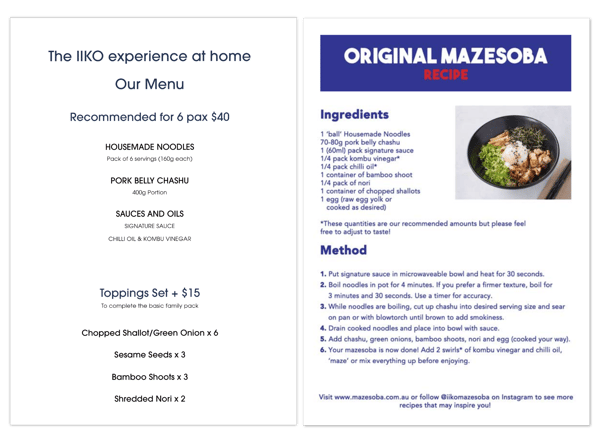 This is a great addition to their online menu as it directly addresses the circumstance of COVID social isolation.
With most people cooking at home a lot more than they used to, IIKO is using their inventory to provide customers both value and top quality meals. Their package is:
saving customers a trip to the grocery store
providing them unique and premium ingredients
supplying them enough for six meals
If you have a hankering for noodles from the Ramen Sensei himself, you can place your order with IIKO Mazesoba.
Fresh to frozen:
2) Maybe Frank
Maybe Frank is an Italian restaurant known for its enticing pizzas. To adapt to the COVID climate, they've introduced the ultimate comfort food: frozen pizzas!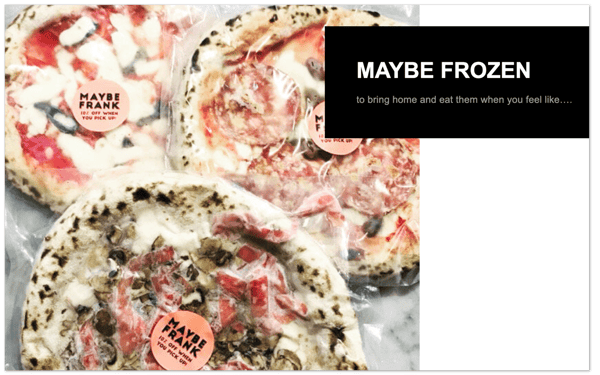 They've adapted their top-seller to a format that best suits lazy stay-at-home moods. Because who can't relate to days where all we want to do is stay in our PJs, heat up some frozen pizza, and plop down in front of the telly?
So instead of turning to mass-produced pizzas in supermarkets, Maybe Frank is offering customers the same comfort food but from pizza gurus instead.
Looking to stock up your freezer? Check out Maybe Frank's .
3) From bar to mini-mart: Bart Jr. to Bart Mart
Bart Jr. is a restaurant and bar serving up "bar food but not as you know it."
Their menu changes regularly based on seasonal produce from local suppliers. To adapt to COVID's restrictions, Bart Jr. revamped their bar into a mini-mart!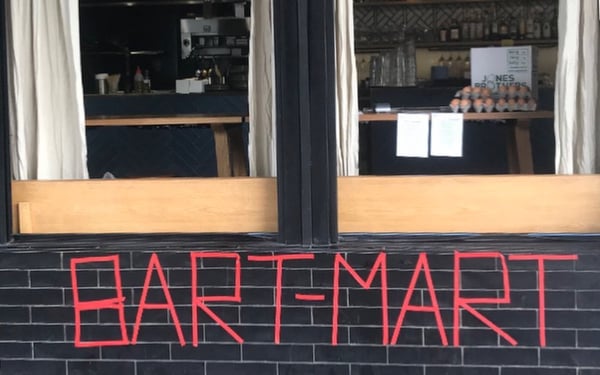 Clever sub-branding
Bart Jr. even created a sub-brand, Bart Mart, to complement their mini-mart concept. Their mini-mart sells groceries, alcohol, and food from their menu.
The best part of Bart Mart is that they've stayed true to their principle of supporting local suppliers. "Stay small & local", is what they live by – and that is the precise nature of their mini-mart.
Support your local by following Bart Mart's Facebook page for updates on their mini-mart and supplies.
4) Adjusting pricing & menu model: Arthur
Arthur is a reservation-only restaurant in Surry Hills. They serve set and shared menus that are priced at $80 per person. The set menus offer a range of courses introducing their customers to a world of flavours, complementary dishes, and wine pairings.
With a concept like Arthur's pivoting to delivery seems near impossible. But Arthur did it. And really well too.
How?
They understood that a concept which relies on multiple courses priced at $80 simply won't translate to delivery. So they took a drastic step: they stripped their entire menu.
Their menu now, for takeaway, only offers one dish in two variations (non-vegetarian and vegetarian) per day. And it's proved to be very popular! Their items need to be pre-ordered during the week and they are sold out most days.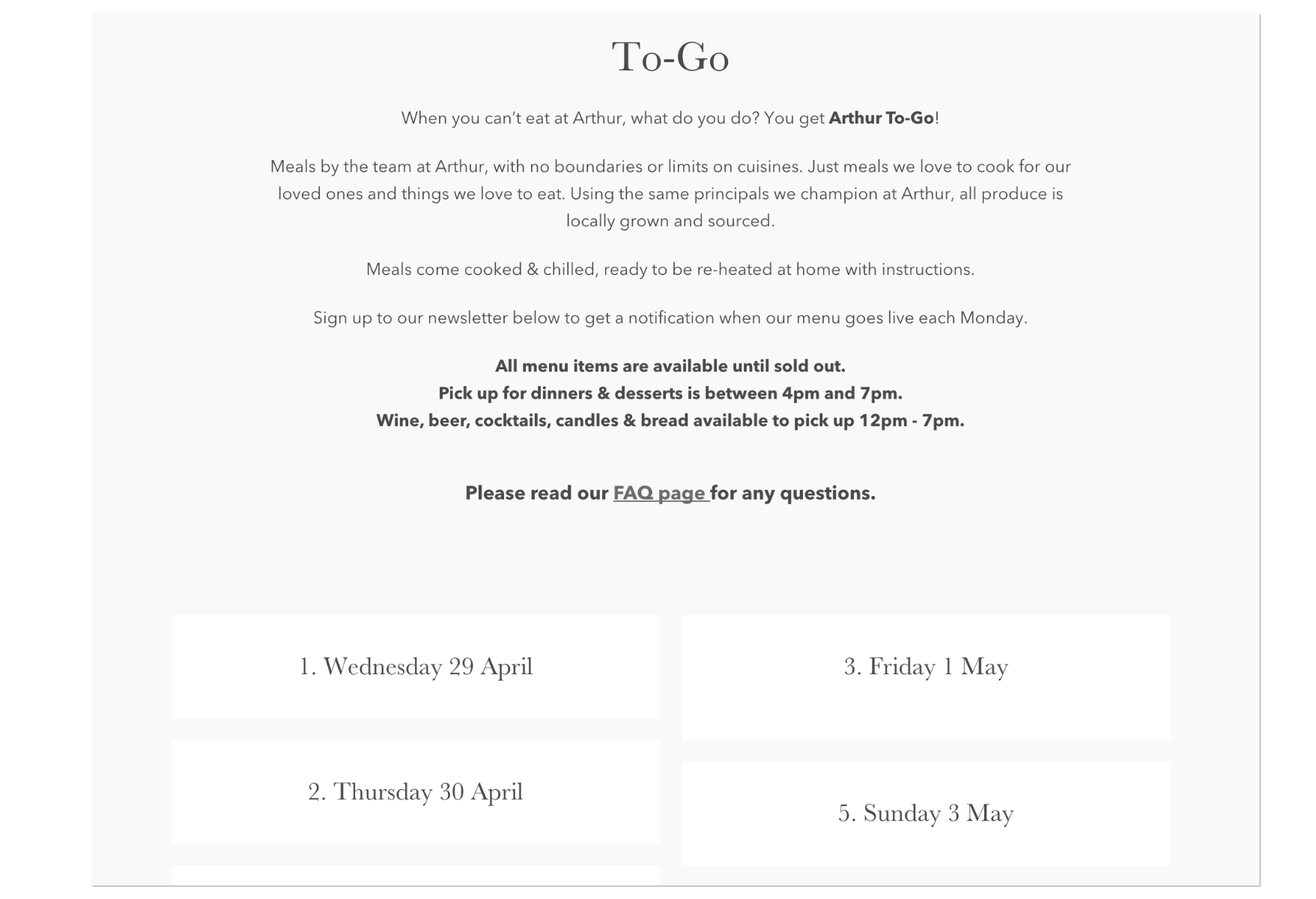 To make it more takeaway friendly, they've revised their pricing to $45 per dish (serves two people) and they also cook & chill their meals and provide re-heating instructions to preserve the quality of the dish.
Despite the drastic change to their menu, they've stuck by their principles and philosophy. They still use produce that is locally grown and sourced, and they remain free of the restrictions posed by cuisines and categories. Arthur says "it's just meals we love to cook."
And that's exactly what they've channelled in their to-go menu.
5) Yesterday's headache, today's profit: Africola
Isn't it frustrating when you've introduced something that is uniquely yours and it keeps getting stolen? Like quirky cutlery and signature sauces?
Africola was struggling with that very problem. Their fire sauce was constantly nicked. So when they had to pivot to delivery, they gave the people what they wanted by including their signature fire sauce on their delivery menu.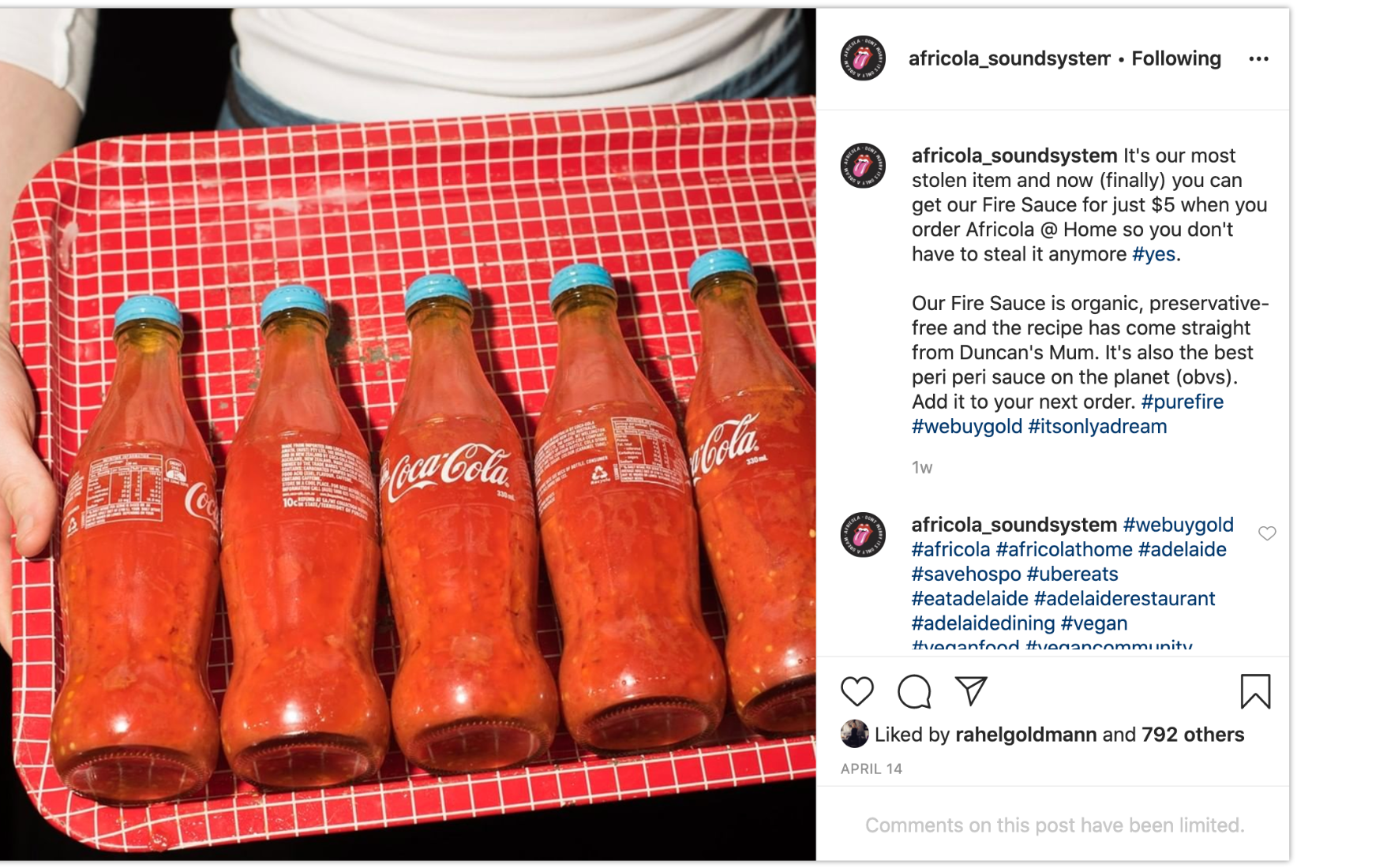 This is how they introduced it:
It's our most stolen item and now (finally) you can get our Fire Sauce for just $5 when you order Africola @ Home so you don't have to steal it anymore #yes. ⁠⁠
Our Fire Sauce is organic, preservative-free and the recipe has come straight from Duncan's Mum. It's also the best peri peri sauce on the planet (obvs). Add it to your next order. #purefire #webuygold #itsonlyadream

How well did it work? Well, that announcement on Instagram itself got almost 800 likes!
Even if customers are not ordering the sauce itself, it's undoubtedly great marketing and a much needed reminder to customers that they're still operating.
Looking to fire things up? Place an order with Africola.

6) Preserving brand identity: Cheeky Poke Bar
Cheeky Poke Bar has a colourful brand identity, quite literally.
The bowls at Cheeky Poke Bar are "your best self built into a bowl" where "each colour in your bowl represents a different powerhouse of nutrients."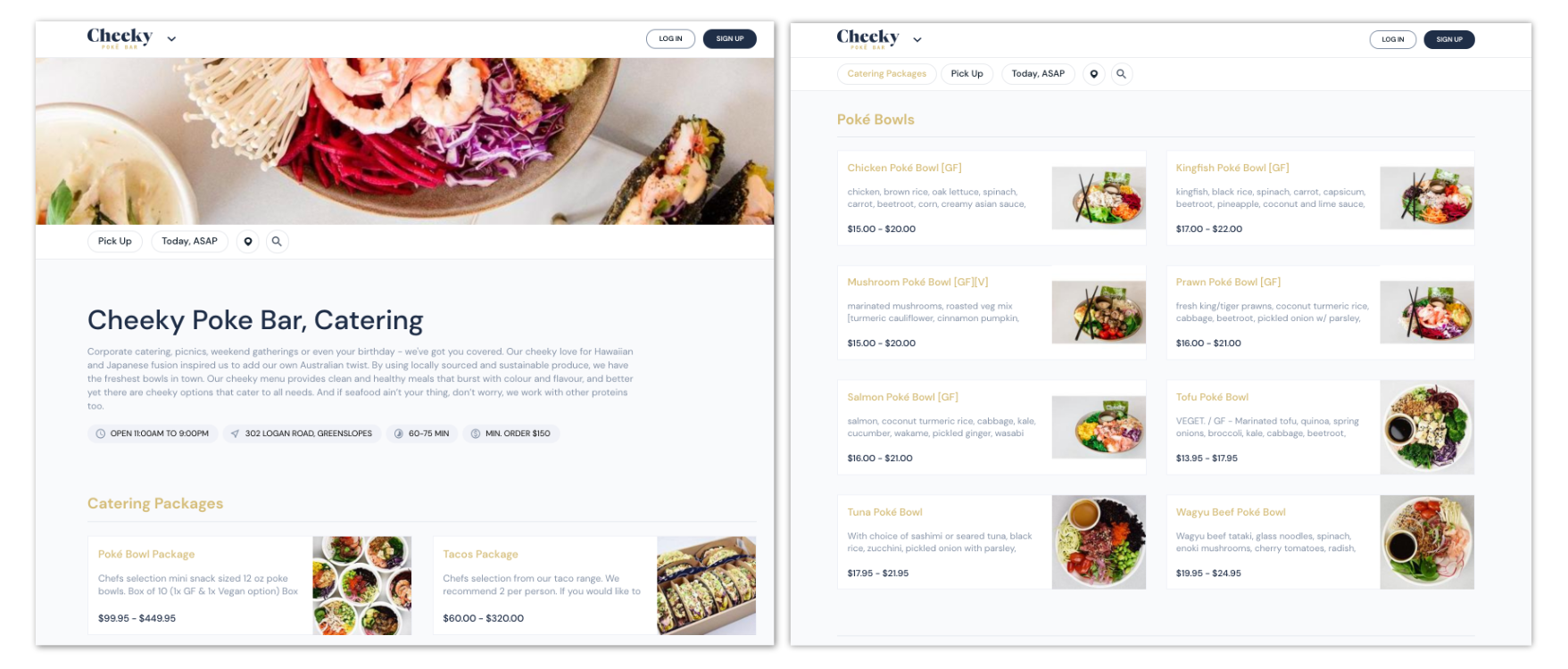 And their brand stands out from the competition on their delivery platform. They've taken full advantage of the ability to customise their online menu and delivery page on Bopple. Cheeky Poke Bowl has:
maintained a range of colours (which is integral to their banding) by using attractive photographs displaying each of their unique dishes
customised the colours of the fonts with their brand colours for consistent branding
used a unique URL that begins with 'cheekypokebar' instead of one that begins with their delivery partner
Why does this matter?
By spending a little bit more time to jazz up their delivery page, they've managed to stand out from their competitors which will go a long way to attract new customers who have little to go by but the contents of the page.
The neat encapsulation of their brand also gives their regulars a virtual experience (if not a reminder, in the very least) of their restaurant which is vital in these times to maintaining a connection and relationship.
You can build your best self built into a bowl for both a visual & culinary delight at Cheeky Poke Bar.
7) Good service for takeaway? Bad Hombres' has done it

Bad Hombres is a Mexican inspired plant-based restaurant that features a fully vegan and gluten-free menu. They also have a strong focus on natural wines and Tequila/Mezcal based cocktails. And, they are regularly lauded for their great service.
Bad Hombres has managed to offer that trifactor for takeaway: delicious vegan food, signature cocktails & natural wines, and (this is the real kicker) their service!
Wine of the Week
Instead of listing all their wines available for delivery, they update their wine collection every week recommending their 'Wine of the Week.'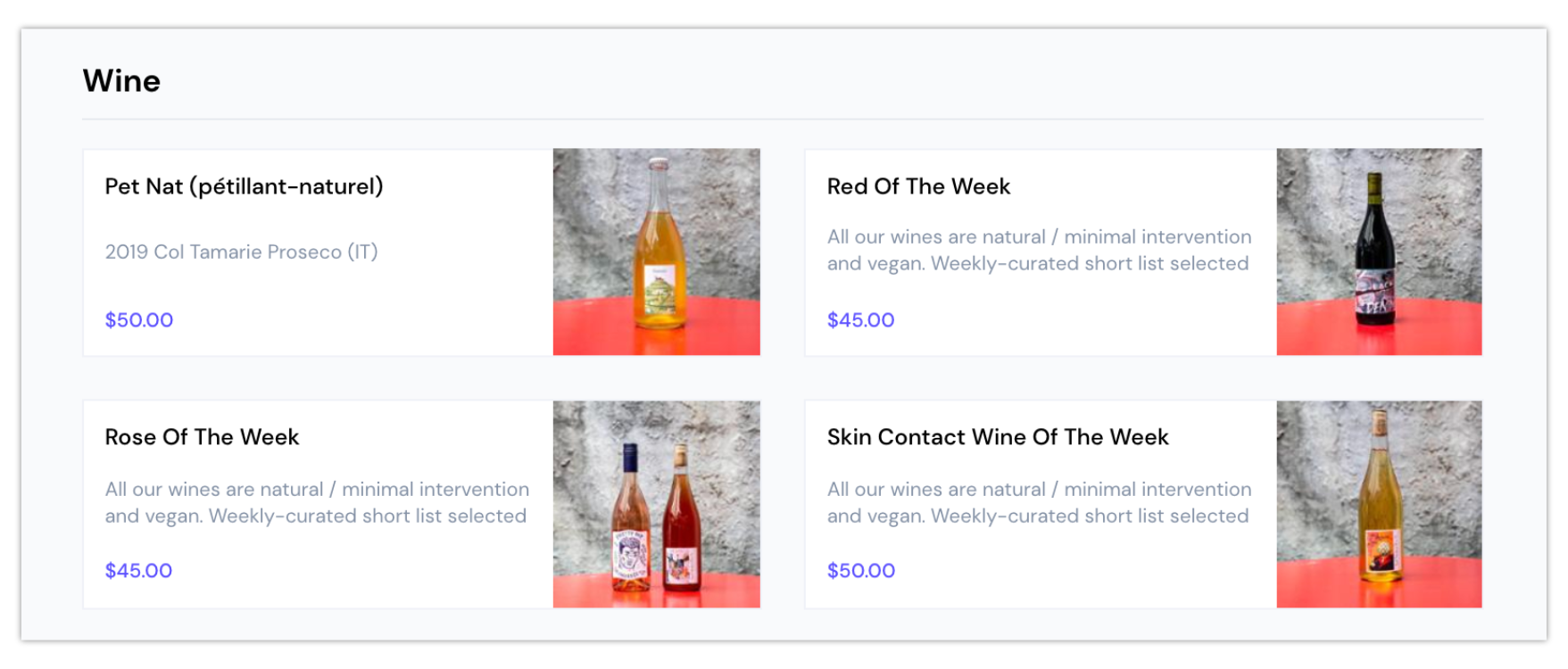 This is the exact experience customers love at Bad Hombres – friendly service and great recommendations. And they're persisting with the latter by recommending three different wines for the week.
While it may seem simple, it's certainly an effective strategy because it softens the disconnect from dining-in and takeaway. It reinforces a key aspect of their service and preserves a much-loved exchange for their customers.
You can try out some delicious plant-based Mexican, rad cocktails, and signature natural wines at Bad Hombres.
Adding that extra flavour to your online menu
Giving your online menu an edge doesn't have to be a long drawn process. Most of the places above didn't revamp their entire menu but included little unique aspects that address the consequences of restrictions and, more importantly, are uniquely theirs.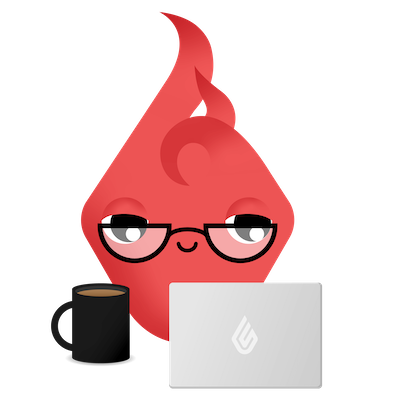 News you care about. Tips you can use.
Everything your business needs to grow, delivered straight to your inbox.