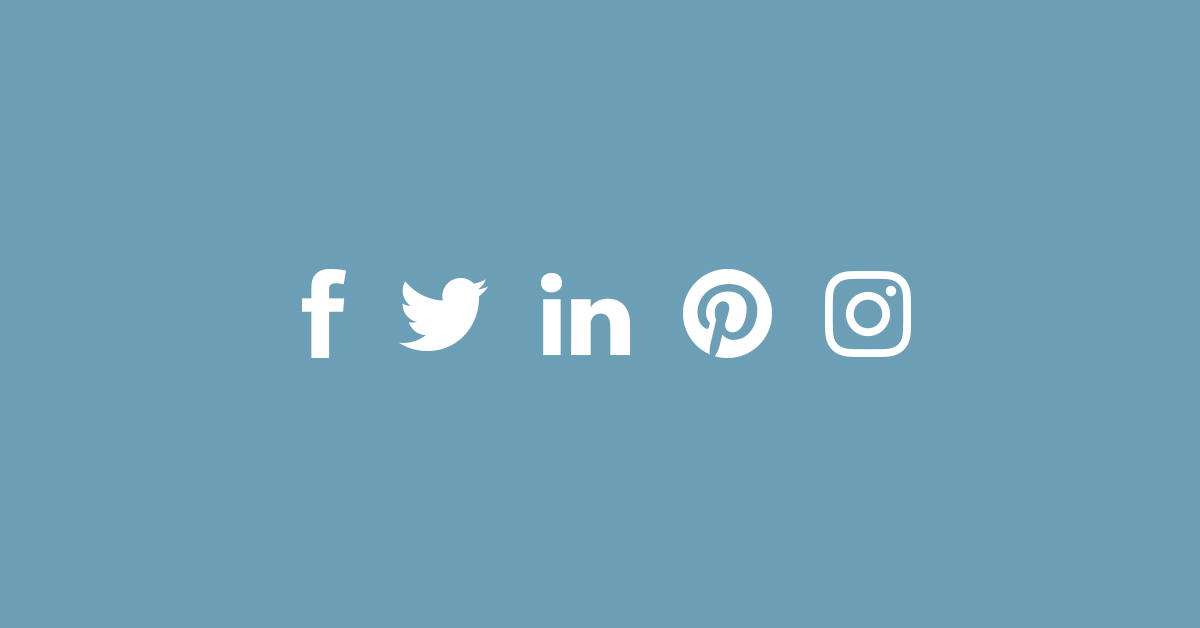 More than 71% of small businesses today use social media to tell their brand story, connect with audiences, and compel them from brand awareness to the desired action—making a purchase either online, in-store, or directly on the social media platform.
Whether or not your business should use social media is no longer the right question to ask because the answer is, in any circumstance, yes.
The right question to ask is which social media platforms will give you the highest return on investment. You want the time you spend building your social media following to ultimately drive meaningful value. To do that, make sure you're active on the right social media platforms. In other words: only using the social media sites that your potential customers frequent.
We've outlined which demographics use each of the five most popular social media platforms today and which businesses will benefit most from using that platform.
Let's dive in!
Level up your social feed
Create eye-catching social media posts in any format, for any platform, using our free social media templates.
1. Facebook
Facebook is one of the largest social media platforms, with 2.38 billion monthly active users (MAU), according to Facebook's recent stats. 68% of Americans use Facebook, and 74% use it daily, according to Pew Research Center. Because of the large and engaged audience base, many businesses feel they have to be active here. Not to mention, ever since Facebook acquired Instagram in 2012, you need a Facebook business page to run an Instagram business page.
Demographically, the number of active baby boomers on Facebook doubled from 20% in 2012 to 41% today. Conversely, the number of teens ages 13 to 17 using Facebook dropped from 71% in 2012 to 51% today. Teens have shifted their attention to other platforms like YouTube (85%), Instagram (72%), and SnapChat (69%).
This suggests that Facebook can be beneficial if you're targeting an older audience, but not necessarily for younger audiences. Focus your marketing efforts to the social media platforms that your target audience is migrating their attention towards.
One potential drawback to Facebook is the recent algorithm change, which was in response to the Cambridge Analytica scandal. Businesses feel the change affected their organic engagement and reach, which you can learn more about in this Buffer analysis.
Should your business use Facebook?
If you have a Facebook profile to simply have a presence on the platform or to authenticate Instagram, consider how much time you need to spend marketing here. Because so many people, young and old, use Facebook, it's wise to look at your competitors and gauge how active they are, what they're doing to be successful, and use that to determine whether you can or should emulate that.
Regardless of how certain demographics are migrating their attention to other social platforms, Facebook remains used by two-thirds of American adults, with a majority visiting the platform three times a day or more. Those who do use it are highly engaged, and that's a universally good thing. As long as your business's target audience is active on the platform. Facebook should be a fundamental piece of your social media marketing strategy.
2. Instagram
Instagram has more than 1 billion MAUs with 500 million people using the platform every day. In other words, roughly 50% of Instagram's users scroll through their feed daily. Oh, and 80% of all Instagram users follow and engage with brand accounts.
In terms of demographics, Instagram is the second most popular platform with young users and teens. Trailing behind only Youtube, 72% of teens use Instagram.
Instagram is great for sharing visually stimulating content like photos, but tracking engagement or pinpointing influencers might become increasingly difficult. In Canada, Instagram is piloting hiding "Like" counts to place less emphasis on how many people liked a photo, and more emphasis on the photo itself.
Should your business use Instagram?
Ultimately, Instagram is about cultivating and sharing a certain look and feel for your brand, which is only important for certain businesses. If you don't have a lot of original images, videos, or visual-based content to share—or your business doesn't lend itself to that style of content sharing—don't use Instagram. In many cases, Instagram is best for B2C businesses, rather than B2B.
Look at how your competitors use Instagram. How do they visually represent their business? Better yet, what kind of engagement (likes, comments, and views) are they getting? This is the best way to measure whether or not Instagram is a viable platform for your business type.
If you have the same audience and feel you can use your feed the same way they do—ideally, better than they do—it's worth testing for three months to see if it works for you.
3. YouTube
If you're looking to leverage the most popular social media platform in the United States, YouTube is where you want to be.
The platform has over 1 billion users and 73% of American adults use the platform daily. But YouTube's true value is its popularity with younger adults—94% of 18 and 24-year-olds use the platform.
This presents a huge opportunity to get in front of your target audience with videos. Now, video can sound daunting if you have no experience, but there are workarounds to make it less time-consuming.
Retail stores like popular vintage fashion and apparel store Round Two take a documentary approach to content creation. Rather than spend time crafting narratives and making snazzy videos, they simply document a day at one of their brick-and-mortar locations. Even entrepreneur and advertising mogul Gary Vaynerchuk preaches the benefits of this approach. Don't create, document.
Should your business use YouTube?
While the benefits of leveraging YouTube are numerous, extracting value from the platform unquestionably relies on your ability to produce quality content. If you're running a business with limited resources and don't have much time as is, it's probably best to focus your efforts on Facebook, Instagram, or both, since producing content for those platforms is less time-consuming.
If, however, you've got the time and resources to invest in creating quality video content, YouTube is a great place to connect with your audience, generate brand awareness, and increase product sales with in-stream and in-display ads.
4. Twitter
Twitter is a social sharing site for news, sports, politics, and entertainment, as well as industry-specific knowledge sharing. The platform has approximately 321 million MAUs, however, due to a recent decline, Twitter officially stopped sharing user stats.
Twitter is unique for its simplicity and limit of 280 characters to a post. If you want to proactively engage with your audience, Twitter is a powerful communication tool for both B2B and B2C brands. Just keep in mind that a tweet's average lifetime is only 18 minutes, which means you need to tweet a lot if you want your content to consistently be visible.
A result of how easy it is to quickly share information on Twitter is that many businesses are using the platform to respond to customer queries. As such, Salesforce recently remarked that "Twitter is the new 1-800 number for customer service."
If you want to use Twitter as more than just a customer service channel, you'll find that you get out of it, what you put into it. You need to consistently engage with people and share content to grow an audience. If you have the time to post thoughtfully, follow others, and join meaningful dialogues (check out this list of Twitter chats), you'll get rewarded with more followers, engagement, and traffic on your website.
Should your business use Twitter?
The first question to ask: Is this a popular platform in my industry? If the answer is yes, the next question to ask is: Do you have enough time to engage? Realistically, you need to engage for at least one to three hours each week to see engagement on your posts along with follower growth.
5. LinkedIn
LinkedIn is a professional networking social media site.
What was once just a site for your digital resumes and connecting with colleagues is now a thought-leadership hub, powerful recruiting tool, and place to network with other professionals. It's also the most popular social media site among Fortune 500 companies, according to Statista.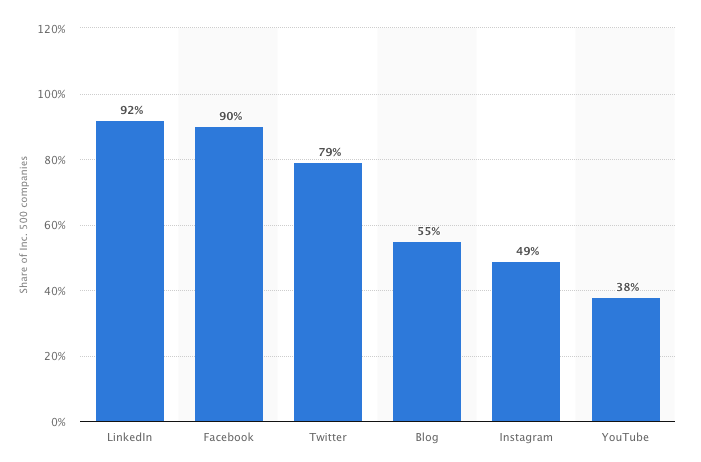 Image source: Statistica
As LinkedIn is "the professional network," it's ideal for B2B companies. However, if you're looking for a hiring and recruitment solution, LinkedIn offers a robust job listing platform along with social media benefits.
Ultimately, LinkedIn thrives on content, with 97% of B2B companies using LinkedIn for content marketing. Individuals can also publish articles on the platform, allowing CEOs, executives, employees, and owners to build their brand by sharing their industry knowledge.
Should your business use LinkedIn?
If you want to network within your industry, recruit or hire, finds new B2B clients or strengthen your businesses thought-leadership, LinkedIn is the platform for you.
If you're on LinkedIn to drive traffic to your site and promote your content, focus on topics relevant to your area of expertise and use hashtags to expand your reach while maintaining high search intent. Hone in on what topics are getting the most engagement each month and use that to guide your content creation moving forward.
Your intended use for the platform will dictate what you do with it. If you're trying to sell a product or service that benefits business owners, LinkedIn could be a sound investment of your time and resources.
Wrapping up social media marketing for small business
Rather than try to get your business on each of these platforms, we suggest starting on just one or two social media platforms—the ones where your target audience spends most of their time—and expand onto other platforms only when you have time to support creating content for it.
It's better to be on fewer platforms and do it well than spread yourself too thin and make a poor impression on followers.
There are plenty of social media mistakes regularly committed by small businesses. For example, while it might sound tempting, don't post the same content on multiple platforms. Sharing content is important for any social platform, but only when it's contextualized and relevant. Imagine seeing a photo on YouTube. Yeah, weird.
To grow your social media audiences, regardless of the platform, you need to focus on authentic content that connects with your audience and makes them want to engage and interact with your brand.
Create content, not marketing, and sales pitches. Not sure what the difference is? Check out our 3 golden rules to building a social media audience for the inside scoop.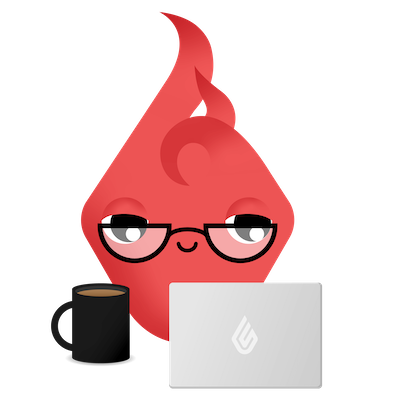 News you care about. Tips you can use.
Everything your business needs to grow, delivered straight to your inbox.