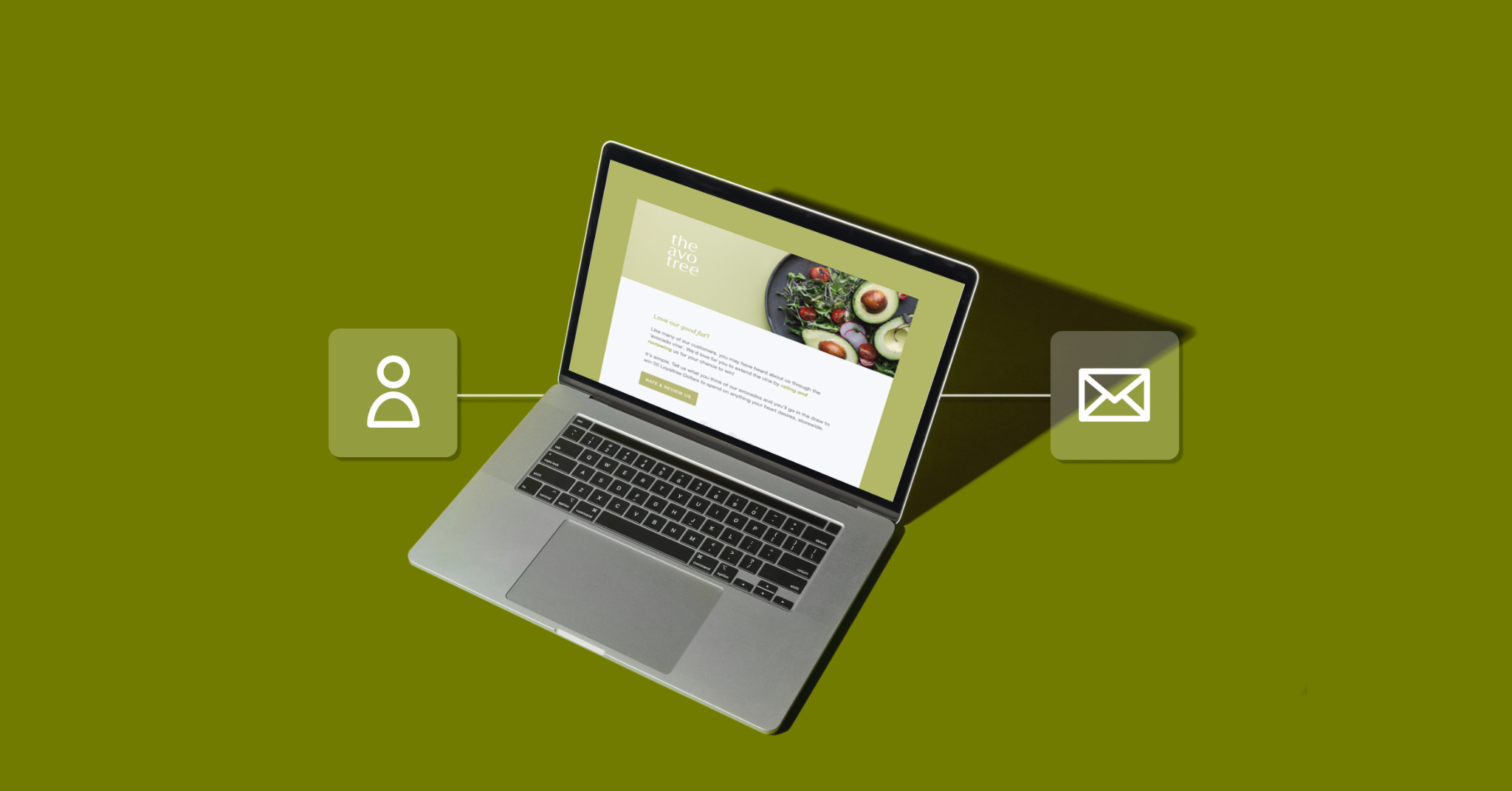 Successful email campaigns are not a competition of the flashiest design or the biggest budget. The best emails are well-considered, have a clear call-to-action, and are delivered to the right audience. Here are six of our favourite email campaigns—from clever automations that tick along in the background, to one-off blasts to a customer database.
1) Taco Medic: Sign up email
First impressions are everything, and Taco Medic has nailed it.
This email fires as soon as customers sign-up to their Mates program. Customers sign up at POS, or by scanning a QR code in-store and filling in their details – easy as!
The results speak for themselves… it's by far their most profitable email automation.

Source: Taco Medic
Email Type: Automation
Trigger: Sign-up
Success Metrics:
Offer redemption

App downloads

Referrals

Revenue
2) Bare Wholefoods: Birthday offer
Any reason to celebrate is a good reason.
When Sydney-based wholefood cafe, Bare Wholefoods celebrated their 4th birthday, they shared the love with a pre-birthday email to their customers
The hook? A direct subject line with value offered up-front:
💥 $10 OFF gift for you! Happy 4th Birthday to us! 💥
This campaign saw a conversion rate of 6.59%.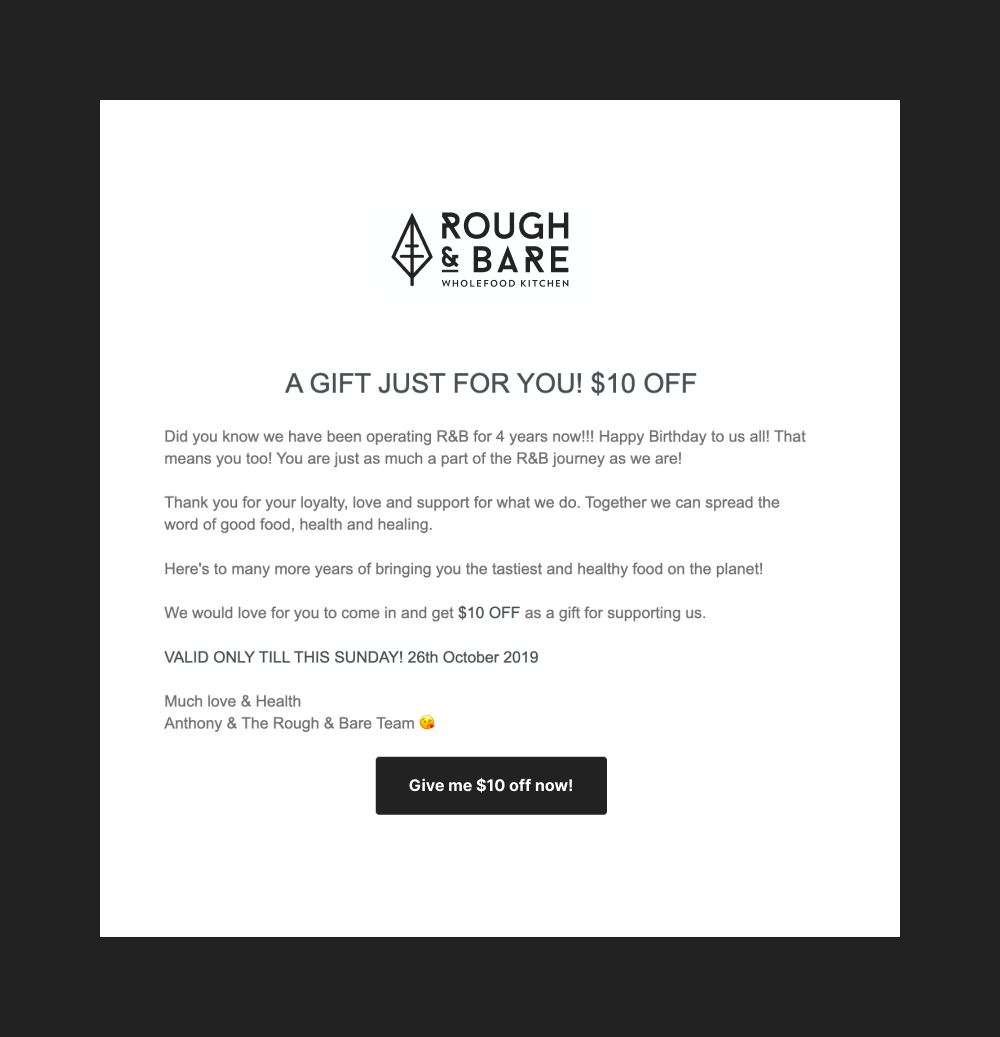 Source: Bare Wholefoods
Email Type: Blast (One-Off)

Theme: Birthday offer

Success Metrics:
3) Home Baked: Limited-time products
Home Baked really delivered with this end-of-school-holidays campaign.
Known for their adorable packaging and delicious, nostalgic baking, they really hit the sweet spot with these homemade animal biscuits.
Exclusivity and a limited-time product drive urgency (and get great engagement).

Source: Home Baked, created by Digital Flirt
Email Type: Blast (One-Off)
Theme: Special/themed product
Success Metrics:
Product purchases

Revenue
4) Starbucks: Discount offer
Starbucks knows office workers are hitting that slump around 3pm, so they created this 50% off campaign for their coffee creations.
This campaign ran as a series, with a different product for each day of the week. The goal? To build up a habitual trip to Starbucks for that afternoon caffeine hit.

Source: Starbucks
Email Type: Blast (Once a day for a week)

Theme: Special/themed product
Success Metrics:
Offer redemption

Average purchase frequency

Revenue
5) The Avo Tree: Reviews & feedback
The Avo Tree know if you don't ask, you don't get. In this email, they're offering a chance to win points in their loyalty program.
We love The Avo Tree's approach to email campaigns – there's always a quip or a bit of clever copy to reel you in. Don't be afraid to let your brand personality shine!
Note: Before you run a campaign like this, just make sure to double-check the rules around incentivising reviews.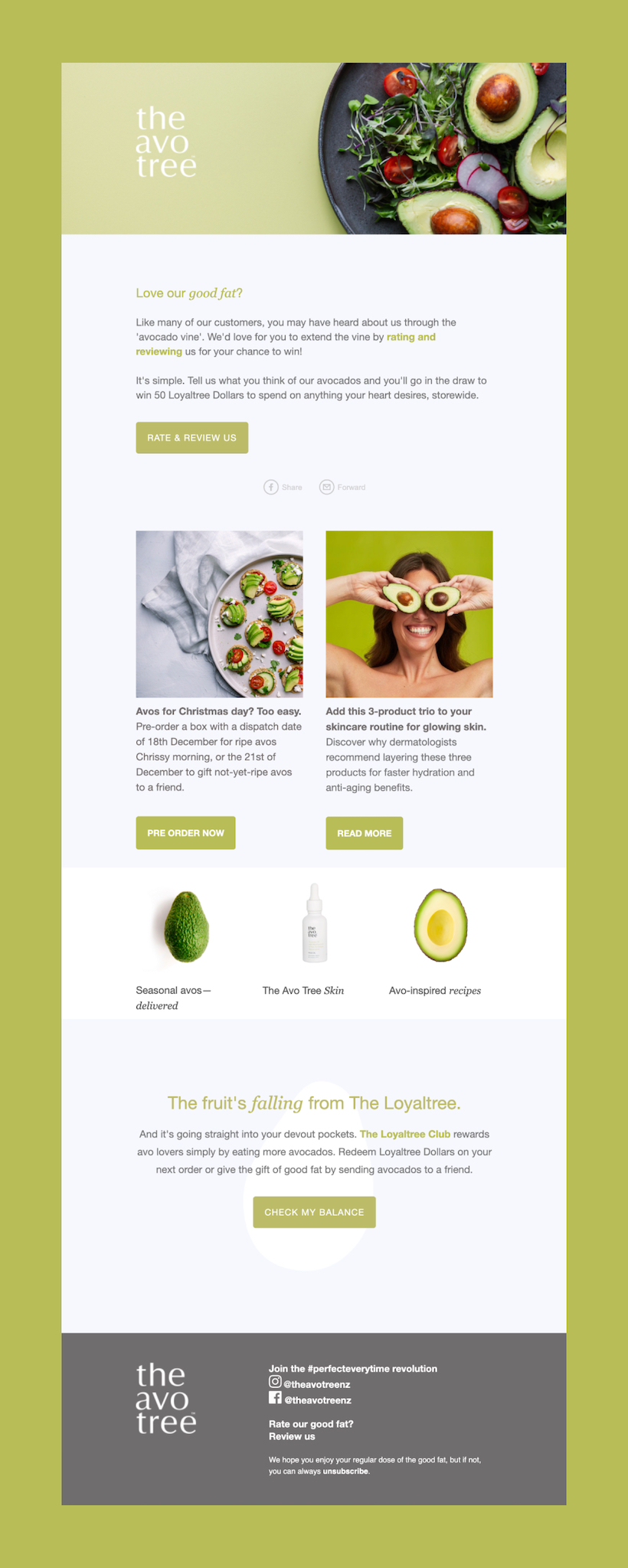 Source: The Avo Tree, created by Digital Flirt
Email Type: Blast (One-Off)*
Theme: Reviews

Success Metrics:
Ratings and reviews

CTA Clicks
*Pro Tip:
This type of campaign also works really well as an automation. For example, trigger an email to fire, asking for a review, once a customer has spent a certain amount. This will capture only your top customers and encourage the best reviews.
6) Pinjarra Bakery: Lost customers
Pinjarra Bakery are seeing incredible results from this super simple automation. When customers haven't purchased in a while, this email sequence is triggered.
You might think — why would I give away a voucher? Isn't that too generous?
Daniel, from Pinjarra Bakery begs to differ:
"That automation itself has almost generated close to $100,000 in extra revenue for us. So I don't mind giving a $10 voucher away if that's going to be the result." – Daniel Pantaleo, Pinjarra Bakery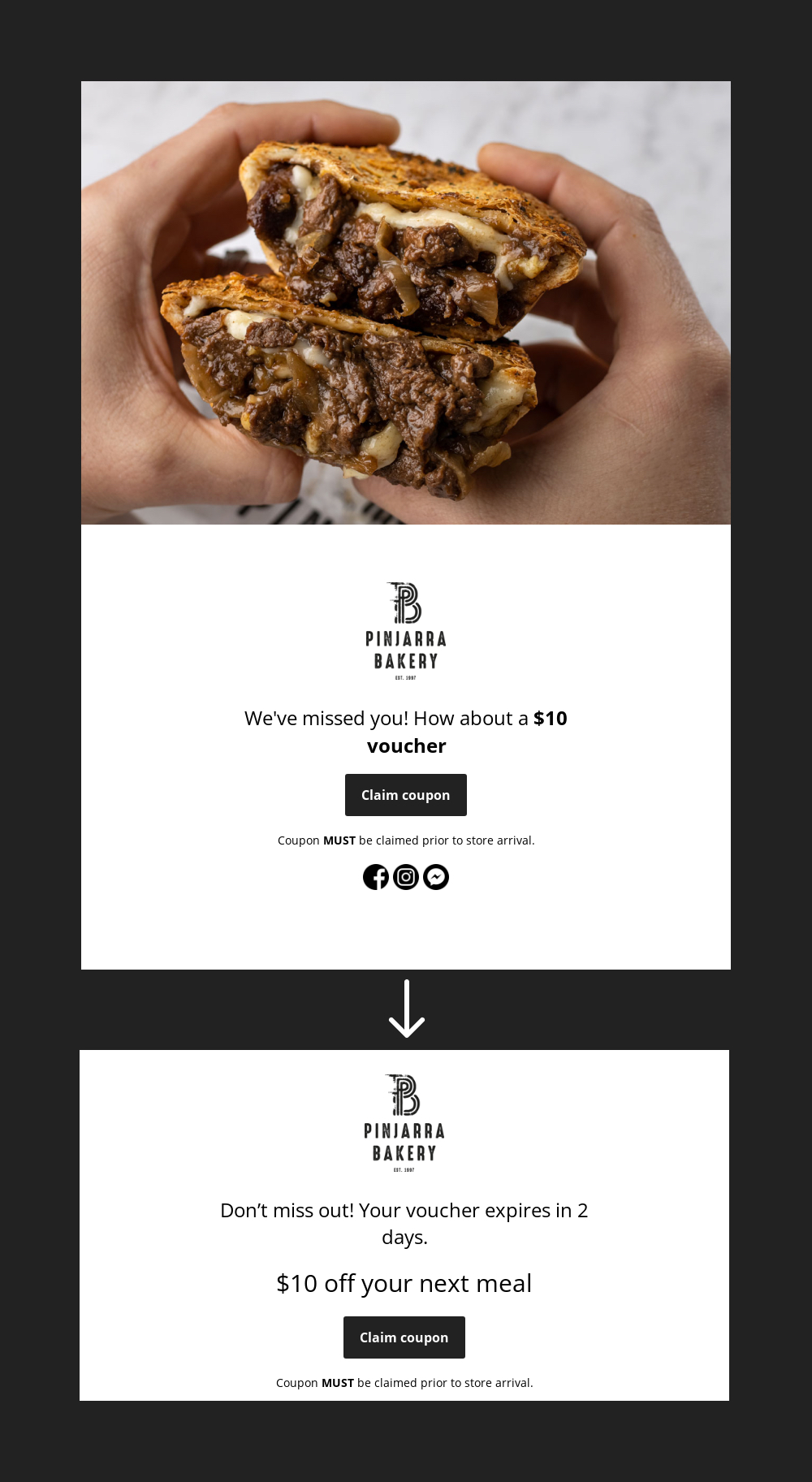 Source: Pinjarra Bakery
Email Type: Automation

Trigger: No purchase in 90 days

Success Metrics:
Read more about Pinjarra's success with customer loyalty here.
Is my email campaign performing?
How often do you find yourself searching for things like "how do I know if my email campaign is performing well?" and "what is a good open rate?"
Here's the truth of it: every business, every customer list, every industry is different. Searching the internet for benchmarks and averages for open rates and clickthroughs is not really helpful—what is helpful is tracking how you improve over time.
Here are a few tips:
Segment your audiences to get the best results. There are some offers and content that you will definitely want to blast to your whole list, sure. But when content is only relevant to some of your customers, focused, personalised emails will always get higher engagement rates.

If you continue to have a really low engagement rate (for example, your open rate is less than 5%), you might need to prune your database. A low click rate doesn't mean there aren't good customers in there, it just means it might be time for a spring clean. There's no point blasting people who haven't opened an email in 3 years!

Find your own benchmark. Rather than looking for industry averages, measure each campaign against your

own

average. Look at the performance of past emails – which ones did better? Can you see why really easily? For example, you might notice that emails with shorter subject lines had higher open rates. Start testing and measuring those things in your upcoming campaigns.
Lightspeed Marketing & Loyalty
Lightspeed Marketing & Loyalty makes it easy to set up one off email campaigns or evergreen automations. Using our tools, you can…
Segment audiences using our pre-built groups, or generate lists with custom criteria

Easily build attractive and purposeful campaigns with a dimple drag-and-drop builder

Choose from a range of proven automations, or build your own custom sequences

Report on the success of your email campaigns and their impact on revenue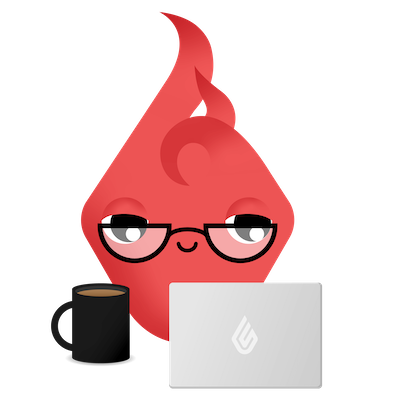 News you care about. Tips you can use.
Everything your business needs to grow, delivered straight to your inbox.