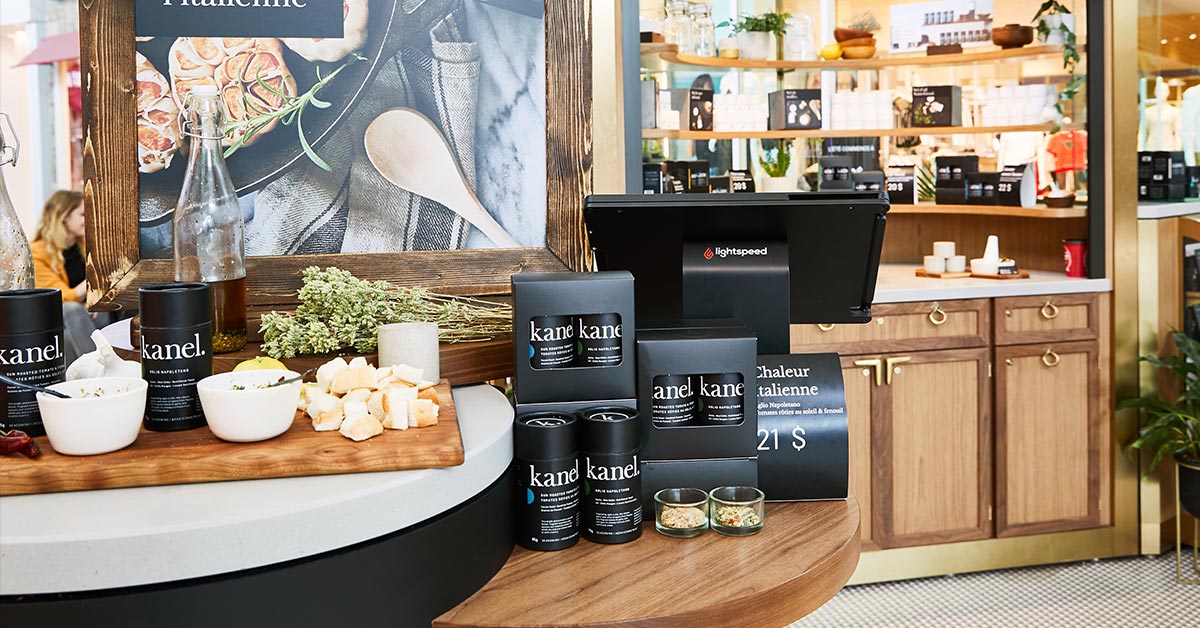 If you're working in retail marketing, it's very easy to get swept up in a sea of omnichannel beacons, experiential stores and the proliferation of the Internet of Things (IoT) in stores like Amazon Go.
While the future is exciting, retailers also need to focus on what they can do now with the tools they have.
81% of Aussie Millennials admit to making impulse buys at least once a month. Imagine being able to capture a percentage of those sales.That's where point of sale (POS) marketing comes in. It's at the centre of any retailer's transactions and, when leveraged, can be high-value in-store promotional real estate to drive more sales pre-checkout.
In this article, you'll learn:
Let's get to it!
Ring up sales from anywhere
With Lightspeed's cloud-based POS, you can eliminate customer wait times, all while offering amazing service.
What is a point of sale?
A retail store's point of sale is where transactions are completed. Traditionally, this was cash registers, but with mobile retail POS systems like Lightspeed, merchants can also process transactions anywhere in their store.
According to Invest Blue, the average amount Aussies spend per impulse purchase is $82, yet many retailers aren't effectively using the space around their cash register to maximise impulse purchases. That's where point of sale marketing comes in and point of purchase displays come in.
What is point of sale marketing?
Point of sale marketing (also known as point of purchase marketing) is when a retailer strategically places low-cost products near their point of sale with the hope that customers purchase additional items.
Unlike the items placed on your shelves, customers only take a couple of seconds to decide whether or not they want to buy products featured on a point of purchase display. If you sell low-investment products (like shoe cleaners, gift cards, gum or accessories) consider placing them near your point of sale.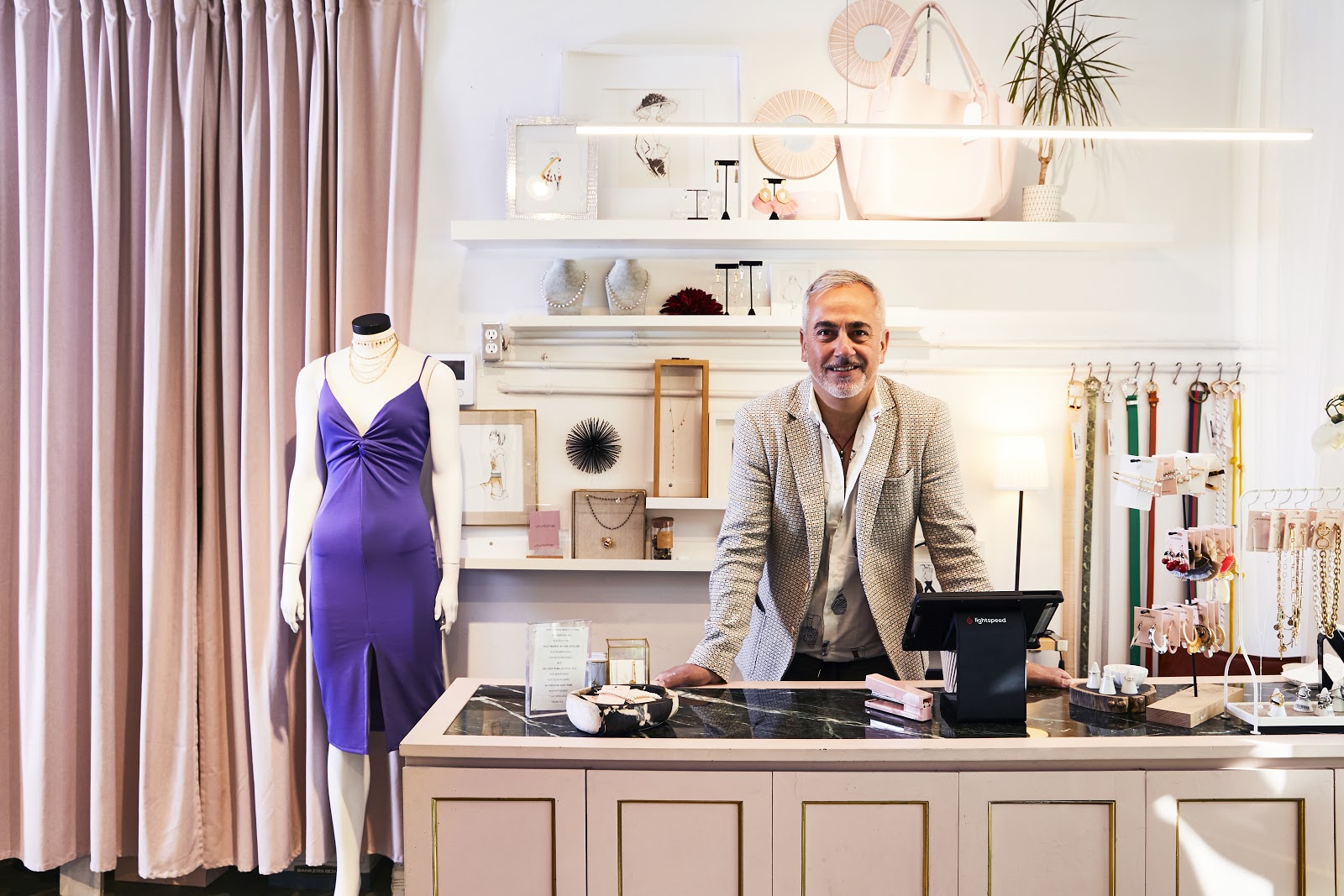 Le Trunkshop owner Lino Catalano places accessories next to his point of sale to maximise how many he sells.
Why point of sale marketing works
The majority of consumers make impulse purchases. The reason why point of purchase displays so well is because it's inferential suggestive selling. If a customer is already making a purchase, they're more likely to feel comfortable buying additional, less expensive products as well.
That's why showcasing low price point items near your store's checkout or point of sale is such an effective way of cross-selling.
The benefits of point of purchase displays
The primary benefit of point of sale displays is that they can contribute to higher overall sales by increasing the number of items a customer purchases.
Retailers can use POS displays to push promotions like BOGO, accessories, consumables and any other items that may not have been on a customer's original shopping list.
The most impactful types of point of sale displays
There are several different types of POS displays, each with their own benefits and use cases. The ideas below can each be tailored to work in your store:
Freestanding units

Counter displays

Dump bins

Sampling areas

Checkout displays
1. Freestanding units POP displays
Freestanding display units are a great option for showcasing products that you want to draw explicit attention to. In the example below, we can see Lululemon using freestanding displays to showcase their no-show yoga socks.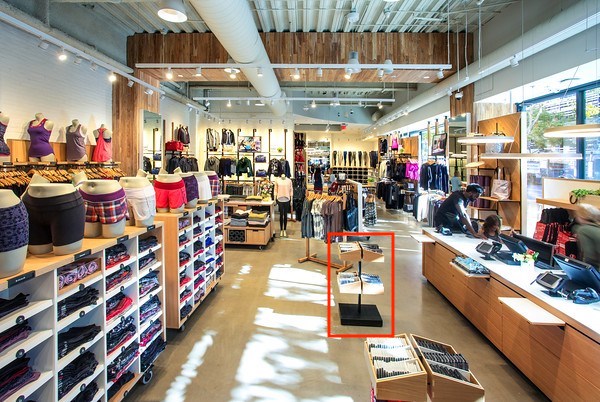 2. Counter point of purchase displays
Counter space is incredibly valuable real-estate in any retail store to showcase accessories, just be sure to keep a clear line of sight between the sales associate and the customer and to not clutter your counter.
An example of counter displays done well is Saturday NYC's store in Sydney. The counter itself is kept tidy and their branded candles are clearly in a paying customer's line of sight. As a bonus, Saturdays' product display in front of the counter features impulse-worthy purchases like a branded reusable bag and coffee mug.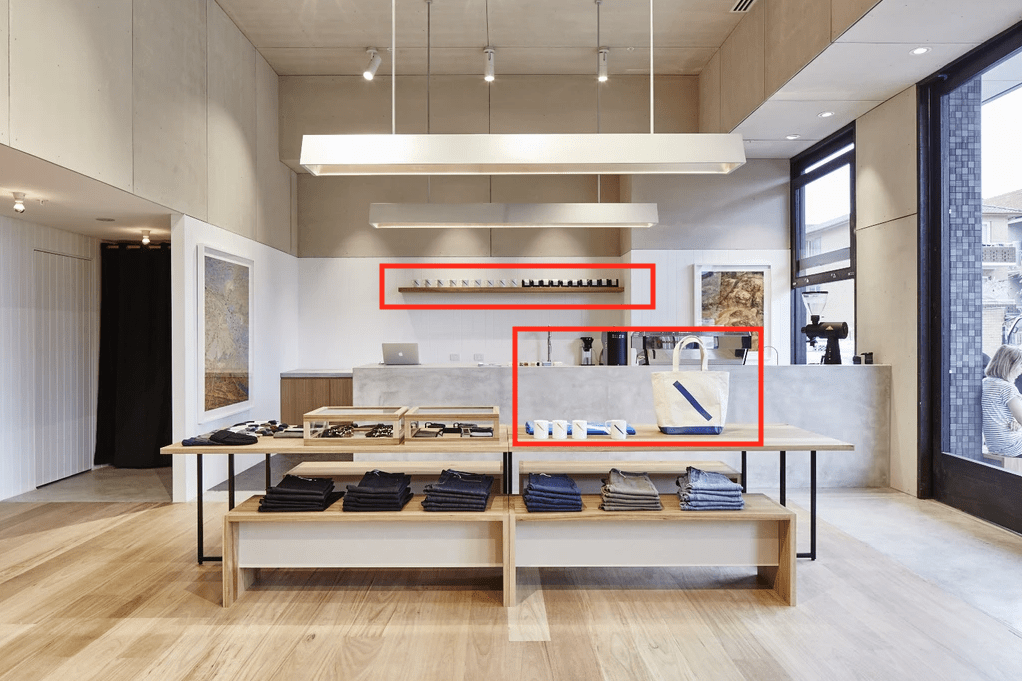 3. Dump bins POP displays
This type of display is most commonly used for small items like candy, drinks, toiletries or other products that consumers usually buy more than one of at a time.
Red Bull's giant can is a notable example of a dump bin product display that we frequently come across everywhere from convenience stores to big-box home goods stores.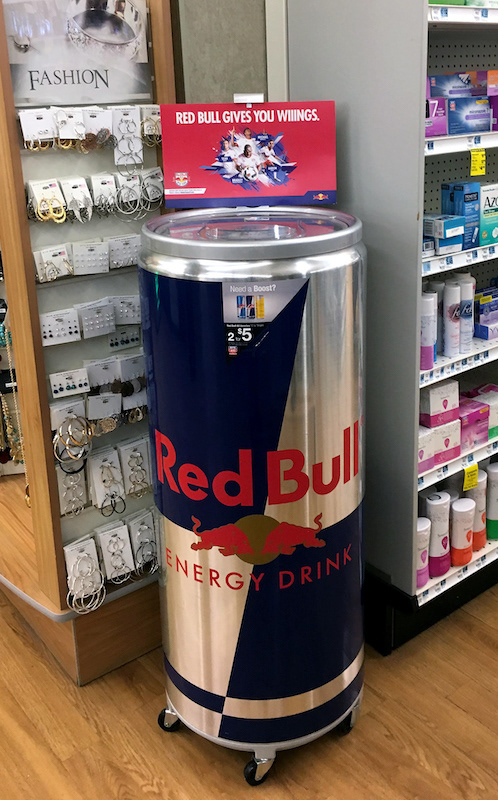 4. Sampling area POP displays
Sampling areas let customers try products before they buy, which can influence their decision. You will often see sampling areas at supermarkets or health and beauty product stores.
Cosmetics company LUSH has sampling areas throughout all of their stores and gives potential customers the opportunity to smell and try a product to see if it's right for them.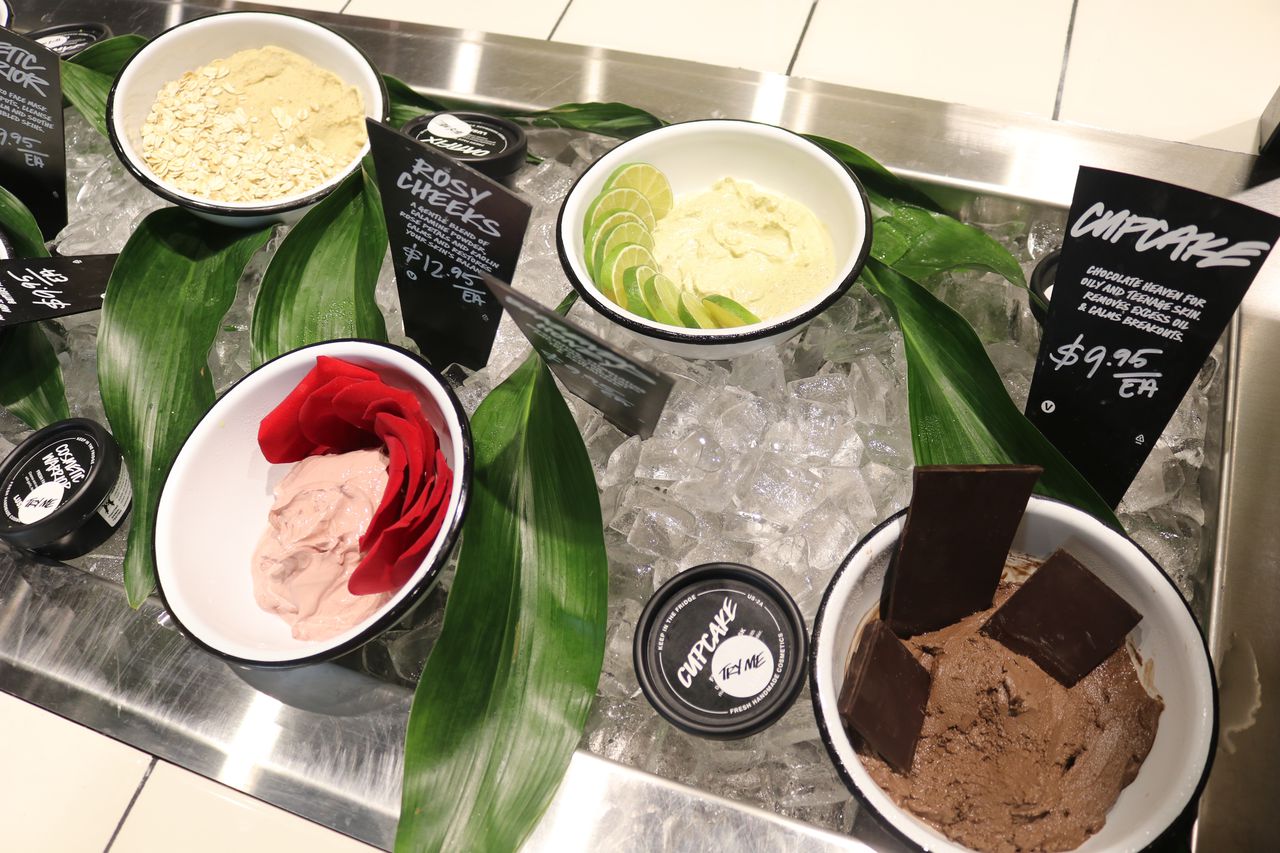 As long as the featured product is aligned with its purpose, sampling stations are also great compliments to in-store events and workshops that you host.
5. The checkout POP display
Customers hate waiting in line, but if your shop doesn't use a mobile point of sale system, lineups to pay are bound to happen. Why not make it a pleasant experience?
Take, for example, Sephora's checkout experience. Given the number of customers they serve, lineups to pay are unavoidable, so they transformed the entire lineup into a point of sale display in all of their locations. Customers browse featured products while they wait to pay and can add them to their cart.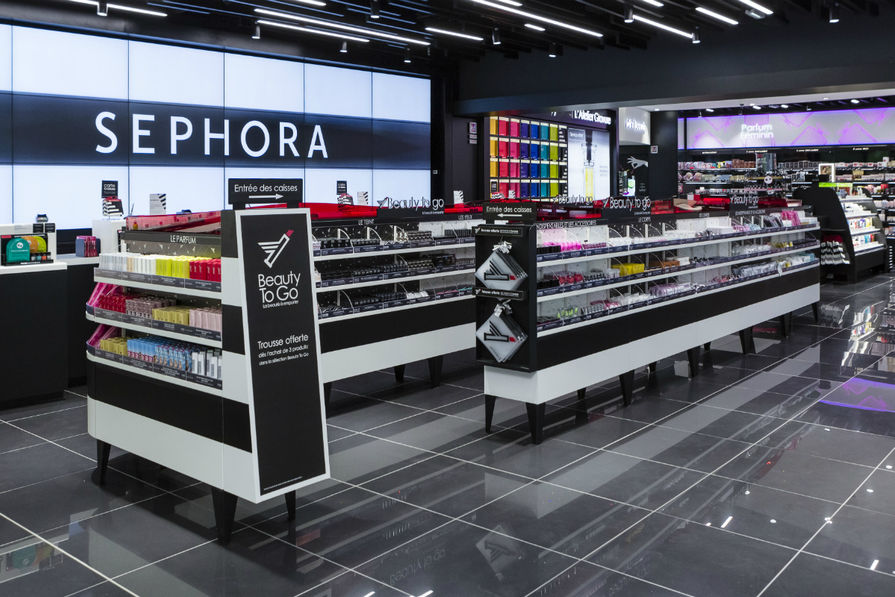 Things to consider for your POS display
The three main things you need to take into consideration for an effective POS display are which products it features, its location and its design.
Location and featured product:

For a POS display to be effective, its location and the featured product need to go hand-in-hand. Let's say you're displaying shoe cleaner. It wouldn't make sense to place that display next to apparel, it would make far more sense to place it next to the product it compliments best: shoes.

Design:

How does your point of purchase display fit with your overall store design? Take into consideration everything from your customers' five senses, to design concepts like balance and contrast. Figuring out how your point of purchase displays fits with your overall

visual merchandising

will make for a stronger effect.
Point of sale marketing tricks for in-store sales
You want your point of sale displays to generate as many impulse purchases as possible. To do that, we suggest considering these four tips:
Cross-sell related items

Promote special offers
Cross-sell related items
Reserve your point of purchase displays exclusively for low-investment items that are related to the bigger-ticket items you sell. For example, footwear stores could feature shoelaces and cleaning products.
Ensure that your point of purchase display features products related to your pricier products. This will help you maximise how many customers add those items to their bill. Your POS system can help you find out which of your products are frequently sold together. Use that information to determine what items you place in your point of purchase displays and emphasise cross-selling to customers ringing up their bill.
To find out which of your products are commonly purchased together, you can use Lightspeed Analytics' Commonly Bought Together report. In Analytics, head to Marketing and click Reports. Select the Commonly Bought Together report and adjust the Sale Completed Date to be within the timeframe you want.
The Commonly Bought Together report allows you to search and filter the combinations of products that were purchased. This will give you ideas about what you could bundle or cross-sell in the future.
But don't exclusively listen to your point of sale's data for cross-selling opportunities—listen to your customers! The most authentic way to find out what a customer's needs are is to listen to them while you're interacting with them. They'll let you know what problems they're trying to solve and you can find products that help them.
Promote special offers
Point of sale marketing is also a great way to promote specific products or highlight any ongoing campaign you have at your store. Your point of purchase is the perfect place to showcase products or signage with offers detailing specific discounts, BOGO deals, new merch or seasonal campaigns.
According to a survey on impulse purchases, approximately 62% of Aussie respondents said their impulse purchases had to do with a discount or promotion. Making sure you have signage and products relating to promotions at the point of purchase, will help make the sale once customers reach the cash.
Your staff are equally important to the equation. They need to be equipped with knowledge on active deals and promotions so they can let customers know about them once they've arrived at the cash. Make sure to train your staff on ongoing promotions, suggestive selling tactics and scripts to help them motivate customers to purchase.
Make the most of your point of sale marketing
Your retail space's square footage is limited. While you don't want to clutter your space, you definitely want to use that real-estate to promote your products and drive more in-store sales.
And that's where point of sale marketing comes in handy. With it, you create additional sales opportunities and increase sales without being an annoying salesperson.
By focusing on finding products that help customers solve their problems, you're sure to win their loyalty and their lifetime value (LTV) in the process.
Good luck!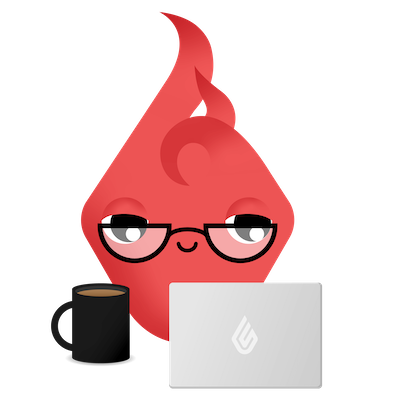 News you care about. Tips you can use.
Everything your business needs to grow, delivered straight to your inbox.