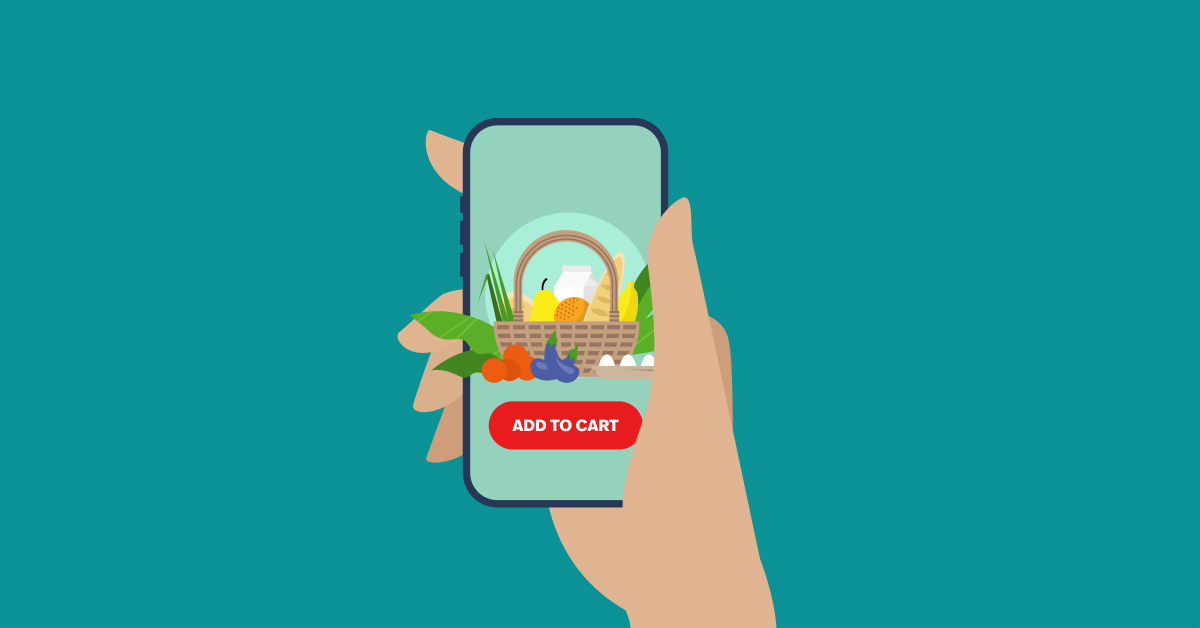 The Covid-19 pandemic changed the face of the hospitality industry in Australia forever. From prolonged lockdowns to ongoing restrictions, guest check-in and contactless ordering, businesses had to quickly adapt to a new way of operating and serving customers.
After such an intense period of uncertainty, change and challenges, customer expectations have inevitably shifted. Digitally savvy, health-conscious and sustainably-minded consumers are now dominating the market and hospitality businesses will need to adapt to meet these changing demands.
With vaccination targets in sight and state and international borders predicted to open by the end of the year, the hospitality industry is set for a roaring comeback. To ensure your venue is prepared for the future of dining, we've analysed industry trends and statistics to understand what customers really want, so you can stay ahead of the curve and deliver exceptional experiences for your guests.
Customer expectations: 5 trends for 2022
Prepare your venue for the future of dining
Download our free White Paper that studies national data to identify 10 dining trends that will shape the future of dining in Australia.
1. Sustainability matters
The issues of sustainability and the impact of individual businesses on the environment have gained significant traction in recent years. From deforestation to carbon emissions, food waste and ocean plastics, the global focus on sustainability is now laser-sharp.
But do consumers really care about sustainability?
In short, yes.
Over 90% of Australians are concerned about the environment and sustainability, and 66% of consumers are willing to pay more for sustainable and environmentally friendly products. This highlights a notable shift in purchasing habits as customers align their behaviour with sustainable and environmentally friendly practices, which will inevitably have a knock-on effect for businesses.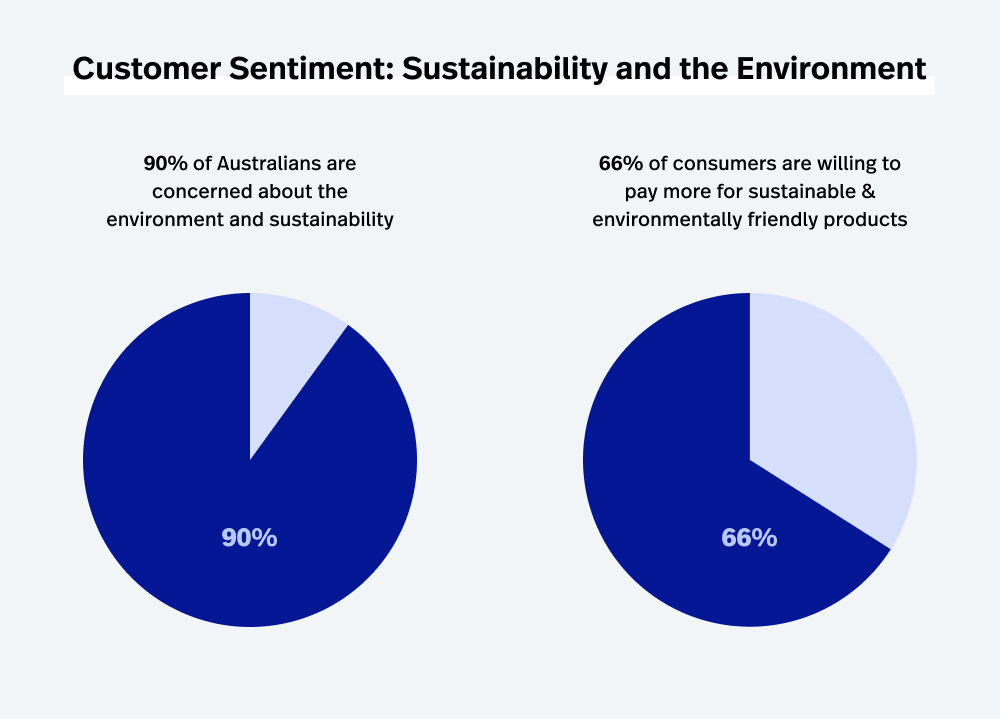 For the hospitality industry, these statistics emphasise how it's more important than ever to rethink their operations and invest in sustainable practices to avoid alienating a growing, sustainably-minded wave of consumers.
Wage war on waste
The war on waste has gained momentum in recent years and food waste, in particular, is a huge issue that's contributing to harmful greenhouse gas emissions and global warming.
Each year, Aussie's waste more than 7.3 million tonnes of food, enough to fill over 13,000 Olympic-sized swimming pools, and it costs the economy over $36.6 billion a year.
Unfortunately, the hospitality industry isn't an innocent bystander when it comes to food waste, and it's estimated that the food retail and hospitality industry is responsible for one-third of Australia's total food waste.
Not only does this equate to millions of dollars in lost revenue, but it's also taking a massive toll on the environment, and consumers are taking note. In fact, 73% of millennials are willing to spend more at sustainable businesses, emphasising how hospitality venues must prioritise sustainability by reducing the amount of waste they produce.
Paperless revolution
While food waste is the most pressing sustainability issue for the hospitality industry, it's by no means the only one.
Paper waste, for example, accounts for 26% of total waste in landfill and is a huge global issue contributing to deforestation, greenhouse gas emission and water pollution. As a result, consumers and businesses alike are increasingly conscious of their paper consumption habits.
While you might not immediately associate restaurants with paper waste, venues actually produce a surprising amount – from paper dockets to receipts, takeout packaging and menus – which highlights a clear opportunity for venues to reduce the amount of paper they consume and waste.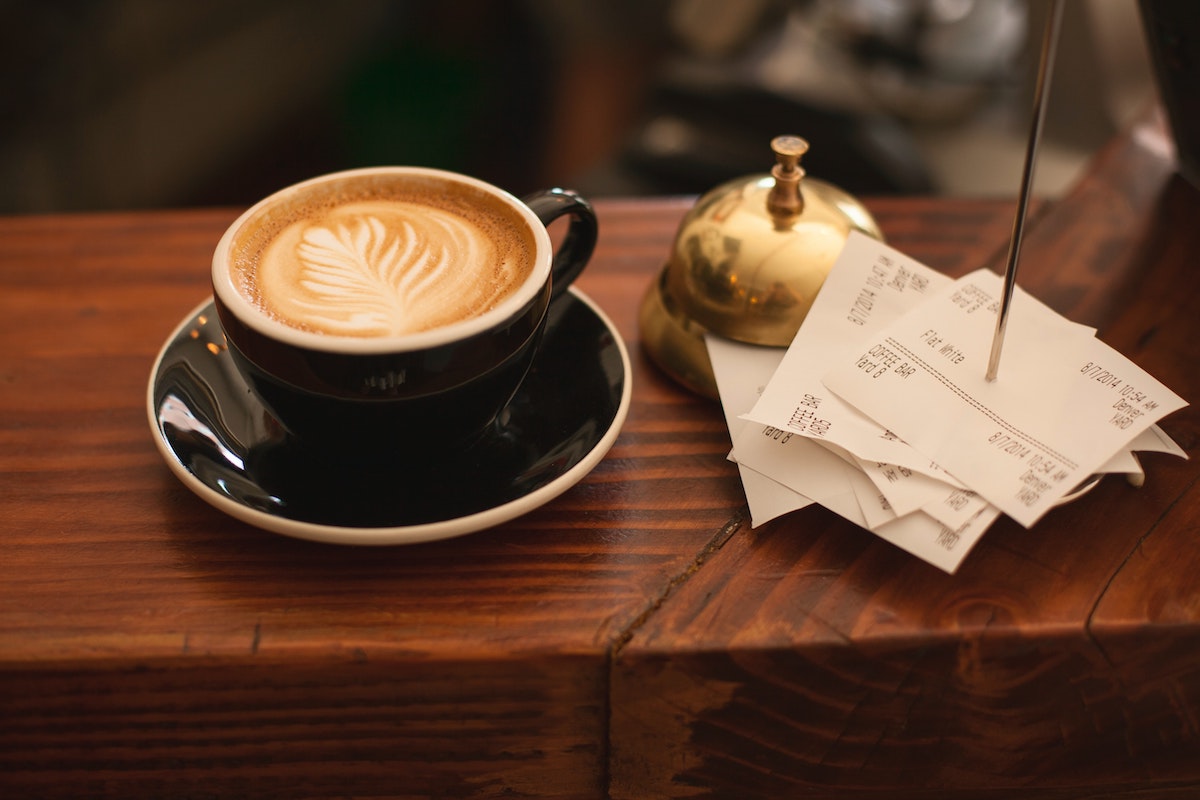 How can your business adapt?
Like many other industries, the hospitality sector, as a whole, has a long way to go before it can fully embrace sustainability. While adopting a sustainable business model isn't going to happen overnight, there are several steps you can take to reduce waste and make your business more sustainably focused.
Cut down on food waste
On average, at least 40% of food bought for inventory never makes it past the back of the house, equating to thousands of dollars of lost revenue for businesses. However, a recent World Resources Institute report found that for every dollar a restaurant spends to reduce food waste, they save an average of $7.
With the help of technology, it's easy for venues to track and minimise the amount of food waste they produce. Lightspeed POS, for example, lets you track and record how much waste your venue creates so you know exactly how much it's costing. These insights will allow you to spot trends over time, cut costs and appeal to sustainably-minded customers in the long run.
If you have regular leftovers, you could also consider donating them to a local homeless shelter or charity like OzHarvest who distribute the donated food to those in need.
Reduce paper waste
While recycling your paper waste is a great first step, there's a lot more that hospitality businesses can do to reduce their paper waste.
With 90% of paper receipts ending up in the bin, offering a digital alternative is an easy way to reduce the amount of paper your venue wastes while also highlighting to customers that you care about sustainability.
The same goes for order dockets. Bump screens are a great alternative to traditional kitchen printers as they eliminate the need for printer paper. Not only are bump screens environmentally friendly, but they also make it easier for kitchen staff to stay organised, ensuring back of house operations run smoothly.
Minimise your carbon footprint
Food production and the supply chain of certain food groups, particularly beef, lamb and cheese, are huge contributors to global carbon emissions. And while it's not always possible to cut these items from your menu, there are steps you can take to reduce your venue's carbon footprint.
Partnering with local suppliers reduces your carbon footprint to appeal to ethically conscious consumers. By minimising the amount of time your ingredients spend on a plane or truck, your business gains fresher produce and is responsible for fewer carbon emissions. Plus, purchasing local produce helps support your local economy and is instrumental in fostering long-term connections to support other local businesses while also helping the environment.
Reducing your energy usage is another great way to minimise the carbon footprint of your business. It'll come as no surprise that over half of the electricity used by restaurants comes from cooking and refrigeration. Therefore investing in new energy-efficient equipment is an effective way to reduce your energy waste and lower your utility bills.
The same goes for lighting. Lighting accounts for 6% of CO2 emissions, and switching to LED lighting can reduce your carbon footprint and electricity costs.
Eliminate plastic
Position yourself as a plastic-free venue to emphasise your commitment to sustainability to your customers. Replace plastic straws with environmentally friendly paper ones and avoid giving away plastic cutlery or packaging if you offer takeaway.
If you regularly purchase plastic lids for takeaway cups, incentivise your customers to use environmentally-friendly, reusable cups instead. For example, you could provide a small 50 cent discount on any drink purchased by a customer who uses their own cup.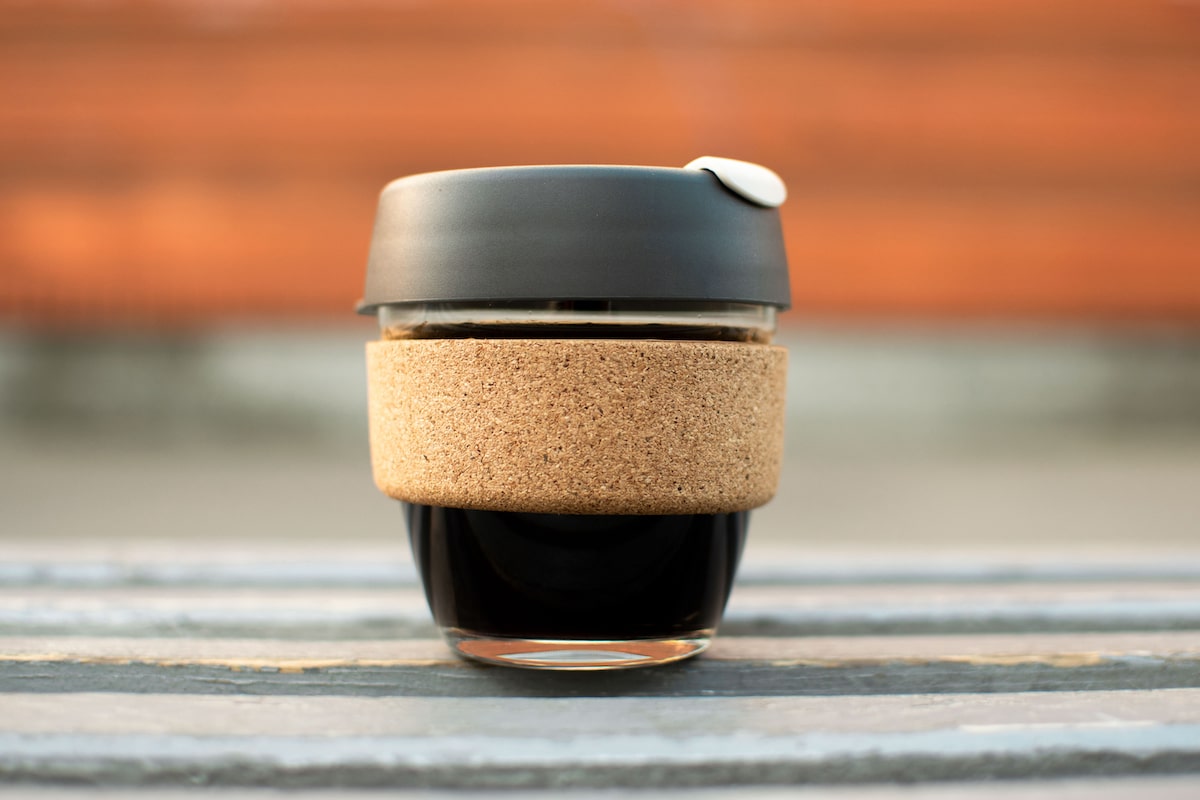 Remember: 83% of consumers say they consider environmental factors before making a purchase, and 78% believe businesses should do more to highlight the environmental impact of their operations. So, if your business is taking steps to reduce its waste or carbon footprint – don't be shy and share this news with your customers – either on your website, social media channels or in your venue.
2. Rise of plant-based and flexitarian diets
Consumers are increasingly conscious of the food they consume and where the ingredients come from, particularly concerning animal products and their impact on the environment.
As a result, many consumers are opting for plant-based, vegetarian and flexitarian diets. In fact, Australia was the second-most popular nation globally for vegans in 2020, behind only the UK, and 42% of Australians are either reducing the amount of meat they consume or are completely cutting it from their diet.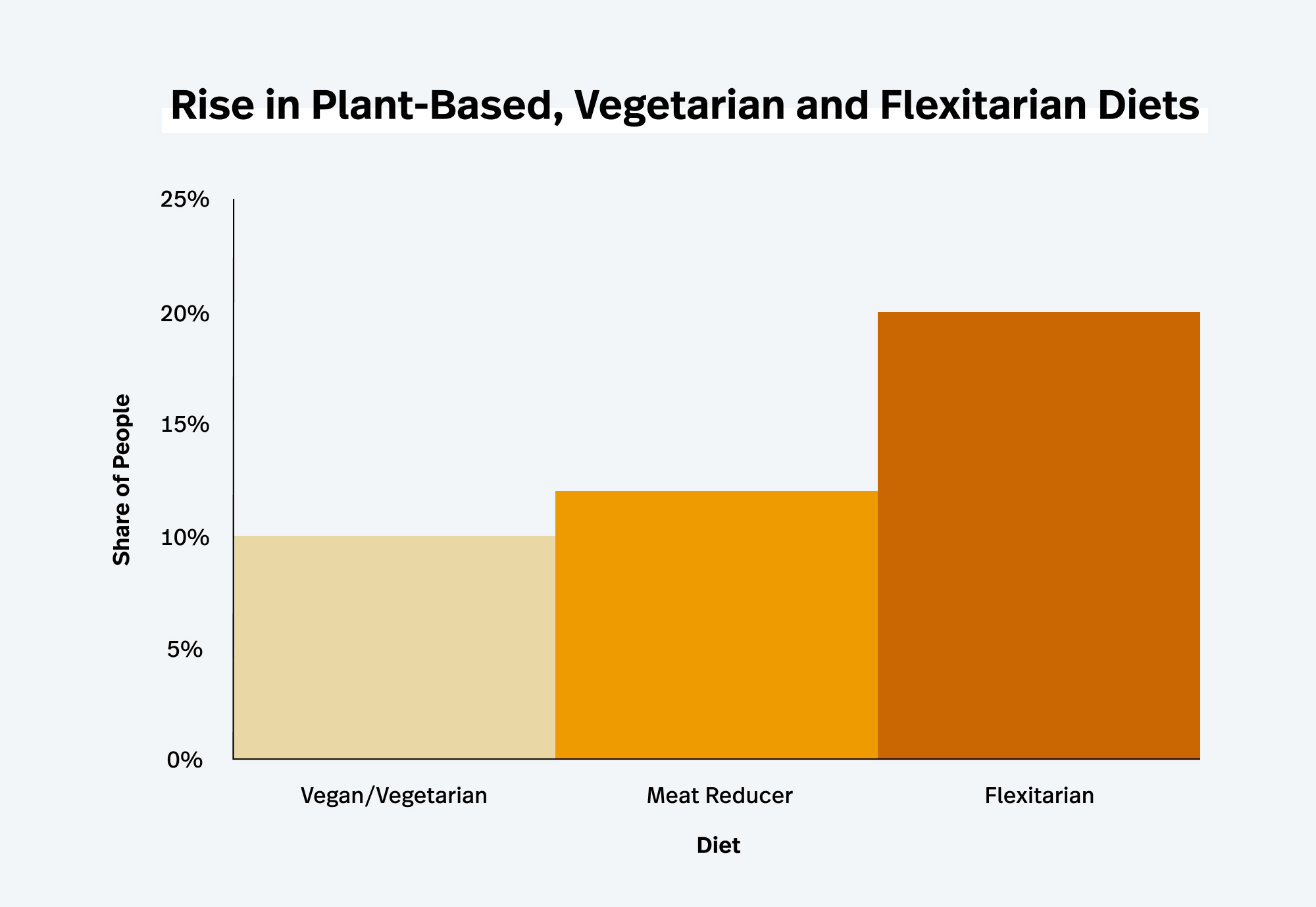 Even fast-food giants Hungry Jacks and Dominos have added expansive vegetarian and vegan options to their menus, emphasising how plant-based diets are now part and parcel of mainstream culture.
This considerable shift in eating habits highlights that plant-based eating is no longer just a fad that hospitality businesses can hope to ignore. And with more Aussies taking a keen interest in what they eat and where their food comes from, hospitality venues need to quickly fine-tune their offerings to appeal to this fast-growing market of conscious consumers.
How can your business adapt?
By excluding plant-based options from your menu, you will likely miss out on potential sales from customers who otherwise would have come to your venue. Therefore it's crucial to adapt your offering to ensure your menu appeals to a broader range of consumers.
Plant-based menu items
Rather than one token veggo dish, consider adding a range of vegan and vegetarian-friendly options to your menu. Many hospitality venues only offer a single vegetarian or vegan option, so by adding an extra two or three dishes, you'll immediately broaden your appeal and set yourself apart from the competition.
Don't forget the drinks! Many varieties of wine and beer aren't suitable for vegans. If you serve alcohol, consider a more inclusive drinks offering by incorporating vegan-friendly wine and beer into your menu. And, if you serve cocktails, make sure to highlight which ones are suitable for vegans to help make their decisions easier.
Offer substitutes
Depending on the style of venue and type of cuisine, it's not always possible or practical to add new plant-based dishes to a menu. If this is the case, consider offering substitutes instead. For example, pasta dishes or salads that contain meat or fish can be made vegetarian on request. While this shouldn't majorly disrupt your existing operations, you'll open your venue up to a broader range of customers by accommodating their needs.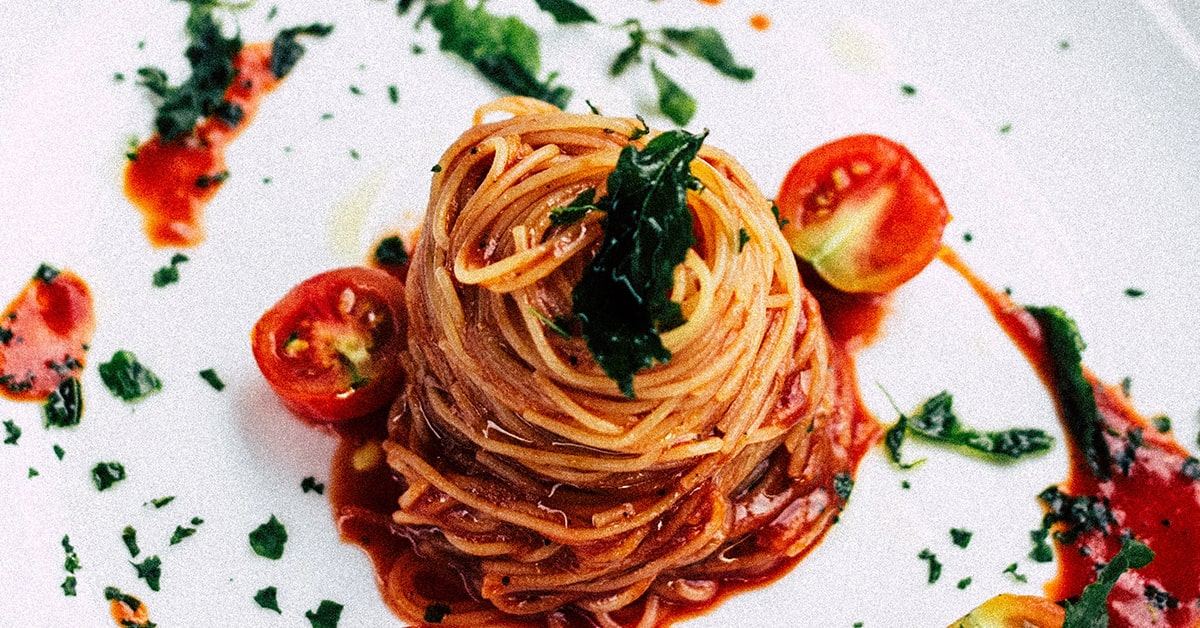 3. Safe, convenient and contactless ordering and payments
'The digital transformation in March and April 2020 was on a larger scale than the digital transformation we have witnessed during the past two years' — Satya Nadella, CEO of Microsoft.
Before the coronavirus pandemic gripped the world in 2020, contactless payments options (such as tap and go or ApplePay) were already gaining popularity in Australia thanks to their quick and convenient nature.
However, with health and safety at the forefront of people's minds, contactless payments – mainly digital wallets and mobile payments – saw huge growth during the pandemic, which is expected to accelerate even further in the coming years. In fact, it's estimated that 3.8 million Aussies currently use digital wallets and mobile payments, and this is predicted to rise to 6.2 million by 2025.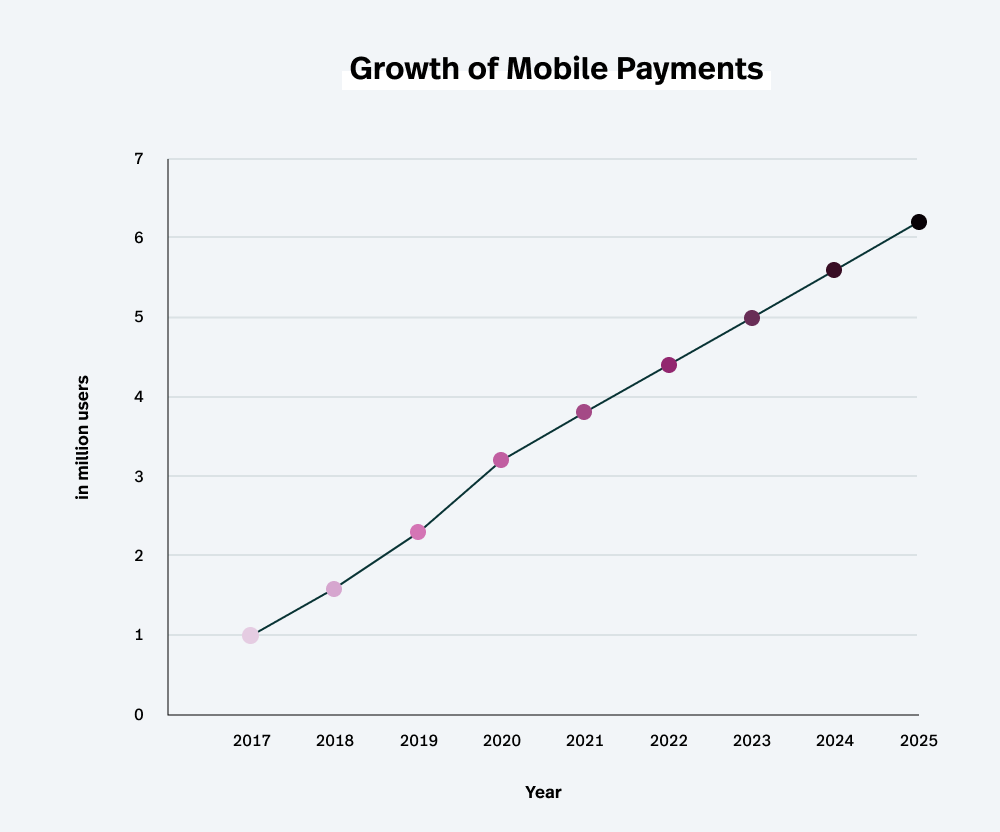 On the other hand, contactless ordering, such as via a QR code at the table, was relatively unheard of in a pre-pandemic world. However, as venues began to reopen, there was a growing need to serve customers in a safe yet convenient and contactless way. And, as businesses across Australia prepare to emerge from lockdown, customers will expect a safe and seamless ordering experience.
How can your business adapt?
The prominence of contactless payments and the adoption of digital menus and QR codes by many hospitality venues, combined with customers embracing new forms of technology, has paved the way for businesses to offer ultimate convenience and enhance the guest experience.
Integrated payments
56% of Aussies believe that contactless payment options would make them feel more comfortable dining out. By incorporating an integrated payment system into your venue, you can offer guests a safe, quick and convenient payment experience.
Integrated payments enable your point of sale (POS) system to automatically sync with the payment terminal, such as an EFTPOS machine, so your staff don't have to spend time keying in the amount for every purchase.
Not only do integrated payments reduce the need for contact between your staff and customers, but they also have several other advantages that will speed up service and enhance your customer experience.
QR table ordering
Adopting QR table ordering in your venue is a great way to appeal to cautious diners, who are still wary of dining out. With a simple scan of a QR code at the table, customers can browse your digital menu, order and pay from their smartphone at the table.
Giving customers the option to order at the table will go a long way to reassuring cautious guests that dining in your venue is both safe and convenient. Plus, our data shows that customers who order via QR table ordering spend on average 25% more than traditional dine-in orders.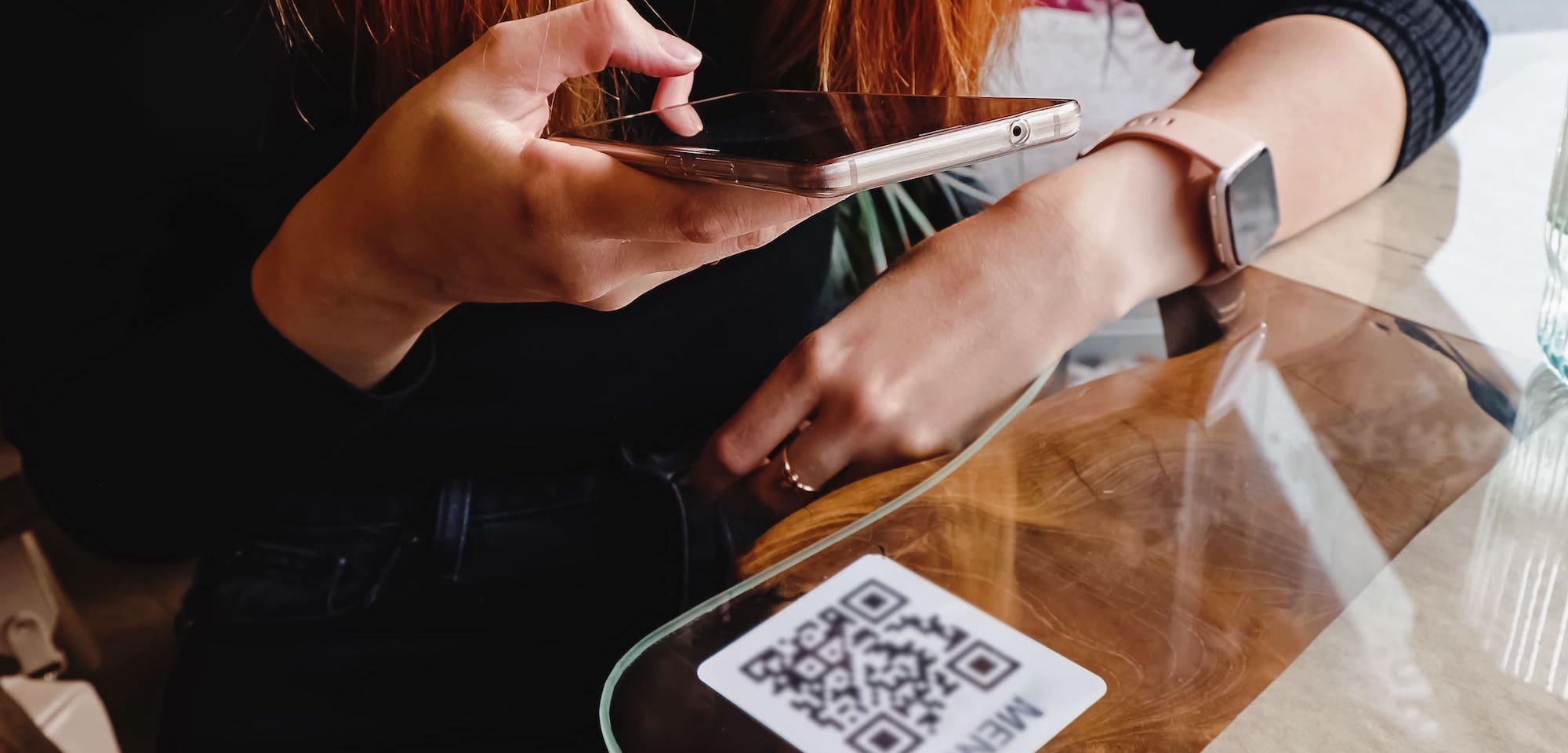 4. Food delivery is here to stay
The coronavirus pandemic saw national lockdowns, forcing hospitality businesses to close their doors to dine-in customers and pivot to takeaway only options. However, demand for restaurant food remained high, and customers turned to food delivery apps to get their favourite food fix.
As hospitality venues begin to reopen, many wonder whether the food delivery boom will remain, or is the bubble set to burst?
The rapid rise in popularity of food delivery services like Uber Eats, Doordash and Deliveroo, combined with the emergence of more bespoke services like Providoor and ChefPrep, emphasises that people love the convenience of getting their meals delivered.
As Australia enjoyed lockdown-free life at the end of 2020 and the beginning of 2021, the growth of food delivery apps showed no sign of slowing down. In 2021 it's estimated that 3 million Aussies use platforms, like Uber Eats, to order food for delivery, and this is expected to rise to 4.6 million Australians by 2025.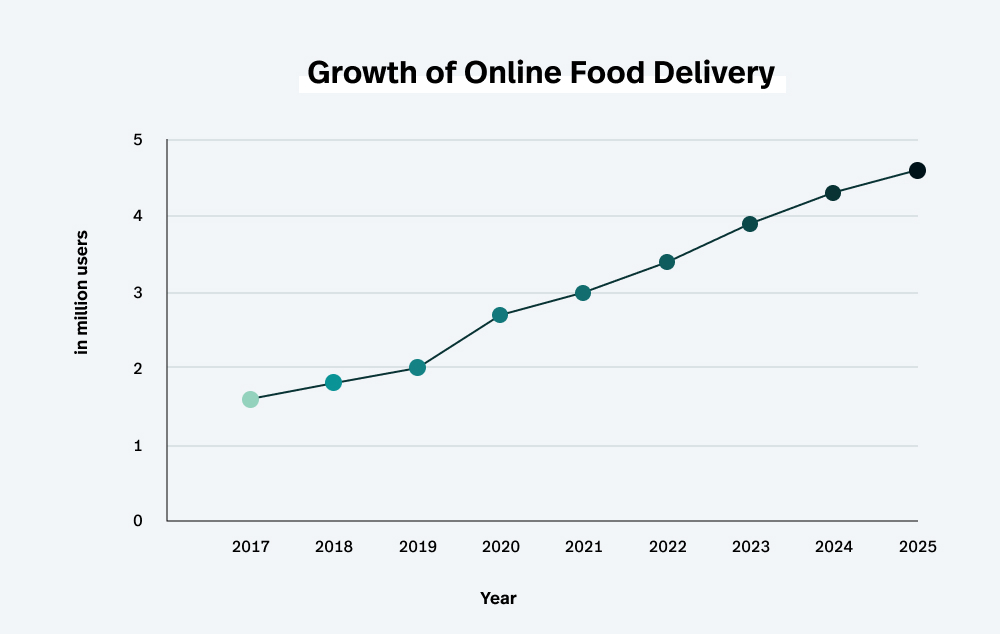 How can your business adapt?
Food delivery provided hospitality businesses with a much-needed revenue stream when dine-in service was not available. Venues across Australia pivoted quickly, offering incredible dishes and dining experiences that customers could enjoy at home.
Even when restrictions ease, customer demand for exceptional quality delivery food is set to remain high, and businesses must invest in, rather than neglect, their delivery offerings.
Bring it in-house
We know delivery apps can charge up to 30% commission which undoubtedly eats into profits. Margins are already tight for most hospitality businesses, and every dollar really does count. Instead, you could opt for an in-house delivery service to maximise your profits.
It's clear that demand for delivery food is high, and this trend is set to continue. To capitalise on this, hire dedicated delivery drivers and riders, set a delivery radius (e.g. 5km from your venue) and promote your new service on your website, social media and within your venue.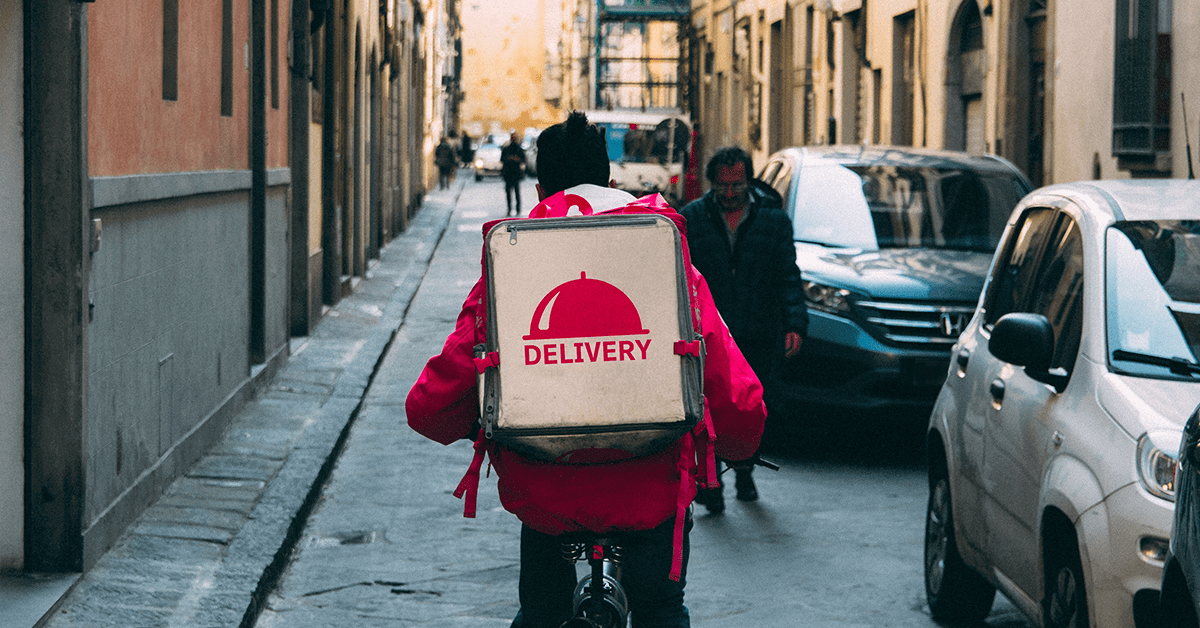 Dedicated delivery menu
59% of hospitality business owners believe that consumers want restaurant-quality food for home delivery and takeaway. However, not all of your dishes are best suited for delivery. To ensure your customers have the best delivery experience possible, create a dedicated delivery menu for the dishes you know will travel well.
You could even expand this menu to include make-at-home kits and give customers the option to try cooking your best-loved dishes from the comfort of their own homes.
While most customers are itching to return to their favourite hospo venues, many are reluctant and wary after a tough 18 months of restrictions. Therefore, offering a dedicated delivery menu with hand-picked dishes and DYI options allows you to cater to customers who aren't yet ready to return to in-person dining.
5. Personalisation becomes a priority
83% of consumers want businesses to understand them better, emphasising how customers have come to expect a personalised experience – no matter if they're dining in your venue, receiving your emails or browsing an app to order food for delivery.
Personalisation has become an everyday occurrence for customers who are spending an increasing amount of their time online. Email promotions contain the exact products they're looking for, websites remember their preferences and food delivery apps know and prioritise their favourite restaurants for easy re-ordering.
Customers expect businesses to remember them – they don't want to be just another number on a sales chart. And as venues reopen, guests will be looking for the same personalised experiences that they're so used to receiving online.
How can your business adapt?
The hospitality industry in Australia is renowned for its welcoming and friendly service. Personalisation is often a trick of the trade as staff easily remember a locals favourite coffee order or a regular's preferred table. There are, however, several things businesses can do to up their game when it comes to personalised experiences to ensure guests are delighted time and again.
Use your data
If you're looking to prioritise personalisation, a great first step is to dig into your data. POS systems contain a wealth of information on your business, your customers, their behaviour, preferences and spending habits. This information should provide you with a solid foundation on where to start and help to pinpoint areas of your business that can be personalised.
Take reservations, for example. Your data might show that you have considerably more reservations than walk-ins. By partnering with a reservations platform like OpenTable, you can provide a highly personalised experience for returning guests who book through the platform, as you'll have instant access to in-depth dining data, like guest information and previous order details.
Digital loyalty program
Loyalty programs are a tried and tested way to attract and retain customers. However, a digital loyalty program, like Marsello, takes things one step further by enabling businesses to personalise guest experiences and offers, thanks to detailed data and insights.
These insights can be used to send highly targeted, personalised emails and offers to different customer segments. The more tailored you can make your emails, the better, as it's estimated that personalised email marketing can increase your revenue by up to 15%.
Consider breaking down your email list based on specific criteria, such as average spend, age or how regularly a customer visits your venue. From this, you can target each segment with tailored content.
The future of dining
There is now light at the end of the tunnel for our beloved hospitality community, and we hope to see a stellar year of recovery and growth. And with a helping hand from tech, adopting the latest trends will be even easier for business owners looking to embrace changing customer expectations to provide the best possible experience for their guests.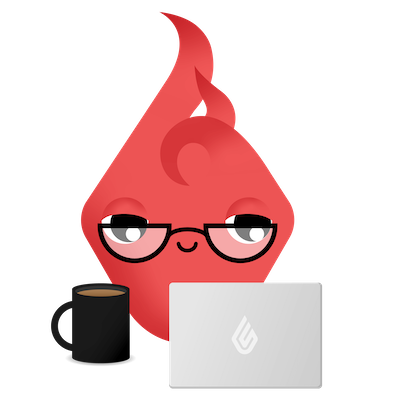 News you care about. Tips you can use.
Everything your business needs to grow, delivered straight to your inbox.