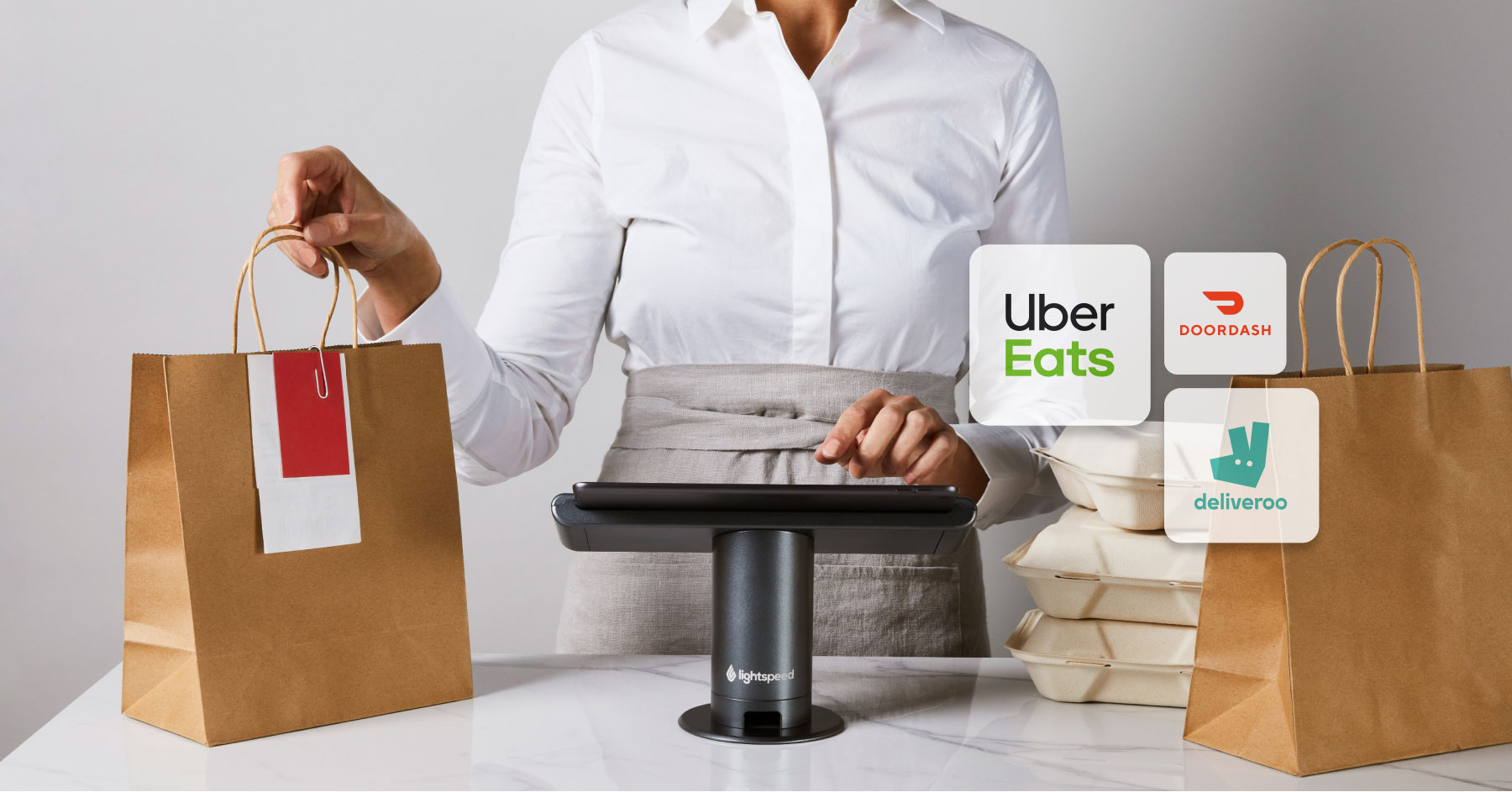 Online food delivery is by no means a new or revolutionary concept in the hospitality industry. Even before the pandemic, many restaurants were taking orders for delivery either in-house or via a third-party app.
However, the pandemic shifted the way customers interact with restaurants, and this had a profound impact on both customer expectations and the relationship between in-person dining and at-home experiences.
Online food delivery boomed during lockdowns and customers became accustomed to the convenience that food delivery offered. As a result, online food delivery is set for further growth in the coming years.
According to Statista, this year (in 2022), 3.4 million Australians will use food delivery apps, such as Uber Eats, Deliveroo and DoorDash. This is expected to rise to 4.7 million people by 2026 – an increase of 38%.
With online food delivery services charging up to 30% commission and customers opting for delivery on a regular basis, it's important for restaurants to optimise their online food delivery strategy to boost sales and profits.
But how?
Follow these 11 tried and tested tips to help increase your online food delivery sales.
Restaurant delivery & takeaway guide
Boost sales by up to 30% with this free delivery guide that reveals industry tips and tricks to supersize your delivery orders and revenue.
1. Get found online
The first step to increasing your delivery sales is to ensure your restaurant is easy to find online.
For many people, the first interaction they'll have with your restaurant is online – either on your website, social media, third-party websites like TripAdvisor or delivery apps like Uber Eats.
Therefore, it's imperative to ensure your online presence is optimised – so when people are searching for delivery food nearby, your restaurant is easily visible in search results and remains top of mind with customers.
Here are some channels to consider:
Website

– this should include your menu, contact information and links to your delivery partners.

Facebook

– post regular updates on your restaurant, such as special offers, menu changes and links to delivery services.

Instagram

– showcase beautiful photos and videos of your dishes and include a link to your website or delivery channels in your bio.

Google My Business

– your business profile will appear when people make relevant searches on Google. Your profile should include your opening hours, contact details and links to your website and delivery channels.

Review sites and directories

– creating profiles on sites like Zomato, Yelp and TripAdvisor will broaden your reach and showcase your restaurant to potential customers.

Email

– target your database with personalised offers. Segment your customer database by menu category and email offers related to dishes in each category to customers who regularly purchase those dishes.
Did you know? According to Statista, in the last 12 months, 66% of Australians have used Uber Eats, 50% have used Menulog, 29% have used Deliveroo, and 27% have used DoorDash. Therefore, creating stores for your restaurant on one or more of these platforms is a sure-fire way to reach a large pool of new customers.
2. Offer a limited delivery menu
There's no rule that says you have to offer your full menu for delivery – instead, pick the dishes that you know will travel well and create a bespoke delivery menu made up of these dishes.
According to Deliverect, successful restaurant menus on delivery apps usually contain between 15-20 dishes. Usually, when users are browsing a delivery app they already have a certain type of food, or dish, in mind, so you don't want to overwhelm them with too many options.
Designing a delivery menu that takes into account how well a dish will travel, and how long it will take to prepare is the best way to ensure your food is delivered quickly and is of the highest quality.
If you can nail these two components, it will ensure your customers receive the best at-home dining experience, so they know they can order from you again with confidence.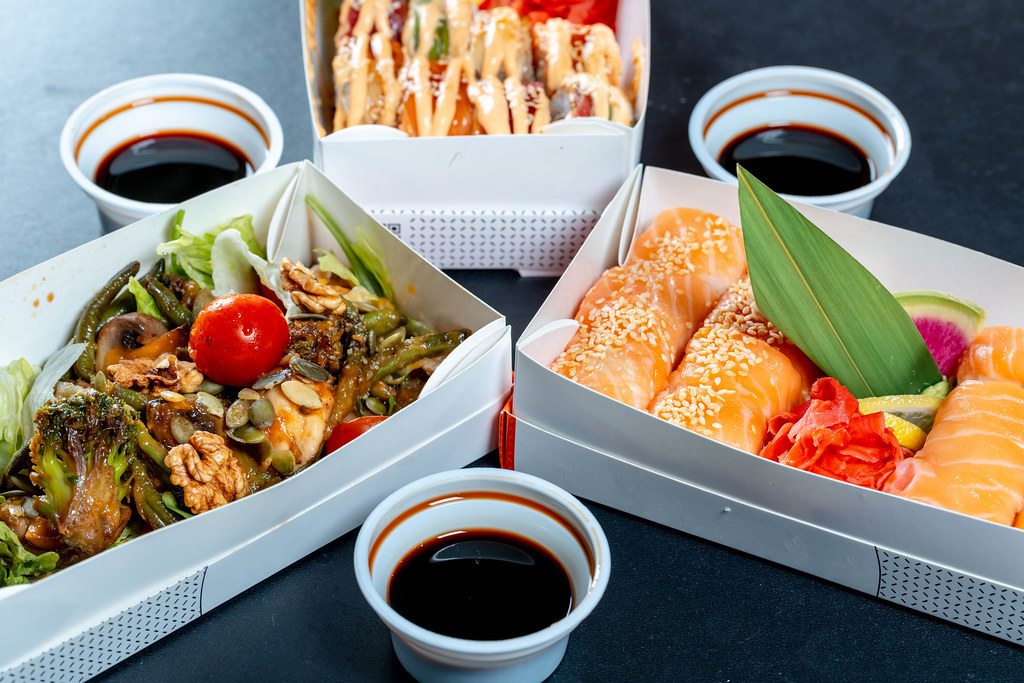 3. Create an easy-to-use digital menu
Optimising your digital delivery menu so it's easy to navigate and emphasises your high-profit dishes is a great way to boost delivery sales and inject more cash into your bottom line.
You have between 5-10 seconds to grab someone's attention and with so much competition on food delivery platforms, you want your menu to be quick and easy to use.
Personalise your menu to create brand recognition and increase brand awareness. Include your logo, brand colours and images.

Make it easy for customers to browse your menu and find what they are looking for. Create logical product categories and ensure your high-profit dishes and best sellers are at the top for quick and easy ordering.

Ensure your pricing is clear and easy to understand. Menu pricing, particularly for meal combos or customised dishes should be clear and easily accessible.

If you're running any offers or discounts, be sure to include this at the top of your menu to immediately alert users to the deal.
4. Capture beautiful food photography
Did you know that including well-shot food photographs alongside your dish name & description can increase sales of a menu item by up to 30%?
Therefore, adding beautiful, drool-worthy photos of your dishes to your delivery menu is a sure-fire way to tempt people to make a purchase.
Taking photos for your menu doesn't have to be an expensive or laborious task. Most smartphones are equipped with high-quality cameras and are more than capable of capturing amazing photos of your food.
Simply follow these tips to get started.
Shoot in natural light to avoid any harsh shadows and make your photos look bright and vibrant.

For single dishes, take photos from a side angle to capture the details and texture of the dish.

An overhead view is great for showcasing a range of dishes, such as a combo deal of two mains and two sides.

Use garnishes to add a pop of colour or texture to your dish and always wipe away any grease stains or sauce droplets.

Edit your photos to iron out any blemishes, boost vibrance and sharpen your image for a professional finish.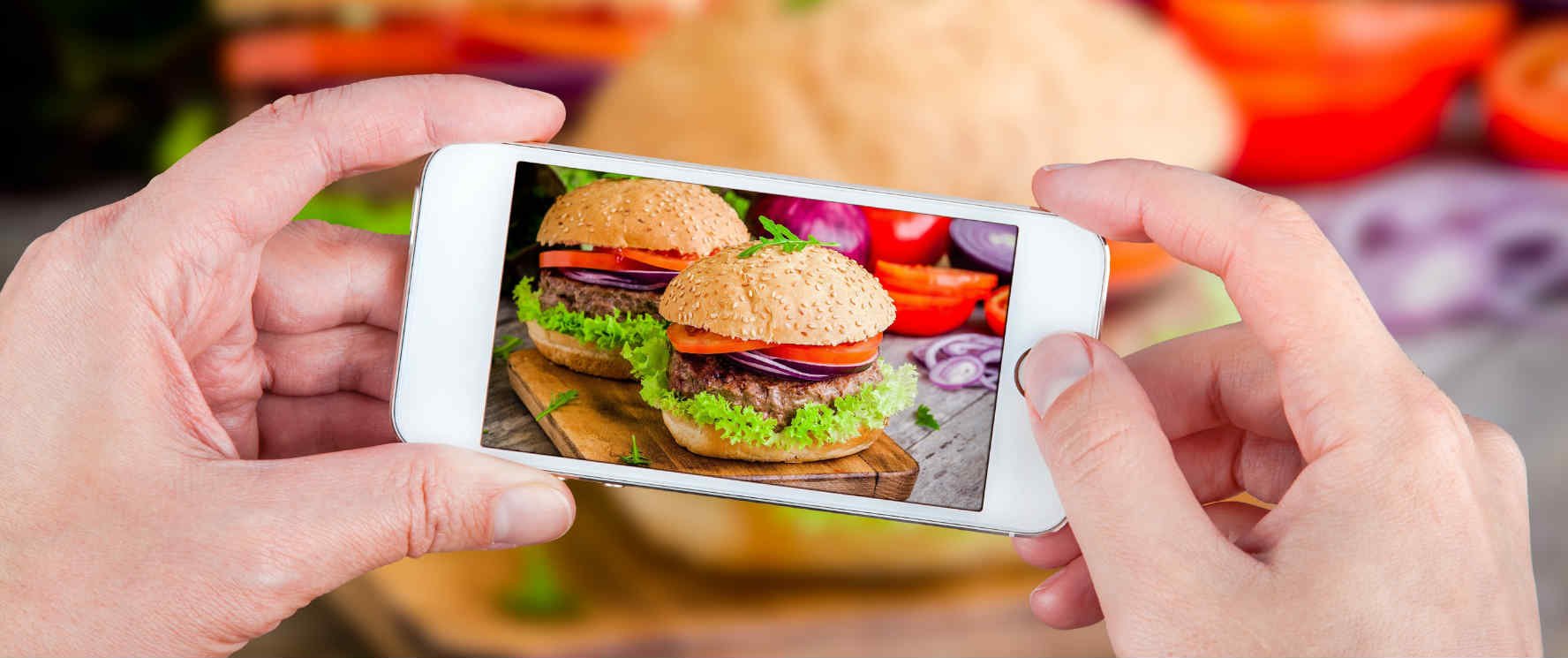 Remember: your food photography should realistically represent your food. Having beautiful photos is a great way to tempt someone to make a purchase, but you risk disappointing your customers if the reality doesn't live up to the expectation.
5. Craft mouthwatering descriptions
While drool-worthy food photos will go a long way to enticing someone to place an order, a photograph can only tell one side of the story.
Adding a mouthwatering description for each of your dishes will show customers what to expect and give hungry diners that final push to place an order. Is the dish spicy, mild, hot, cold, creamy, punchy, crisp or crunchy?
Each description should be short and snappy with a touch of creative flair, and it's important that the description accurately represents the dish you are describing to avoid misleading customers.
6. Offer strategic promotions
It's no secret that competition is high on food delivery apps like Uber Eats and Deliveroo. There are hundreds of restaurants vying for app users' attention – so it's important to stand out from the crowd and encourage people to spend with your business.
Offering strategic, limited-time promotional deals, such as 'today only: free item when you spend $25' or 'weekly special: spend $35, save $10' not only adds a sense of urgency, but it's also a great way to encourage someone to pick your restaurant over another and to spend a little bit more.
With razor-thin margins, every cent really does count so it's crucial to be strategic about what dishes you put on special, and when, to make the most of your margins.
For example, if you have an excess of daily specials or have prepped too much for a certain dish, these can be used in a promotion. Or, using a low-cost item as a free side dish is a great way to tempt people into spending a bit extra, so they qualify for the freebie.
7. Address feedback and prepare for negative reviews
Despite your best efforts, mistakes happen and you're likely to encounter at least one or two dissatisfied customers, so it's important to be prepared for negative feedback. In some cases, the criticism you receive might be related to something outside of your control – delivery drivers taking longer to respond, for example.
No matter what the feedback relates to, it's important to face any criticism head-on, accept responsibility and let customers know that it's not good enough and you'll strive to do better in the future.
While negative feedback is often par for the course in the restaurant industry, there are some steps you can take to minimise the chance of receiving negative reviews.
If you're fully booked and in for a busy night, consider turning off your delivery service for the evening or limiting the number of orders you can accept per hour.

If you are experiencing lengthy delays with your deliveries, consider adding a note to your menu to manage customer expectations.

If something goes wrong with a customer's order, it's important to recognise the mistake and offer solutions to the issue. This could be through a special offer, a discount or a personal apology.
8. Reward loyal customers
Just like traditional loyalty cards, where customers can get a free drink or menu item after making ten purchases, delivery apps like Uber Eats also have built-in loyalty schemes that restaurants can take advantage of.
Loyalty offers and associated rewards can be created in-app by restaurants and are tracked and managed by the delivery service.
Creating hassle-free, set and forget loyalty offers is a great way to reward loyal delivery customers and encourage repeat purchases.
Current loyalty offers available on Uber Eats include:
5 orders until free item

5 orders until $10 reward

5 orders until $15 reward

10 orders until $30 reward
9. Include upsell and cross-sell workflows
Delivery apps make it easy for restaurants to create upsell and cross-sell workflows within a digital menu to encourage customers to make profit-boosting purchases.
Take advantage of these workflows and add relevant upsell prompts into the order flow of your online delivery menu to tempt customers to spend a little bit extra.
Offer upsell options

when certain items are selected. For example, if a medium pizza is added to an order, there should be a prompt to upgrade to a large for an extra $4.

Offer meal combos

. For example, when a burger is added to an order, there should be a prompt to add a drink and fries for an extra $7.

Customisable orders

. For example, if a customer adds a pepperoni pizza to their order, they can be prompted to select up to three extra toppings for $1.50 each.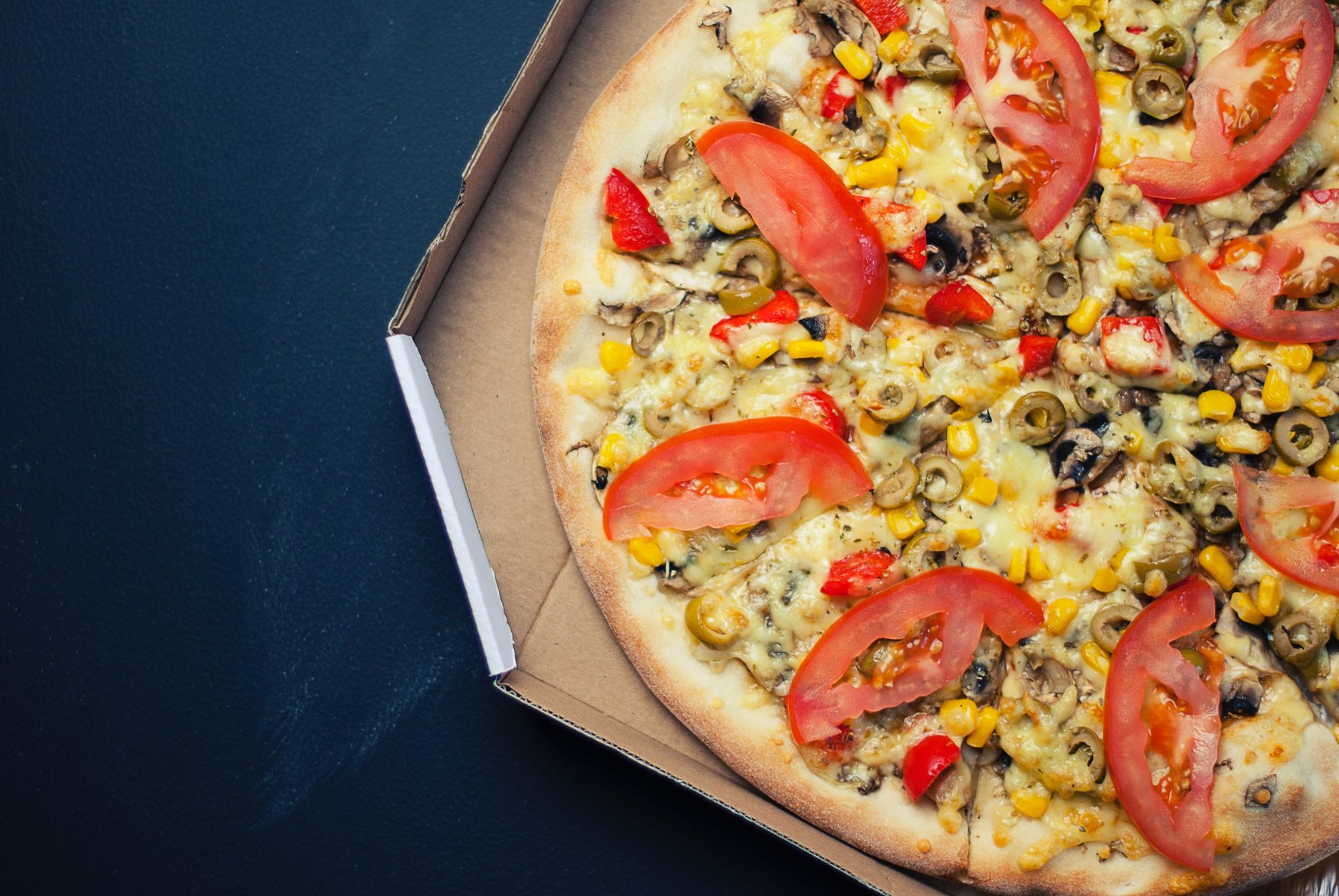 10. Create a memorable experience
Creating a memorable delivery experience for your customers will go a long way in fostering a positive association with your business – making customers more likely to order from you again.
It's important to consider the end-to-end delivery experience. Just because your dishes are placed in the hands of a food delivery service, doesn't mean the responsibility for the overall experience ends as soon as the dish leaves your premises.
To ensure you leave a lasting impression on your delivery customers, consider the following for each of your delivery orders:
Invest in branded packaging

to create brand association and brand awareness, so customers are more likely to remember your business and order from you again.

Include a small business card with each delivery order

to thank customers for their purchase, promote your social media or include a discount for dine-in orders.

Delight customers with special touches

such as free signature condiments or special offers within the packaging.
If your customers receive a great delivery experience, they'll be more likely to seek you out, visit in person and tell their friends – which means more repeat business and revenue for your restaurant.
11. Use tech to maximise efficiency
When it comes to delivery orders, speed and accuracy are the names of the game.
Delays, incorrect orders and frustrated kitchen staff are just a few of the scenarios that you might encounter when your workflows aren't optimised to accommodate large-scale delivery orders.
As a result, many restaurants are turning to tech to streamline their workflows and maximise efficiency to ensure a smooth delivery experience for customers.
Lightspeed Delivery, for example, lets you sync your POS with Australia's leading delivery platforms, Uber Eats, Doordash and Deliveroo. You don't have to worry about managing multiple platforms, as all orders from these partners will sync straight to your POS, just like a dine-in order.
Lightspeed Delivery also lets you:
Customise your menu

. Be flexible with the dishes you choose to offer for delivery, showcase your best-sellers and easily add or remove products as necessary. It's also easy to update your pricing and availability across all delivery channels.

Follow the same workflows

. Use the same order, production and end-of-day workflows that your staff are used to.

Manage everything from one system

. Manage inventory, reconciliation and reporting for your delivery orders all in one place.

Optimise your menu

. It's easy to keep an eye on your margins, and continually optimise your delivery offering.
Download our industry guide to supersize your delivery orders and revenue
Download your free Restaurant Delivery & Takeaway Guide that reveals industry insights on how to boost delivery orders and revenue. Get tips on food photography, the power of upselling, industry statistic, customer expectations & more.
How to increase average spend by 25%

5 tips to boost sales by 30%

15-20 dishes is the sweet spot

3 tips to increase your AOV

Managing expectations & reviews

How to encourage customers to reorder

4 ways to save time & increase efficiency

3 tips to promote your delivery menu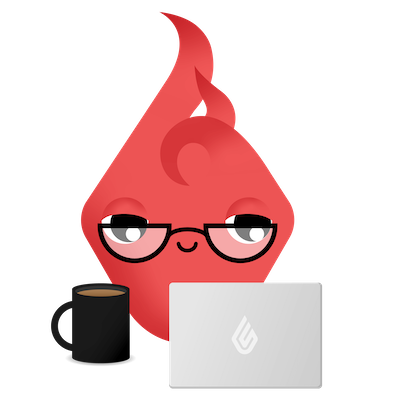 News you care about. Tips you can use.
Everything your business needs to grow, delivered straight to your inbox.